Peugeot 206 (1998 - 2006)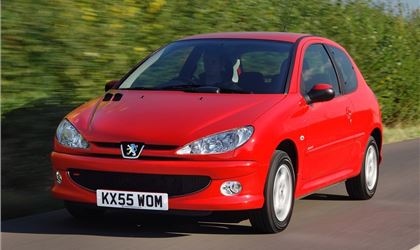 Sport 1.4 16v Twin Cam
reviewed by RickH on 11 October 2020
5
Tax/Insurance/Warranty costs
5
Cost of maintenance and repairs
5
How you rate the manufacturer
Brilliant little machine
I bought two of these, one for each of my lads to learn in, both cars under £1000 (2016 and 2020) and both around 60k miles with full history, cared for by previous owners. They are not car nuts but I am, and after 71 cars over 41 years, including half a dozen I've rebuilt totally, I have quite a bit of amateur experience.

For a learner these cars are perfect. Cheap to buy, cheap to run (53 mpg), and yes, cheap to insure - try £850 for a 17 year old who just passed their test. What would you rather drive, a zippy little warm hatch or a slug of a sub one litre shopping box?

Parts are cheap to buy and I haven't found anything difficult to get at or hard to change (plugs, filters, oil all easy). The body shell has galvanising of some sort which appears to be working (15 years and no signs of rust) and jobs like brake discs and pads are easy and cheap.

The 1.4 litre twin cam is a revy unit and with sport suspension, discs all round and a nicely spaced 5 speed 'box these cars can really be wound up. Bear in mind the MK1 RS2000 only had 10 bhp more and the 205 GTi was only a couple of seconds quicker to 60. Dare I say it this is almost as much fun to drive as my TVR.

So to the most important thing, safety for a new driver. I've tried quite hard to bin the 206 (on an airfield handling course) but you would have to be doing something totally stupid before the rear end would break away. If the worst did happen there is ABS, airbags and quite a rigid inner shell - not for nothing is it egg shaped.

I would definitely get one for a learner and if I didn't need the space of my Saab estate I would get one for my own daily driver.
reviewed by RickH on 11 October 2020
reviewed by Anonymous on 14 April 2019
reviewed by Jonathan Pickard on 10 June 2018
reviewed by Dr Robert Taylor on 22 September 2017
reviewed by pluggy on 31 March 2015
reviewed by Insigniamad on 12 September 2014
reviewed by antsalt89 on 15 March 2013
reviewed by diarmuidv on 8 March 2012
reviewed by Reformed boyracer on 7 January 2012
reviewed by 206owner on 10 March 2011
reviewed by Norb on 2 March 2011
Write your review
About this car
| | |
| --- | --- |
| Price | £8,345–£12,295 |
| Road Tax | C–G |
| MPG | 37.0–64.2 mpg |
| Real MPG | 98.7% |
Just reviewed...