Peugeot 407 SW (2004 - 2011)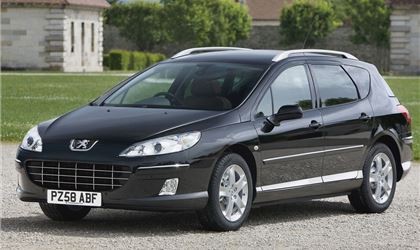 407 SW 2.0 HDi 136
reviewed by LAC on 15 January 2017
5
Tax/Insurance/Warranty costs
4
Cost of maintenance and repairs
4
Experience at the dealership
3
How you rate the manufacturer
Get one, but get the right one, and service it regular, and it will serve you well.
In Feb. 2016, I bought the '05 plate 407 SW with 190k on the clock. It was to cart my mountain bikes about. However, I used it for work one day. To and from work is 106 miles per day. Some days I do double that, depending on which centre I drive to.

Indeed I was fearful of the auto box. The MPG, going on past vehicles. In short, on a full tank and motorway driving, it gave me 40-50 MPG. Mmm!

Anyway, I used it for a week. Not a sausage of issue. A full tank returned between 550-650 miles with a reserve still, say another 30-50 miles. Since, I use it now as my main car. It costs one tank per week. Four tanks every month. That is around £280/month. I cover around 2600 miles/month. Not bad, considering it is a 10 year old auto with nearly a quarter of a million miles on the clock.

Considering I bought this as a very temporary measure, as you can see, I decided to keep running it. Why, considering I have had BMWs, Mercs and other brand new middle of the road and brand vehicles, you might ask?

Simple. The previous owner of many years maintained it religiously and kept all receipts etc. Everything! He even wrote service and belt changes on the slam panel.

So, I did the same, changing the oil every 10-15k miles, and believe it or not, with 5/30 grade oil and there are no issues with oil pressure. Put in 10/40 people kept saying. Why? The engine is sweet and I proved it.

Thus far, it has cover 218k miles. I have had to renew the starter motor, a rear bearing and the EGR. Total cost of circa £300. The battery I did for the sake of it and two front tyres. Otherwise, simple service parts e.g. filters etc. Remember, this car has done 30k miles in less than a year.

OK, it is not a prestige car, but do you know what, for £850, it has done me a year and whilst I am considering changing it, whilst it might cost me a couple of ball joints for the MOT, I am strongly considering keeping it plus, reconditioning the engine, auto-box and turbo as I believe it is worth it. So, why buy another car, which might be a dog plus cost fortunes?

You can keep your brand new boring motors. I have the option of a brand new company car, too, but no, I will keep my Pug, thanks, even if I might have to change or renew elements.

Fact!
reviewed by Oceanleo on 5 October 2015
reviewed by sandy56 on 12 July 2015
reviewed by rgt1973 on 19 May 2015
reviewed by Anonymous on 17 October 2014
reviewed by sandy56 on 30 June 2013
Write your review
About this car
| | |
| --- | --- |
| Price | £17,195–£26,945 |
| Road Tax | D–J |
| MPG | 30.6–57.7 mpg |
| Real MPG | 92.8% |
Just reviewed...