Peugeot 1007 (2005 - 2008)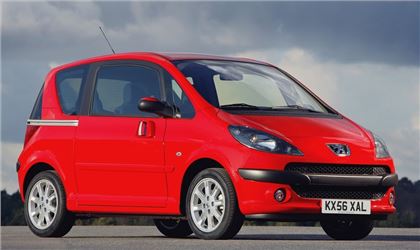 Dolce 1.4 3dr
reviewed by Timothy Elliott on 22 March 2020
5
Tax/Insurance/Warranty costs
5
Cost of maintenance and repairs
4
Experience at the dealership
4
How you rate the manufacturer
The height of a Crossover, the length of a City Car
From my experience with the Peugeot 1007, I would happily recommend the vehicle to someone who likes the compact dimensions of your more traditional Compact cars, but would prefer the extra headroom and sensation of road-superiority that comes with the added height.
This car is similar in height to most MPV's such as the Ford C-Max, so you'll be surprised when you get in, even if you're a Top-hat dealer!
The car feels roomy in the front and back, and I respect Peugeot's decision to make the car a four-seater rather than a five - otherwise your passengers would get to know each other rather intimately!
The sliding doors are a fun gimmick, which I've had no problems with. However those doors can be a nuisance when new-comers try to open them, and inevitably try to pull your door off.
The 1.4 Manual is good for city cruising, but due to that extra weight (from lugging round two sliding doors) doesn't have much gut at higher speeds, but it is by no means unusable on motorways - as I often use them myself.
MPG isn't the best either, expect no more than 35/36 to the gallon - again, I'd blame the car's hefty weight.
It's a fun car and you'll turn heads with those doors, and then, when you get in, you won't be running those heads on the roof.
A unique car, and one to give a try.
reviewed by Hampshire Bob on 5 February 2019
reviewed by Skinhead on 12 October 2017
reviewed by Ali1268 on 10 January 2011
Write your review
About this car
| | |
| --- | --- |
| Price | £10,877–£13,845 |
| Road Tax | D–G |
| MPG | 40.9–60.1 mpg |
| Real MPG | 94.7% |
Just reviewed...