Peugeot 308 SW (2014 on)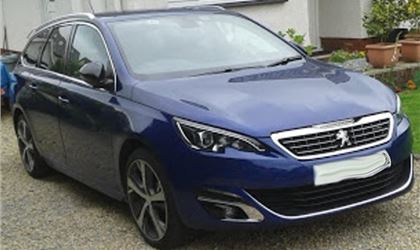 1.6 BlueHDi 120 GT Line Start+Stop 5dr Estate
reviewed by Carregbica on 17 February 2021
4
Tax/Insurance/Warranty costs
3
Cost of maintenance and repairs
5
Experience at the dealership
3
How you rate the manufacturer
Comfortable, economical, roomy cruiser.
Bought this in May 2018 at 11 months old, to replace my 63 plate Honda Jazz 1.4 ES Plus. The Honda was reliable and great around town, but found it noisy and uncomfortable on long journeys.
When I test drove the Peugeot, my wife remarked that it was the most comfortable car she had been in and from someone who has a bad back, that was complimentary.

I found the dealer to be excellent and we were allowed to test drive the car without a salesperson present and to pick my own mix of roads, which I find unusual these days.

MPG is currently at 52.2, lower than claimed by others, but as the weather has been very warm the Aircon has been well used and have not had any prolonged motorway runs as yet.

Glovebox space is poor as it is was designed as a left hand drive car, but there are a few good storage spaces around. Power socket in the rear is extremely useful and have fitted front and rear cameras to the car.

Radio is OK, the economy mode of radio off in 15 minutes is annoying when parked up, but is common to most of the PSA group cars.
The false twin exhaust outlets on the rear is a bit over the top, and the satnav traffic warning settings are poor and if you turn it on you will hear traffic reports for the whole UK, even when on local settings.

Overall I really like the car and enjoy driving it, the 120 engine is punchy and responsive and it is a comfortable car.

One year on and with the mileage at 23000, mpg has improved to 57, mainly on A and B roads.
Still really enjoy the car, spacious and comfortable.

I can only describe the built in satnav as poor, as if you deviate from the set route rather than recalculating it will spend ages trying to get you back on the original route. I find it difficult to set up compared to the Garmin I am used to, as you have to save your existing position before entering new data..

Have fitted new Yokohama tyres at 68db, compared to the original Michelin at 72db. Got 17000 out of the front Michelins and 21000 on the rear.

Have also fitted a set of Alloygators on all wheels, in Blue to save damage to the low profile alloys.

October 2020 update and the Urea, Service, Emissions Control Light came on and the car has been diagnosed with a faulty Urea pump which apparently is a well known problem with Peugeot. Car has now done 36600 miles.
Independent garage could not diagnose fault, so booked it into a Peugeot dealer at a cost of £120.
Cost of replacement pump and tank (all in one) is over a £1000.
I had taken out a two year extended warranty with Motoreasy as recommended by Honest John and they have refused the claim on the basis that the car has not broken down.
Have gone back to Peugeot on the basis that the car is only 5 months out of warranty and they have agreed to a 50% contribution.

Motoreasy market their policies on the basis that not all warranties are the same, but at the first sign of a claim they get out by claiming that the car has not broken down and is still running?
Wonder what will happen when the car refuses to start in 500 miles due to no AdBlue being injected.

This Urea fault is well known with a range of Peugeot/Citroen vehicles and the pump cannot be replaced on its own.

November 2019 Car has now been sorted, the diagnostics came to £120 and the replacement AdBlue tank and Pump came to £1100. Peugeot have paid £555 and refuse to pay any more. They will not acknowledge that this is a well known fault.
My custom on replacement will go elsewhere

December 2020.
Decided to cut my losses on the 308 SW as it was developing creaking noises on the rear suspension. Not wishing to keep pouring money into the car, have now bought a Toyota C-HR 2lt Hybrid, with 5 year warranty. Time will tell if it is a wise move, but Toyota depreciation is much less than Peugeot.
reviewed by Ned173 on 13 February 2021
reviewed by Zigcat on 2 October 2019
reviewed by Anonymous on 18 May 2019
reviewed by Andrew Wood on 14 March 2018
reviewed by mouse5005 on 10 October 2016
Write your review
About this car
| | |
| --- | --- |
| Price | £25,064 |
| Road Tax | A–E |
| MPG | 47.9–88.3 mpg |
| Real MPG | 73.3% |
Just reviewed...