Peugeot 5008 (2017 on)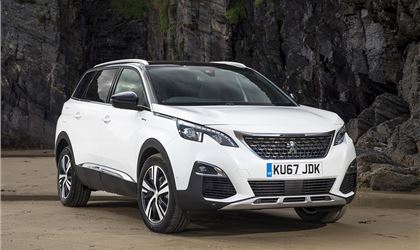 1.5 BlueHDi 130 GT Line Premium EAT8 Start+Stop 5dr
reviewed by Anonymous on 13 August 2020
4
Tax/Insurance/Warranty costs
4
Cost of maintenance and repairs
2
Experience at the dealership
2
How you rate the manufacturer
A multitude of problems from brand new
Honestly, this car is quite refined for its price and has many standard features only found in more expensive vehicles. The interior is quite plush and up market compared to similar SUV ranges. The car performed fantastically up to 1600 miles, then the gremlins reared their ugly heads, causing pain in the butt issues that have remained with it ever since. With just 8500 miles on the clock this car is just a 'baby' and should not be the showing symptoms of a cranky old f***.

1) On the rather beautiful i-Cockpit display a "Right door open", message appeared, but the door was fully locked. In consequence, the car, being an automatic, would not drive off in that state and the 'Electronic Parking Brake' would not release. A physical manual brake over-ride procedure was the only remedy. Not an ideal thing when stuck in a line of impatient motorists with their play-toy horns blasting as if I'd done this on purpose. The dealership replaced the door lock to rectify this but the fault persists to his day.

2) The automatic gear box jumps directly from D2 to D4 under normal power. Occasionally the gearbox will hesitate / lag when changing up from D1 to D2 and others on start off, again only using normal power. A small gearbox engagement 'thump' is sometimes felt when taking off. The auto gear box hangs in D2, revving up to 3200rpm, quite high for a diesel, and sometimes drops and sticks at D3 under normal acceleration. When the gremlins are asleep good gear changes occur nicely and the car is a pleasure to drive again.

3) The Satnav completely blacked out on a 28-mile journey, but audio route directions were still broadcasting. It blacked out again last Monday, 11th August 2020 with the menus on re-starting being in FRENCH. Unfortunately I cannot understand that language. After much digging into the many menus, I eventually found the option to change back to English under "User Profiles".(Which I've never used )

4) When videoing the i-cockpit with my iPhone for supporting evidence, mega Radio Frequency interference and noise was observed and heard on my camera. This occurred when the i-cockpit system was throwing a wobble. As the car has lots of electronic control systems it makes me wonder whether there's a possible link between this and the other experienced problems???

5) The Radio loses all its pre-programmed stations for no reason. All buttons go back to blank squares.

6) The beautiful multi selectable i-Cockpit display occasionally sticks in one mode and cannot be changed with the on steering wheel mode roller.

7) The Auto Stop / Start feature stops working for weeks on end. It's activated in the options menu but randomly returns to "OFF" by itself. A little green "A" light flashes 'on and off' in the upper left of the i-Cockpit dial near the fuel gauge when it not working. Simultaneously to the flashing "A" the Auto Stop / Start electronic slider selection button under "Driving Options" goes back & forth between the "Off – On" position. It then immediately settles to the "OFF" state. A message on that menu screen says, "Auto stop start deactivated." Not by me mate, talk to the gremlins.

8) Possibly in consequence to some of the above, the fuel economy has notably dropped to around 31mpg urban whereas I've had top 40's before. The car has returned about 57mpg + on regular motorway runs to 'St Annes', Blackpool when using mostly its D7 & D8 gears. (On Monday, 11th August, I achieved 51.2mpg on the same run with some traffic.). When the car was new, I've had 58mpg+ on other motorway runs. Brilliant. I've verified these mpg's by zeroing the trip meter start reading and filling the tank to its neck (slowly past blow back valve). Noting the mileage covered when re-filling the tank to its neck, I then divide that number by the litres unused on the re-fill, (that gives miles per litre), and multiply that figure by 4.56 to give Miles Per Gallon. They are very close to the on board computer results.

This a truthful account of my experiences over the last 14 months - June 2019 - August 2020. I just hope my car is a one off and this is not common to other 5008's. I have videos and photos supporting these said above anomalies. It's back in the dealership workshop again today, 13th August 2020, keeping my 'fingers crossed'.??
Write your review
About this car
| | |
| --- | --- |
| Price | £26,259–£38,529 |
| Road Tax | B–E |
| MPG | 48.7–70.6 mpg |
| Real MPG | 72.2% |
Just reviewed...