Nissan Pulsar (2014 - 2018)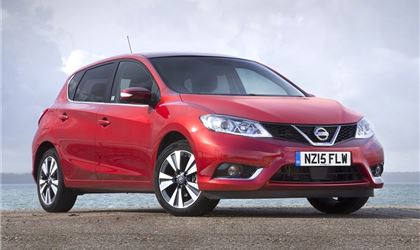 1.5 dCi Acenta 5dr Hatchback
reviewed by Philip - Worcs Nurse on 29 October 2018
5
Tax/Insurance/Warranty costs
1
Cost of maintenance and repairs
2
Experience at the dealership
3
How you rate the manufacturer
A good value, practical and spacious family workhorse, although could be more fun to drive.
Positives;
* Good fuel economy, consistent 60mpg+.
* Spacious interior.
* Decent boot capacity.
* Reasonably comfortable with decent specification.
* Cheap to insure.

Negatives;
* Drive could be sportier.
* Persistent rattle for front of dashboard which dealership failed to identify cause.
* Expensive to service or get parts.
* Lack lustre main dealership customer service.
* Cannot operate car if key fob fails, or even turn off alarm if accessing car.

As a pre-reg with a substantial discount, the Pulsar is a decent bargain in terms of getting a lot of car for the money. At full list price it would be rather less so.

My previous family car was a 2014 Honda Civic 1.6 iDTec which, frankly, outperforms the Pulsar at every level and it seems somewhat unfair to draw comparisons. However, the Pulsar was a lot cheaper and does okay for the money. And I have certainly driven worse. Whilst a somewhat staid choice, the Pulsar does a perfectly respectable job as family workhorse covering some 15k miles per annum in France and mainland Europe with baby and copious amounts baby-related clutter on board.
reviewed by celandine on 16 October 2018
reviewed by rjelliott_uk on 11 April 2018
reviewed by vrb on 21 January 2018
reviewed by Anonymous on 4 January 2018
reviewed by Energyman on 6 December 2017
reviewed by granlen on 10 October 2017
Write your review
About this car
| | |
| --- | --- |
| Price | £13,280–£22,845 |
| Road Tax | A–E |
| MPG | 37.2–78.5 mpg |
| Real MPG | 78.9% |
Just reviewed...