Dacia Sandero Stepway (2013 on)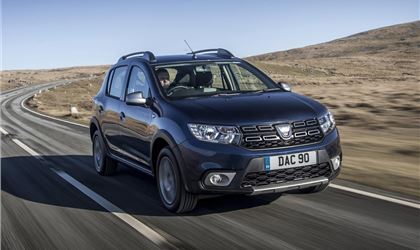 0.9 TCE 90 Laureate 5dr SUV
reviewed by Anonymous on 30 July 2018
5
Tax/Insurance/Warranty costs
5
Cost of maintenance and repairs
5
Experience at the dealership
5
How you rate the manufacturer
A cracker!!!!
Bought the Stepway in April 2016, no regrets. Renault main dealer for the area.

Comfy seats, I have a 74 yrs body with arthritis here and there.

I live in France, just north of La Rochelle. Car was broken into at Sete, Sud de France, 8 hrs in the seat on the return (plus meal/coffee breaks).

An ideal test for comfort.

Performance, well the Péages in France are limited to 130 km/h, no problem keeping up with traffic. I use the 'cruise control', so the car does the work.

Performance from the Tce 90 is good, wind it up a bit and it goes. Told my nephew it went well, took him for a quick spin.

Pulled away, into 2nd and floored it, he said, "XXXXX XXXX! I did not expect that, still pushing me back in the seat as you changed into 3rd"! (He owns an Escort)

Have taken it to 150km/h, more to go as well. Use ECO in town.

Handling, well it rolls a bit if pushed (hard), but it has soft springing so to be expected.

Economy, about 6 Litres/100 kms, average on screen.

Rough French country roads, not a problem. Goes up banks easily to pass tractors!
The stop/start can be switched OFF, but the traction control is fixed (do not like it, I like to drive the car).

I drive it without shoes, more control and have removed the foot rest for the left foot, (silly idea).

All in all, a good car.

Richard
reviewed by Kevswales on 25 July 2018
reviewed by taff664 on 9 September 2017
reviewed by robert harding on 11 August 2017
reviewed by Allan Flood on 14 October 2016
reviewed by taff664 on 15 April 2015
reviewed by facepainter on 19 January 2015
reviewed by retgwte on 1 June 2014
reviewed by Dacia warrior on 23 April 2014
reviewed by swansrus on 17 February 2014
reviewed by Earthman on 22 December 2013
reviewed by swansrus on 8 December 2013
reviewed by stupot0041 on 12 May 2013
Write your review
About this car
| | |
| --- | --- |
| Price | £8,395–£12,620 |
| Road Tax | A–D |
| MPG | 50.4–74.3 mpg |
| Real MPG | 79.9% |
Just reviewed...