Audi A6 Avant (2011 - 2018)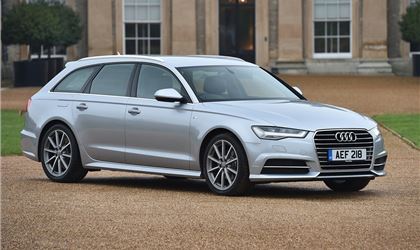 2.0 TDI SE 177 5dr
reviewed by Chris Farley on 22 January 2020
5
Tax/Insurance/Warranty costs
5
Cost of maintenance and repairs
4
Experience at the dealership
5
How you rate the manufacturer
RONSEAL. Does everything you'd expect from a quality marque.
Little biased as I've driven Audis for the last17 yrs in 1 model or another. I previously had an A4 Avant and foolishly sold it for a low mileage A4 saloon being sold for a great price with 1 owner from new. Kept that for 7 yrs and when she passed the 220k mark decided to give her away to a friend in need of a reliable car. He's still driving her with 235k on the clock a year later. I chose the A6 Avant because I had driven a friends and fell inmove with the comfort and roominess it offered inside. Add to that leather seats all round, great handling, even for an estate; and build quality I just had to get myself one. Only issue was the shark fin aerial on the roof, which gave up after a car wash. So now I've replaced that all is good. Love the heated leather seats in this cold weather, really make a nice difference. As for reliability, like any other car, change the oil and filters on a regular basis check all levels weekly and she's on the top line. Honestly can't fault it in anyway. I disconnected the stop/start feature and am getting better fuel economy and she heats up a lot quicker which is better for any diesel engined car. 10/10 in my book.
reviewed by Anonymous on 19 November 2019
reviewed by Cieurniht on 19 October 2019
reviewed by AnaestheticD on 30 March 2019
reviewed by Anonymous on 30 March 2019
reviewed by MarcusVia on 26 April 2017
reviewed by Cornish 1960 on 31 March 2016
reviewed by robtt on 31 March 2016
reviewed by cantata on 19 January 2015
reviewed by spakatak on 1 May 2014
reviewed by spakatak on 6 September 2013
reviewed by waterman 4596 on 22 January 2013
Write your review
About this car
| | |
| --- | --- |
| Price | £32,985–£54,390 |
| Road Tax | C–J |
| MPG | 34.4–64.2 mpg |
| Real MPG | 74.3% |
Just reviewed...