Our Cars: Volkswagen Tiguan 2.0 TFSI 4Motion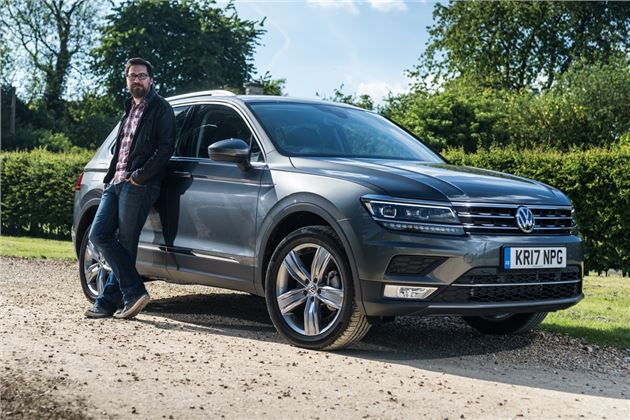 1 June 2017: Fifty shades of Volkswagen grey
The Details
| | |
| --- | --- |
| Current mileage | 233 |
| Claimed economy | 38.2mpg |
| Actual economy | 29.2mpg |
I live on a new(ish) housing development. We used to call them estates when I was younger but apparently it's a 'development' now. As new areas go, it's quite a nice one. It's on the site of what was once a Victorian hospital, which has now been turned into luxury apartments complete with a posh gym and spa. Of course. And on what were the grounds there are now lots of houses.
As you'd expect. It's all very middle England with very polite neighbours who keep their gardens impeccable and have John Lewis lorries delivering things during the week. And the cars on the driveways reflect this. The Discovery Sport is a particular favourite as is the Qashqai. Plus lots of Audi Q3s and BMW X1s.
And now it seems like we've joined the hordes with our new arrival - the Volkswagen Tiguan. If any car says 'middle class family' this is it. It's even grey (Indium Grey metallic actually) so it blends in. You don't want to create an eyesore after all. 
The Tiguan covers the middle ground when it comes to crossovers. It's image may not be as premium as a BMW, but it's a cut above a Honda or a Nissan. Which is certainly reflected in the price. Our Tiguan is a high spec SEL model but even with that considered, it's still expensive at £32,975.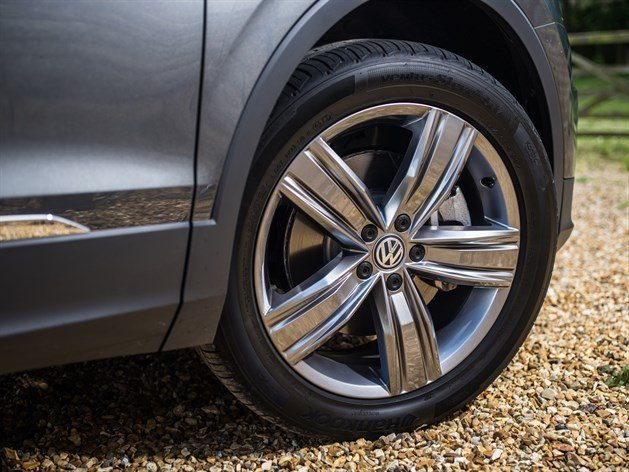 SEL models come with sleek 19-inch alloys as standard
That's not to say you have to spend this much. The Tiguan range starts at £23,250 for a 1.4 TSI in basic S trim. But judging by the other Tiguans I've seen on the roads of late, it's the SEL and R Line models that people are buying. And both of those start at more than £30k.
So does it justify that price tag? Well you certainly get plenty for your money in terms of standard equipment. Our car comes with 19-inch alloy wheels (which complement the grey paintwork really well), a full length panoramic glass roof, which is proving very popular with our two-year-old daughter, navigation and adaptive cruise control. Just to mention a few. 
In fact the only things it doesn't come with which you might expect of a high spec model are leather seats - a £1500 option - and a reversing camera, which is another £300. Saying that, we were still able to somehow add on more than £4000 of optional extras including the head-up display, an electric tailgate with the keyless entry package, Dynamic Chassis Control (an eye-watering £810) and the upgraded Discover Navigation Pro which was the most expensive addition at £1390.
The one thing the Tiguan certainly does not feel is cheap. It has a quality interior with a premium feel to it, from the lovely leather steering wheel with its piano black inserts to the Active Info Display - a high res screen that replaces the conventional instrument dials. Everything works with real precision and a rewarding weight. So early impressions are very favourable. Will that last? We have six months to find out. 
Later: Why we chose a petrol rather than diesel Tiguan... »
Updates

Our Tiguan has proved faultless over the last six months so we're sad to see it go.

If you're after a Tiguan but need seven seats then there's an answer in the shape of the new Tiguan Allspace.

Our Tiguan is fitted with DCC - an £810 option - but while it may be very clever, is it worth paying the extra for?

Despite its talents, our Tiguan is hardly the stuff of excitement. But does that matter when it comes to a family crossover?

The Ateca was the most popular car on our site in 2017. It's also cheaper than our Tiguan - so is it a better choice?

We ordered our Tiguan with the Head-Up Display for an extra £500. But we really think we should have saved our money...

Our Tiguan isn't short of space yet we still manage to cram it full of stuff when it comes to going on holiday. Will a shiny new Thule roof box be the answer?

Going for the 2.0-litre petrol engine in our Tiguan does mean sacrificing economy, would a plug-in hybrid be the answer?

Easy to use, a good layout and pin sharp graphics. Volkswagen has - for our money - the best infotainment system around.

Cool. Calm. Connected. That's how Volkswagen describes the Tiguan. But is it still cool and calm when tasked with daily family life?

The vast majority of Tiguan models on the road are TDI diesels. But we've gone for the less economical TSI. Here's why.

1 June 2017: Fifty shades of Volkswagen grey
At more than £35,000, the Tiguan is one expensive crossover - even for a Volkswagen - so is it worth the money?