Skoda Karoq 1.5 TSI 2017 Road Test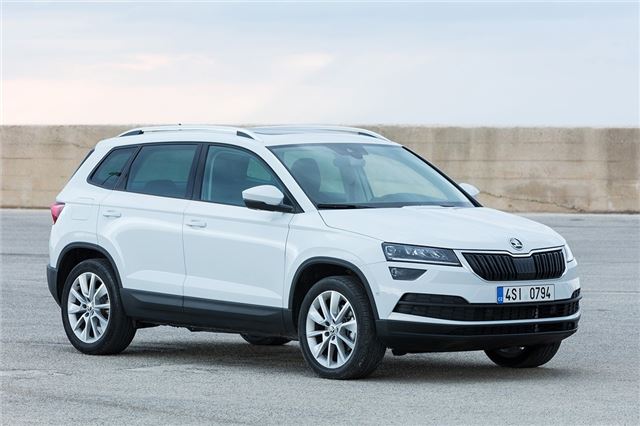 The Skoda Karoq is a worthy replacement for the much-loved Yeti crossover. Admittedly, it lacks the individual styling and sub-£20,000 starting price, but the Karoq more than makes up for these shortfalls with better handling, improved refinement and significantly lower fuel costs. 
Of course, you might say the same about the SEAT Ateca, with which the Karoq shares more or less everything right down to the fundamentals of its styling. But we think the Karoq does just about enough to beat its Spanish counterpart, thanks to its improved ride quality and better on-road demeanour.
In fact, if we had one minor criticism of the Ateca it was its slightly firm suspension. No problem with the Karoq though – it made light work of some of the worst roads we've ever encountered at the launch, soaking up all but the most serious potholes without drama or much in the way of noise. And yet it's composed in bends, without excessive roll when changing direction.
Pick up the pace and it's quiet too. Even when cruising at motorway speeds there is minimal noise from the engine (whichever you choose) or the tyres, with just a faint whistle of wind around the mirrors breaking the silence. It's very impressive indeed – though it's definitely at its best with the new 1.5-litre TSI petrol engine, tested here.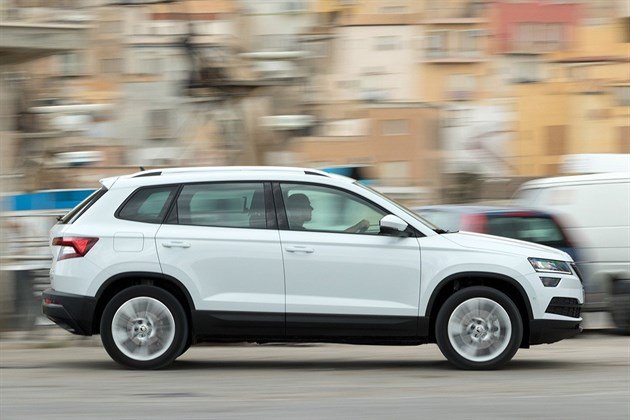 This is a four-cylinder with 150PS and it's a great fit for the Karoq. It's quiet, smooth and punchy, with enough performance for motorway driving and country roads, yet minimal noise and an easy nature around town. There's also a 1.0-litre petrol with 115PS, a 1.6-litre diesel with 115PS and a 2.0-litre diesel with 150PS and all-wheel drive.
Whatever engine you opt for you'll get a smooth, easy-shifting six-speed manual or standard, while a seven-speed DSG is optional. Again, this fits best with the 1.5-litre TSI petrol – but whatever it's linked to it provides barely noticeable gear changes when on the move. Sadly, from a standing start it can be a bit slow to react – like all DSG transmissions.
Inside, the Skoda Karoq has space for five adults to sit in comfort. Rear leg room is generous and, if you go for SE-L trim, you'll get three individual 'Varioflex' rear seats that can be slid back and forth as well as reclined, so you can pick between comfort or space. You can also remove the rear seats entirely – though tumbling them forward is easier and still provides masses of room.
Even with the rear seats in place and slid all the way to the rear there is a decent amount of space - with 521 litres beneath the load cover which is plenty for family life. Shopping bags and a push chair will fit without trouble, plus the load deck is flat and wide, so easy to get bulky, awkward items in and out of without them snagging.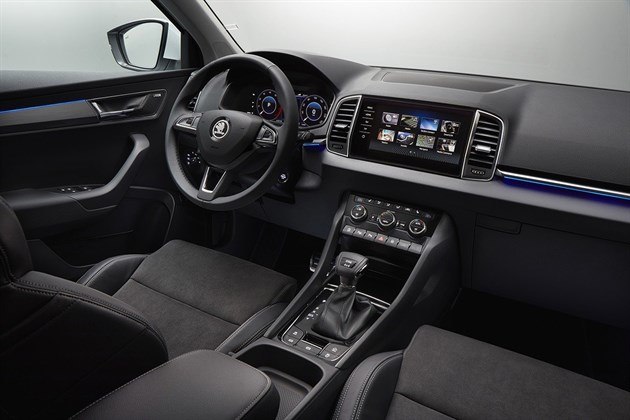 Up front, the layout is conservative but tremendously easy-to-use and impossible to fault. Skip the basic SE trim and you'll get a wide, responsive eight-inch touchscreen system with navigation and Smartlink+, for Android Auto and Apple CarPlay connectivity. It's easy to use, responsive and looks good.
Even if you opt for the base SE model you'll get alloy wheels, dual-zone climate control and auto emergency brakes as standard - but SE-L is really the model to go for. It features keyless entry, heated front seats, Alcantara upholstery and a reversing camera. There's also an Edition trim level with all the bells and whistles.
The elephant in the room is the Skoda Yeti, which the Karoq technically replaces. Since the Karoq was revealed, some very vocal Yeti lovers have insisted that the Karoq is dull and doesn't live up to its predecessor - but we'd disagree. It might not have the simplistic, rugged styling of its predecessor but the Karoq is, in every important way, more competent and accomplished.
Pricing is similar to the Nissan Qashqai and SEAT Ateca when you consider the equipment levels - but the Skoda feels like a better all-round package than both. On the road it's quiet and comfortable, plus it's family-friendly. In fact, it's everything a family crossover should be - and arguably the best car in a very competitive class. 
The Skoda Karoq is on sale now.