Our Cars: Hyundai i10 Blue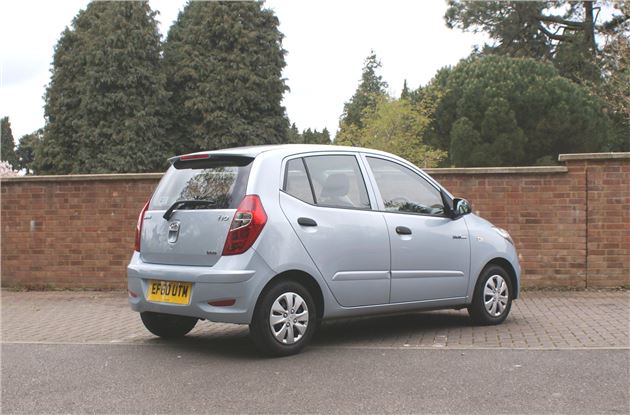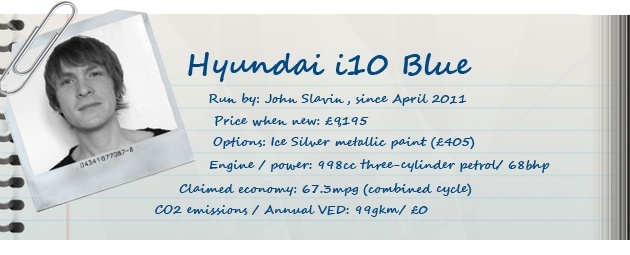 27 May 2011: The award winning i10 Blue
My little i10 never seems to do particularly badly on fuel. I'm never massively kind to it: I rarely 'hypermile' and I sometimes give it more revs than I really need too. Despite that it's never dipped much below 50mpg, even in the most horrific of London traffic.
Many others seem to manage even greater economy figures, so it might come as no surprise that the i10 Blue won an outstanding achievement award for Hyundai at our inaugural Honest John Awards on May 19. The 'Most Genuinely Economical Petrol Engined Car Award,' to give it the full title.
This got me thinking – all of the other road testers and magazines try to prove the potential economy of cars by driving carefully, smoothly and with huge amounts of concentration. But surely the most economical of vehicles should manage decent figures even if you drive like an absolute fool?
So, within the bounds of sensibility and the law, I elected to do just that and see what could be achieved. Interestingly, the i10 Blue did rather well. I spent a good week driving the car without paying the blindest bit of attention to the shift indicator - accelerating as rapidly as I could to the speed limit.
I also avoided allowing the Intelligent Stop and Go system to kick in when stationary and cruised at a higher speed than was necessary. Mixed with a bit of late braking it was the perfect recipe for bad fuel economy, but all the same I managed a half-decent 43mpg. I admit there was a lot of motorway driving mixed in with the mad-dashes, though if it was all in town it might have been worse. But it's an impressive figure all the same. 
This sort of test seems to provide a clearer picture of the actual real-world fuel economy than spending a week driving as slowly and as carefully as possible. It's not all good news, though. I've been seeking out irritations, and there are a few.
For starters there is no average fuel consumption read out in the dash. Having a very economical car is all well and good, but if you can't show off your impressive figures to passengers there's something wrong. Additionally, many people can't be bothered to use a calculator every time they fill up to check their figures.
The biggest bugbear is the price, though. The i10 Blue starts at £9195, which is exactly £1000 more than the 1.2-litre i10 Classic. Besides the Stop/Start system, the Classic trim level has the same standard equipment as the Blue, but it has the benefit of a 1.2-litre four-cylinder engine, giving improved performance.
Fair enough the i10 Blue is slightly better on fuel - the 1.0-litre three-cylinder engine in the Blue has an official economy figure of 67.3mpg compared to 61.4mpg with the 1.2-litre Classic – and it has free VED. But the real world difference in fuel economy is negligible. It'd take a long time to pay off the difference in price with free tax discs and slightly cheaper insurance costs.
Outside of London, the i10 Blue doesn't make much sense. For just £200 more you can have a top-spec Style model with alloy wheels, remote central locking and rear-electric windows. That's a far more sensible choice. However if you go into the Congestion Zone regularly, the Blue makes a lot more sense, offering adequate equipment, fun handling, compact dimensions and good value for money once you've paid off the £1,000 premium with a few months of free congestion charging.
So it's a geographical decision, really... but I live in London, and I really like this award winning little car.
The good:
It's really, really good on fuel.
The bad:
It's more expensive than it should be.
« Earlier: Go figure Later: Meet the rivals »
Updates

After six months, 10,000 miles, 172 gallons of petrol and numerous trips across the country, it's time to say goodbye to the Hyundai i10.

After a trip up the motorway the lightweight i10 shows a weak spot in some blustery weather.

When you've been driving a car for a few months you start to notice finer points, like the layout of the engine bay and the folding of the seats.

It's been warm, and standard air-con has been a boon - but it saps power and fuel economy, quite noticeably so.

I haven't driven the i10 far lately, but that's given me time to ponder the numerous accessories Hyundai offers for it.

Even when compared to used cars the i10 Blue makes financial sense for those who want congestion charge exemption

After a few months running the i10, some of the clever little details start to catch your attention a little more.

Small cars like the i10 occupy a busy marketplace, with seemingly every car maker building something little, frugal and cheap. So if you're interested in the i10, here's how it stacks up against models from rival makers.

27 May 2011: The award winning i10 Blue
It might come as no surprise that the i10 Blue won the title of 'Most Genuinely Economical Petrol Engined Car Award' at our inaugural Honest John Awards on May 19th. Here's why...

Before the i10 I had an old 'banger' and tried to keep costs to a minimum. But after comparing the running costs of the Hyundai i10 to my old Nissan I was astounded how much more the 10-year-old Primera was costing.

After its difficult first journey down the M1, the i10 is right at home in London town.

The Hyundai i10 is the newest and smallest addition to the HonestJohn.co.uk fleet. It should be right at home in central London, where it'll be living for the next six months.