Our Cars: Hyundai i10 Blue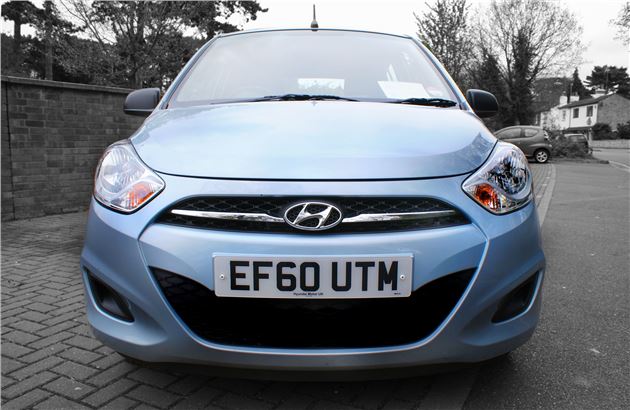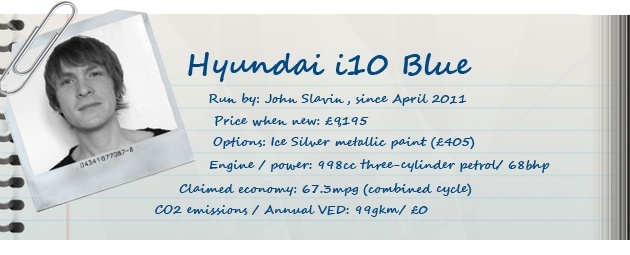 29 April 2011: London Love
It was all very well introducing the i10 Blue by driving it down the motorway, but after all is said and done, this is a city car. So the best place to spend time with it is in an urban environment. Thankfully London is very urban indeed, and it's where the i10 and I have spent the past fortnight.
The little Hyundai has obviously been designed for the city. Firstly, it's quite a narrow car, with a width of 1595mm. It's not exceptionally slim for its class; the Chevrolet Spark is an almost identical 1597mm wide, and the Fiat Panda is 1578mm wide.
But when you compare it to the likes of other 'small' cars like the Ford Fiesta, which is 1787mm wide, you start to realise that in the tight, hectic traffic of London, every millimetre counts.
Squeezing past vans trying to turn right across an endless line of traffic is much easier in a car like the i10 than it is in larger machines, and it's something which I'm very happy to be able to do.

View this map in a larger map
Obviously the i10 is small lengthways too. At 3565mm it's similar in length to the three-door Fiat 500 (3546mm), but the i10 somehow manages to have five doors and a not an unreasonable level of rear legroom.
Parking is extremely easy, aided by the very light steering and a small turning circle, again perfectly suited to the annoyingly anti-car city of London, where finding a space that is big enough and that isn't extortionately expensive is a real challenge.
There are other features that help out in town too, most notably the start/stop system which is unique to the Blue variant of the i10. Putting the car in neutral and lifting the clutch causes the engine to stop. It starts again as soon as you depress the clutch pedal.
In order for the system to function the car needs to be up to temperature, which initially concerned me since my commute is only a few miles. I was pleasantly surprised to find that the system takes about two minutes to warm up, though, and so by the second set of lights on my trip it's ready to go.
Using the air conditioning or putting the heater on full blast prevents the system from working too, but at this time of year it's fine not to bother with either. In practice the stop/start system, called Intelligent Stop and Go (or ISG) is unobtrusive and very quickly becomes second nature. After a few miles of getting used to the idea, slipping into neutral rather than staying on the clutch turns into a habit.
It makes sense, too. Why waste fuel when stationary? I imagine it won't be long until similar systems are fitted to all cars and rightly so. Unfortunately, the sonorous, thrummy little engine is at odds with my fuel economy. It makes an addictive, almost funny noise when pushed hard, so that's exactly what I've been doing.
Nipping up to 30mph away from roundabouts and away from the lights isn't necessary but it's entertaining. Over the past fortnight my fuel economy has lingered around 41mpg, and almost all of that has been in stop start London traffic. It's acceptable, but without my hooliganism it'd be even better.
What's good?
Stop/start system means fuel isn't wasted when stationary. Which is most of the time. 
Easy to park and squeeze through gaps
Aux-in means I can listen to my own music
What's bad?
The cabin smells odd. Like plastic. 
While my mpg is decent, it's not quite as good as official figures.
« Earlier: First update Later: Go figure »
Updates

After six months, 10,000 miles, 172 gallons of petrol and numerous trips across the country, it's time to say goodbye to the Hyundai i10.

After a trip up the motorway the lightweight i10 shows a weak spot in some blustery weather.

When you've been driving a car for a few months you start to notice finer points, like the layout of the engine bay and the folding of the seats.

It's been warm, and standard air-con has been a boon - but it saps power and fuel economy, quite noticeably so.

I haven't driven the i10 far lately, but that's given me time to ponder the numerous accessories Hyundai offers for it.

Even when compared to used cars the i10 Blue makes financial sense for those who want congestion charge exemption

After a few months running the i10, some of the clever little details start to catch your attention a little more.

Small cars like the i10 occupy a busy marketplace, with seemingly every car maker building something little, frugal and cheap. So if you're interested in the i10, here's how it stacks up against models from rival makers.

It might come as no surprise that the i10 Blue won the title of 'Most Genuinely Economical Petrol Engined Car Award' at our inaugural Honest John Awards on May 19th. Here's why...

Before the i10 I had an old 'banger' and tried to keep costs to a minimum. But after comparing the running costs of the Hyundai i10 to my old Nissan I was astounded how much more the 10-year-old Primera was costing.

29 April 2011: London Love
After its difficult first journey down the M1, the i10 is right at home in London town.

The Hyundai i10 is the newest and smallest addition to the HonestJohn.co.uk fleet. It should be right at home in central London, where it'll be living for the next six months.