Our Cars: Hyundai i10 Blue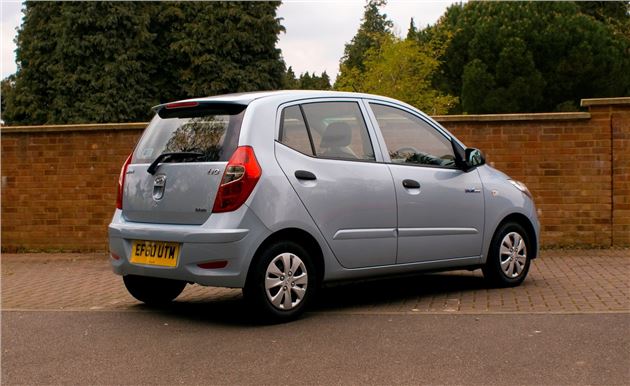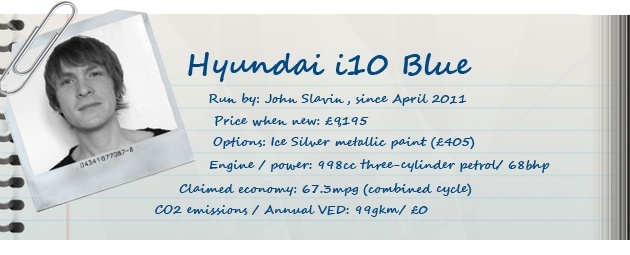 15 April 2011: It's a long way down...
In another bout of  'it's close enough in the spectrum' style naming, Hyundai have decided to call their green model 'Blue,' much like Volkswagen and Mercedes-Benz have with their eco ranges. Say hello to the third model to join 'Our Cars,' the Hyundai i10 Blue.
This little city car qualifies for London congestion charge exemption after a registration fee of £10, as well as free VED, thanks to CO2 emissions of 99g/km.
The 998cc three cylinder petrol engine isn't exactly powerful, producing 68bhp at 6,200rpm. Torque is similarly unimpressive, peaking with 70lb/ft at 3,000rpm, so it's safe to say this car is best suited to short jaunts across town, which shows when you look at the quite impressive urban fuel economy figure of 56.5mpg. Official combined cycle economy is claimed to be 67.3mpg.
I'm not  particularly kind, though, so rather than introduce you to the i10 Blue by taking it on a few short trips to the shops I decided to use it as a removal van and drive it 200 miles down the M1. The route took it from my old home in County Durham to my new one in West London. Sometimes it's best to give things a baptism of fire...

View My i10 in a larger map
I must admit that I expected the i10 not only to struggle at this first test, but to fail entirely. I believed firmly that I would have to leave most of my clothes behind, and that it would take me several days to arrive in the Old Smoke. I was quite wrong though.
Thanks to easy to operate split/fold rear seats, increasing space in the boot is quite easy, and while it's hardly capacious, it was big enough for my (admittedly relatively small) payload of clothing and other assorted gear.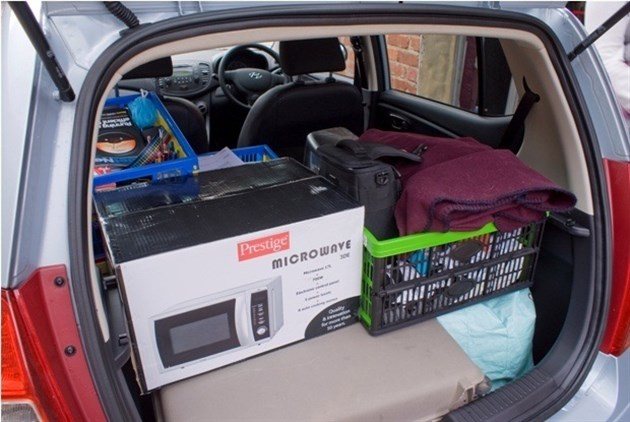 On the motorway everything was acceptable, albeit unexceptional. Noise was apparent but not overbearing, and while the little engine is certainly at its best in low gears, it just about managed overtakes with a down change and some forward planning.
I didn't bother to fill up the 35-litre tank before departing on the trip, and based on a mixture of driving before and after the long motorway cruise and the big trip itself the i10 managed a not unreasonable economy figure of 51mpg. It could have been better, but with a decent sized payload in the back and a lot of heavy-footed throttle application it's a more than acceptable figure. 
Most impressive of all, though, was the comfort. I stopped for a very short break once during the whole four-and-a-half-hour trip, and despite that I arrived feeling nothing more than a little numb-legged. I've made the same trip in much larger cars and found them to be less comfortable, despite being designed for long journeys.
Now the little i10 it's at its new home in the capital, it'll be interesting to test it in the environment it was designed for, particularly when it performed so well on the motorway where, by rights, it should have been out of its depth.
What's good?
The seats: They are very comfortable and so is the ride.

What's bad?
The colour: I'm not sure I like the blue paintwork yet and the wheel trims don't appear to be of the best quality.

Updates

After six months, 10,000 miles, 172 gallons of petrol and numerous trips across the country, it's time to say goodbye to the Hyundai i10.

After a trip up the motorway the lightweight i10 shows a weak spot in some blustery weather.

When you've been driving a car for a few months you start to notice finer points, like the layout of the engine bay and the folding of the seats.

It's been warm, and standard air-con has been a boon - but it saps power and fuel economy, quite noticeably so.

I haven't driven the i10 far lately, but that's given me time to ponder the numerous accessories Hyundai offers for it.

Even when compared to used cars the i10 Blue makes financial sense for those who want congestion charge exemption

After a few months running the i10, some of the clever little details start to catch your attention a little more.

Small cars like the i10 occupy a busy marketplace, with seemingly every car maker building something little, frugal and cheap. So if you're interested in the i10, here's how it stacks up against models from rival makers.

It might come as no surprise that the i10 Blue won the title of 'Most Genuinely Economical Petrol Engined Car Award' at our inaugural Honest John Awards on May 19th. Here's why...

Before the i10 I had an old 'banger' and tried to keep costs to a minimum. But after comparing the running costs of the Hyundai i10 to my old Nissan I was astounded how much more the 10-year-old Primera was costing.

After its difficult first journey down the M1, the i10 is right at home in London town.

15 April 2011: It's a long way down...
The Hyundai i10 is the newest and smallest addition to the HonestJohn.co.uk fleet. It should be right at home in central London, where it'll be living for the next six months.