Our Cars: Hyundai i10 Blue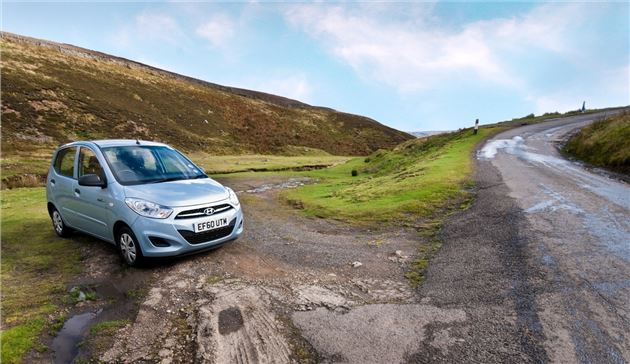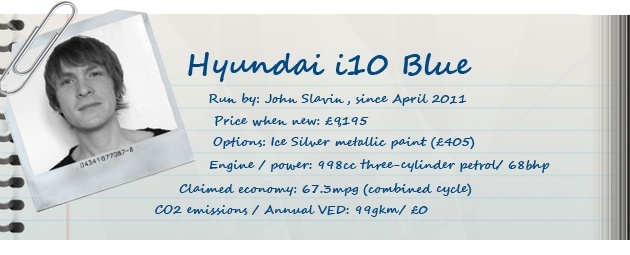 4 November 2011: Farewell, i10!
The Details
| | |
| --- | --- |
| Current mileage | 10,143 |
| Average economy | 58.9mpg |
Believe it or not, the Hyundai i10 has been with me for six months, and so it's time to bid it farewell. The recorded mileage sits at just above 10,000, and over the past six months my average fuel economy has been an impressive 58.9mpg.
That means I've used 172 gallons of petrol, which has cost me about £1050.  Had I been driving an eco diesel I'd have expected about the same economy, but it would have cost £50 more in fuel, not to mention the extra initial cost of buying a diesel car in the first place.
The i10 is, of course, in its element in the city, but the biggest surprise of the past six months is how well it copes on motorways and dual carriageways. For the odd weekend away it's ideal, coping very well over long distances. Larger cars are quieter and offer better overtaking performance than the i10, but it's certainly as comfortable on a three or four hour drive as some big saloons.
It's not all perfect, though. It's tall sided and lightweight, so it catches the wind and feels a little precarious in bad weather. In rain the roof sounds curiously thin, and if you forget to lower the parcel shelf it obstructs the view out of the rear. Luckily the last problem can be overcome with a gentle shove of the throttle, which makes it thud back into place.
It's all well and good me telling you what it's like to drive the i10, but if you've got a family then there's every chance you'll have a passenger with you for a lot of your journeys. My other half has spent almost as much time as me in the i10, but, being unable to drive, she's seen it from a different perspective.
She says "the interior is roomy and sturdy but isn't made of the fanciest materials." She's happy enough to sit in the passenger seat on long trips, though, and she also appreciates the standard AUX-in connection, which allows her to listen to her iPod.
On the other hand she thinks it needs more power to make country drives more interesting and she absolutely hates the colour, which she rather aptly calls "blue rinse metallic."
In the Blue trim level, which I've been running for the past six months, the i10 is congestion charge exempt, which made sense initially. But it didn't take long to realise that those big red Cs painted on the road to indicate that you're entering the London congestion zone should only be regarded as a good place to do a U-turn.
Driving in central London is best avoided, even in a congestion charge exempt car. Parking charges are eye-wateringly extortionate and most journeys take less time on foot than they do in a car, thanks to scores of traffic lights and frankly ridiculous numbers of traffic jams.
Which brings me neatly on to my conclusion - in the Blue trim level, the i10 comes with less kit than the 1.2-litre Classic model, which gets alloy wheels, electric windows and a more powerful engine. Despite that, the Blue - which doesn't even have remote central locking - costs £400 more.
So in short, if you're in the market for a small car, then you should definitely consider the i10 – but unless you absolutely must drive into the congestion zone on a regular basis, buy the 1.2 Active and leave the Blue alone. If you do that you'll end up with what is probably the best value car in this price bracket.
What's good:
Excellent fuel economy
Practicality of five doors and folding seats
Works well on the motorway
Makes an ideal city car
What's bad:
The 1.2-litre i10 is almost as efficient but costs less
The bubble chart below shows all the figures you'll need to know about the i10 from the last six months.