Our Cars: Hyundai i10 Blue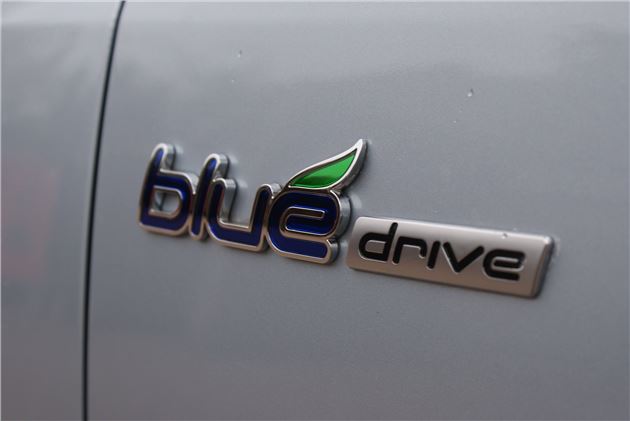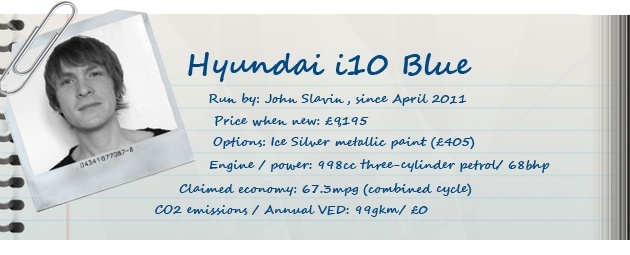 14 July 2011: Exempt-lary performance
The Details
| | |
| --- | --- |
| Current mileage | 6,200 |
| Average economy | 52mpg |
Driving into the congestion zone every week day of the year would cost £2,600, so it's understandable that buyers who drive into central London fairly often want to buy a congestion charge exempt car.
There a few ways to go about it – Euro V compliant new cars which emit below 100g/km of CO2 are exempt after a registration fee, as are plug-in hybrids, electric vehicles and vehicles with more than nine seats.
When I first got the i10 Blue I pointed out that it was the cheapest congestion charge exempt car on sale, and at the time it was. It almost still is, but the new Kia Picanto has just knocked it off its perch, the basic but still exempt model coming in at £7,995, or £8,595 when fitted with air conditioning.
But that referred to new cars – is the i10 Blue still a bargain for Londoners when they consider buying used?
With a fairly sensible budget if £10,000 you'd expect to be able to find any number of congestion charge exempt vehicles on the used car market, but... well, you can't.
The immediate go-to point for anyone who wants to be green is the Toyota Prius, and your £10,000 will get you one with a fairly decent level of equipment, but it'll be a mk2 model.
The mark 2 produces an impressively low 67g/km of CO2 on the combined cycle, but don't write your cheques just yet – the latest congestion charging refresh introduced the Greener Vehicle Discount, and thanks to that in order to qualify for exemption sub 100g/km cars must also have Euro V engines.
The second generation Prius is only Euro IV compliant, and so after December 2012 it will no longer qualify for exemption.
Besides the Prius there are a few other options for under £10,000, including one-year-old Vauxhall Corsa Ecoflex and Ford Fiesta Econetic models, both of which are exempt.
They'd make suitable cars for those who commute from further afield, but with diesel engines they're less suitable for urban driving than the petrol engined i10, which is simpler and cheaper to maintain, as well as kinder to the environment thanks to lower particulate and NOX emissions.
Finally, if you're willing to flaunt the rules, you could buy a 12-seat Land Rover Defender. In fact, you can get one for as little as £3,000 – but don't expect much relief in the way of fuel economy or running costs, and good luck parking it in central London!
It seems that for the Londoner looking for congestions charge relief, the two most sensible choices are the Kia Picanto and the Hyundai i10 Blue, even taking the used car market into consideration.
Picking between the two, though, comes down to personal preference. But no matter which you choose it's likely to be a wise buy.
« Earlier: It's the little things Later: Accessorize! »
Updates

After six months, 10,000 miles, 172 gallons of petrol and numerous trips across the country, it's time to say goodbye to the Hyundai i10.

After a trip up the motorway the lightweight i10 shows a weak spot in some blustery weather.

When you've been driving a car for a few months you start to notice finer points, like the layout of the engine bay and the folding of the seats.

It's been warm, and standard air-con has been a boon - but it saps power and fuel economy, quite noticeably so.

I haven't driven the i10 far lately, but that's given me time to ponder the numerous accessories Hyundai offers for it.

14 July 2011: Exempt-lary performance
Even when compared to used cars the i10 Blue makes financial sense for those who want congestion charge exemption

After a few months running the i10, some of the clever little details start to catch your attention a little more.

Small cars like the i10 occupy a busy marketplace, with seemingly every car maker building something little, frugal and cheap. So if you're interested in the i10, here's how it stacks up against models from rival makers.

It might come as no surprise that the i10 Blue won the title of 'Most Genuinely Economical Petrol Engined Car Award' at our inaugural Honest John Awards on May 19th. Here's why...

Before the i10 I had an old 'banger' and tried to keep costs to a minimum. But after comparing the running costs of the Hyundai i10 to my old Nissan I was astounded how much more the 10-year-old Primera was costing.

After its difficult first journey down the M1, the i10 is right at home in London town.

The Hyundai i10 is the newest and smallest addition to the HonestJohn.co.uk fleet. It should be right at home in central London, where it'll be living for the next six months.