Our Cars: Hyundai i10 Blue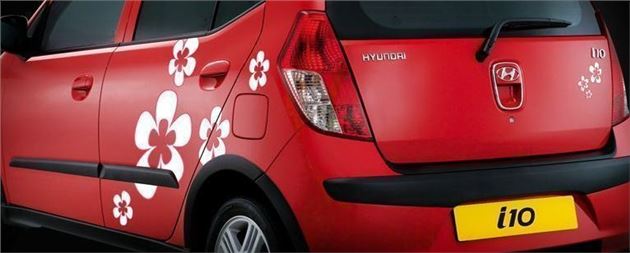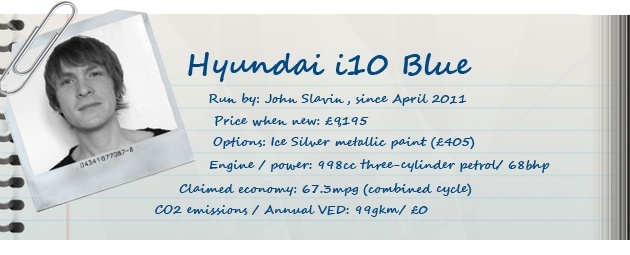 29 July 2011: Accessorize!
Since the i10 was delivered it's been fairly easy to establish that the range generally offers good value for money, good quality, decent fuel economy and a well thought out cabin.
But the i10 is perhaps lacking in one area, and that's looks. It's hardly outstanding on the eye, and for most buyers that won't be a problem.
However, covering all bases as they do, Hyundai has the needs of those who want a bit of 'flair' covered.
Besides the usual trim levels (Classic, Active, Blue and Style) and the standard equipment they offer, Hyundai has a selection of optional accessories to help liven the i10 up, including vinyl flower graphics, a sporty spoiler, a selection of gearknobs, chrome sill inserts, grill inserts and various other assorted bits and pieces. You can even overcome the i10's narrow appearance with a set of wheel arch extensions...
But not all of the accessories are superficial. Tow bars, roof boxes, bike carriers and cargo rails are all available, along with child seats, a snowboard and ski carrier, a dog guard and parking sensors.
Rear parking sensors cost £135, which isn't exactly expensive if you're prone to bumps and scrapes, and other options are fairly well priced, too. £50 gets you a boot floor protector, handy if you make regular trips to the tip, and roof bars cost from £113.
It's is debateable, however, whether or not it's worth spending more than £1,000 on a flip-out infotainment system with sat nav and Bluetooth. Perhaps a little steep.
Besides my pondering of the various accessories Hyundai has on offer the i10 it hasn't received much attention over the past week, because I've been driving an Audi A1.
It's cruel to compare the two as the Audi costs substantially more. However one thing I observed was, despite the A1 being reasonably efficient – I managed about 45mpg indicated, so probably slightly less in reality – the small difference in economy between it and the i10 really does make a difference to your wallet.
Covering about the same distance in the A1 as I usually do in the i10 cost £10 more in fuel, so over a year it'd cost an extra £520.
Granted I drive further than most people do in a week but even so, when the extra costs accumulate, the savings someone can make by picking a sensible, fuel efficient car really do show through.
Just think, you could use that £500 saved on fuel to put some flowers and chrome on your i10...
« Earlier: Exempt-lary performance Later: Air con-undrum »
Updates

After six months, 10,000 miles, 172 gallons of petrol and numerous trips across the country, it's time to say goodbye to the Hyundai i10.

After a trip up the motorway the lightweight i10 shows a weak spot in some blustery weather.

When you've been driving a car for a few months you start to notice finer points, like the layout of the engine bay and the folding of the seats.

It's been warm, and standard air-con has been a boon - but it saps power and fuel economy, quite noticeably so.

29 July 2011: Accessorize!
I haven't driven the i10 far lately, but that's given me time to ponder the numerous accessories Hyundai offers for it.

Even when compared to used cars the i10 Blue makes financial sense for those who want congestion charge exemption

After a few months running the i10, some of the clever little details start to catch your attention a little more.

Small cars like the i10 occupy a busy marketplace, with seemingly every car maker building something little, frugal and cheap. So if you're interested in the i10, here's how it stacks up against models from rival makers.

It might come as no surprise that the i10 Blue won the title of 'Most Genuinely Economical Petrol Engined Car Award' at our inaugural Honest John Awards on May 19th. Here's why...

Before the i10 I had an old 'banger' and tried to keep costs to a minimum. But after comparing the running costs of the Hyundai i10 to my old Nissan I was astounded how much more the 10-year-old Primera was costing.

After its difficult first journey down the M1, the i10 is right at home in London town.

The Hyundai i10 is the newest and smallest addition to the HonestJohn.co.uk fleet. It should be right at home in central London, where it'll be living for the next six months.