Ford Mustang (2015–)
Last updated 18 April 2018
Guaranteed to get attention. Lovely noise from 5.0-litre engine. No other car can match the V8 for pound-per-horsepower.
V8 has a frightening thirst for fuel. The interior lacks quality. Uncharismatic sound from 2.3 Ecoboost. Tiring to drive in traffic.
Updated 10 April 2018
Report of mysterious electrical fire that destroyed a 2016 Ford Mustang 5.0 V8 GT at 5,500 miles. The car had been recalled at 6 months old for an electrical fault. Alarm sounded on 29-3-2018, then car...
Introduction
Want an iconic V8-powered muscle car for less than £40k? Then take a look at this - the Ford Mustang. It has finally made its way to the UK in right hand drive and you can buy one from a Ford dealer rather than as an import.
It's no shy and retiring wallflower. If you want a subtle car this isn't for you. This Mustang echoes the classic designs of its predecessors but Ford promises that this model has been brought up to date to make it much more appealing to buyers used to performance cars from BMW and Mercedes-Benz.
This means it gets a much needed update, with independent rear suspension. In the UK the Mustang also comes with the performance pack as standard, which means stiffer suspension, larger brakes and a limited-slip differential.
There are in fact two engines available. The one everyone wants is the 5.0-litre V8 with 416PS in the GT model. It starts up with a deep rumble, but is not as loud as you'd expect on the move. The heavy clutch and clunky gear change mean it's no an easy or enjoyable car to drive in traffic either.
Alongside this is the cheaper 2.3-litre EcoBoost with 314PS. Borrowed from the Focus RS it's designed to offer turbocharged performance with better economy, but it struggles with weight of the Mustang and feels underpowered.
However, this Mustang does handle well. It's a big step up from its predecessor with responsive steering and that more sophisticated suspension set-up means it's composed and confident through corners, even in the wet. Not that you'll forget this is a rear-wheel drive car if you're heavy with your right foot.
The coupe would be our choice but there is also a convertible with a multi layer insulated fabric hood designed to cut out noise when it's closed. However, the folding roof lacks refinement, with large gaps between the folded roof and bodywork.
The interior is way short of what we'd expect too, especially compared to other Ford models such as the Edge. Given the price of the Mustang - and the cars it's competing against - the cabin of the Mustang falls short in too many areas, feeling dated and well below par.
Ford Mustang 2.3 EcoBoost 2015 Road Test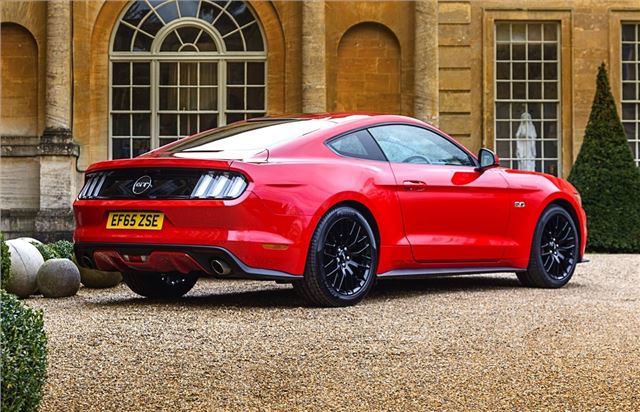 Owners' reviews
Lotus Carlton performance in a car so docile your mother could drive it to the shops