Learning to drive in: A Volkswagen Up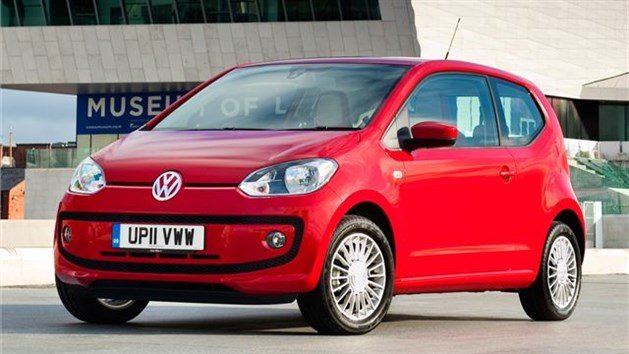 Many people aspire to own a Volkswagen as their first car, but they tend to be more expensive – new or used – than rivals from other companies. The Up, however, is similar in price to the likes of the Peugeot 107 and Citroen C1, and yet it feels very much like its larger stablemate – the Polo.
It's also easy to drive, small and simple to park, so if you have the money to buy one or you can find a driving instructor who teaches in one, snap up the opportunity. It's among the very best cars for new drivers. 
Getting Started
You'll notice right away that the Up has pretty compact exterior dimensions, but thanks to clever packaging the interior is reasonably roomy. The seats are comfortable, but they're not as adjustable as those in larger cars like the Ford Fiesta, and on top of that you can't adjust the wheel for reach, only rake.
It's not the end of the world, though – it's still easy to get settled into a comfortable position and all of the controls are sensibly placed and light. The speedo is huge and crystal clear and Volkswagen provides a rev counter – but it's the smallest we've ever seen. Even so, it's clear enough to be useful. 
On the move
The Up is as nimble as you'd expect such a small car to be, but it has a feeling of sturdiness and solidity often absent from little cars. The steering is ideally weighted, offering enough resistance to feel connected but not so much it's heavy, while the pedals and gear change are slick and smooth. It's not just easy to drive – it's enjoyable, in or out of town.
The neat styling means it's easy to judge the exterior dimensions, too, so tight gaps are easy to get through and visibility is better than most similar cars, thanks to clear mirrors and big glass areas.
There are two power outputs – 60 and 75PS – and both are fine for most environments, although overtaking and motorway driving takes a little forethought. It's hard to fault the way the Up drives in most situations though.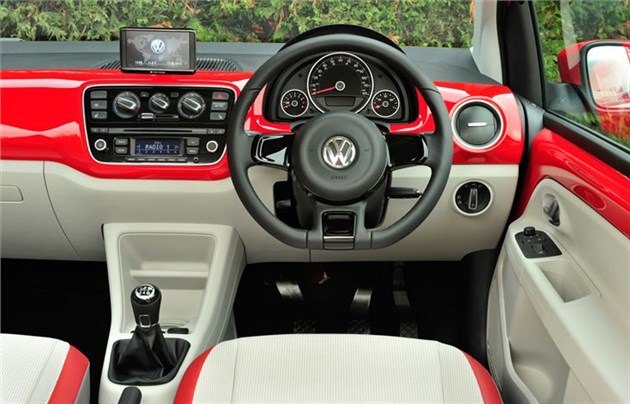 Manoeuvres
The Up is incredibly easy to park. The rear of the car is more or less flat, which makes it easy to judge the distance to the car behind when reversing, while the flat sides and stubby front mean finding the kerb and avoiding obstacles in front is simple. The turning circle is tiny, so you can turn in the road in one go most of the time, providing there are no parked cars.
Summary
With plenty of affordable lease deals the Up is one of very few cars new drivers might consider buying brand new, and if you do get hold of one you'll probably be happy – it's well put together and is about as easy and fun to drive as a car this small can be. It's inexpensive to run, nimble in town and has a desirable Volkswagen badge up front.
And if your local driving instructor has an Up it's a good car to learn in for all the same reasons. There are a few minor faults, but they're easy to write off – the Up is the ideal car for new drivers. 
Helpful details
Cabin: Solid, stylish and well laid out.
Controls: Its not just easy to drive, it's enjoyable.
Parking: There are few cars out there that are as easy to get into a space.
Unhelpful details
Seats:While comfortable they lack the adjustablity present in some rivals
Steering wheel:Can only be moved up and down, not back and forth

Already learning? Visit our Facebook page and let us know what car you're taking lessons in. You'll also find lots of useful information, and you can ask us and other learners anything you want.