What is heycar & why use it?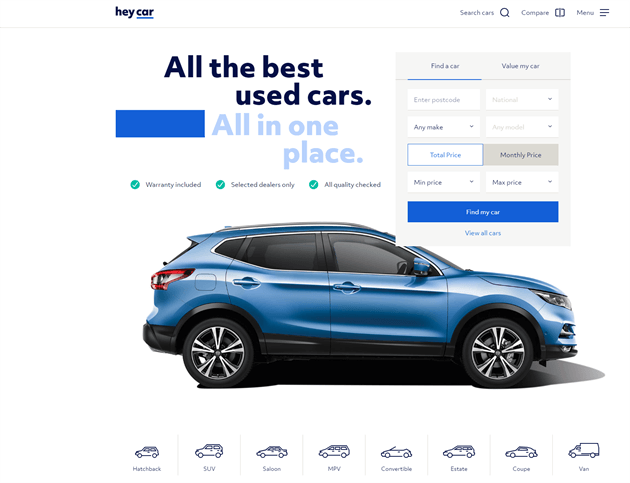 heycar is an online, quality used car marketplace that only partners with selected dealers and only lists vehicles that are under eight years old, have fewer than 100,000 miles on the clock and come with a warranty.
The site aims to improve trust between consumers and dealers when it comes to purchasing used vehicles. heycar is, therefore, ad-free and doesn't charge dealers a listing fee, Instead, it encourages them to display all their best quality stock so you know you aren't going to be ripped off by dealers hoping to generate interest with low prices on sub-standard cars.
Why should you use heycar?
Once you've done your research with us: checking out Reviews, Real MPG, Petrol or Diesel Calculator and Owner Reviews — heycar is a simple to use and trustworthy place to to begin searching for your ideal car.
As we mentioned earlier, each car comes with a warranty that lets you drive away worry-free. Many of the newer cars will still be within their original manufacturer warranty. Others may come with specific schemes that give you enhanced protection. As a bare minimum, you can expect at least 30 days' warranty. When it comes to quality checks, many of the  dealers follow the manufacturer's approved used car standard. Others use the AA's recommended 128-point vehicle check before approving it for sale.
Can you buy a car on PCP through heycar?
You'll find offers for both PCP and HP (Hire Purchase) on each listing. Once you're ready to start crunching some numbers, the dealer will create a full quote with all the details you need to make a decision.
It's a good idea to check out our Cheap Finance Advice page first, though.
Can I part exchange my existing car if I use heycar?
No, but you can get your vehicle valued using heycar's easy-to-use Value My Car tool - which you can find here. So, whether you want to get an estimate for a private sale or part-exchanging with a dealer, you can do that while you're looking for your new motor.
What else should I know about heycar?
Along with the model year, mileage, fuel type etc - heycar also lists whether the vehicle you're looking at meets the current emissions standards required for the Ultra Low Emission Zone (ULEZ) and/or the Low Emission Zone (LEZ) or if you need to pay a daily charge.
The site also offers a delivery service, a little like Amazon. Once you've sent payment, heycar promises to get your car to you within seven days, or whenever works for you. A member of the team will show you around your new car, answer any questions and hand over those all-important keys and paperwork.
The firm launched in 2019 in the UK but started up in Germany - where it began in 2017.
What are the alternatives to heycar?
Traditional brokers offer significant savings through this site in our Cars For Sale section - so you should check these providers too.
However, heycar removes one of the biggest worries when it comes to buying a secondhand model: Can I trust that this car is a good deal? Cars are the second biggest purchase most of us will make - so it's worth going somewhere that you can trust. Usefully, heycar have taken all the hard work out of the used car buying process by only letting you browse high quality options from trustworthy dealers.
Ask HJ
I want to buy a secondhand car but I don't know which sites to trust. Is heycar any good?
Do you know much about heycar? I've seen the ads but don't know which sites are the best to use.
Hi, heycar is an online-only, used car marketplace that launched in the UK in 2019. Although, it originally launched in Germany back in 2017. Unlike other used car sites, it only partners with selected dealers and only lists vehicles that meet its quality criteria. These restrictions mean the vehicles on heycar are all under eight years old, have less than 100,000 miles on the clock and come with a warranty. The goal of the site is to ensure consumers trust the dealers that they speak with, making the whole buying process less stressful. If you're looking for a quality used car, heycar is fairly straightforward to use and you won't have to worry about trawling through promoted ads, untrustworthy listings, vehicles that'll break down on the drive home etc.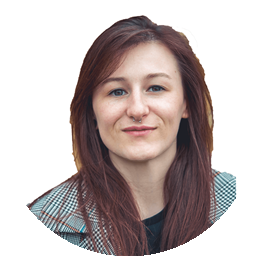 Answered by
Georgia Petrie
More Questions
More Buying Advice
Other Buying Options