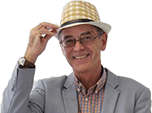 Honda Zoomer X 110cc 2013 Road Test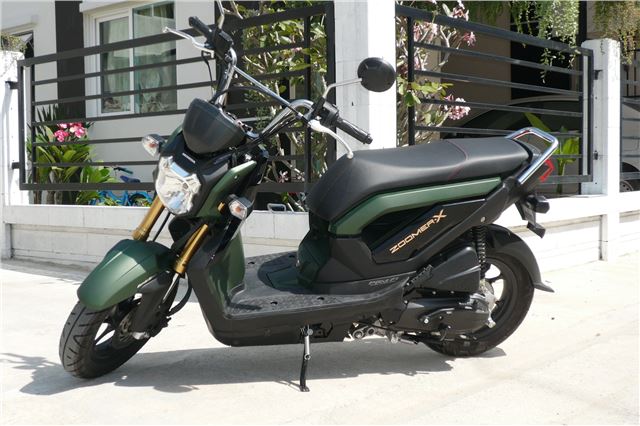 This is unusual for us because it concerns a test not of a car, but of a Honda Zoomer X 110 scooter I just bought for my wife to take our son to school a little more safely than on her 7 year old Honda Click.
The Zoomer has its origins in 2002 when it was launched as a bare bones fat tyred 49cc scooter on a sort of skateboard base with a tubular frame for the single seat. Its model name was the NPS50 and it was called the Ruckus in the USA and Canada.
It became very popular, not least as a F1 pit bike, replacing the miniature Honda 'Monkey' bikes of the 1960s.
Since then, it has been developed and the 2013 Zoomer X launched in Thailand in February 2013 (and launched to the rest of the world at the November 2013 Tokyo Motor Show) has a liquid cooled 50x55 110cc single cylinder engine developing 9 PS (a lot more useful than the 4 PS of the 49cc version). It drives the back wheel via a CVT transmission, officially does 53km/litre (150mpg) and, in the hands of an intrepid Thai with a hand-held camera, eventually managed a top speed of 120kmh (on the clock). (Zoomer X 100 Maxed.)  
So reckon on 65-70mph, which is the norm for this sort of bike and actually makes them a lot safer than the ridiculous 30mph limit that endangers the lives of 16 year olds and car-only license holders in the UK.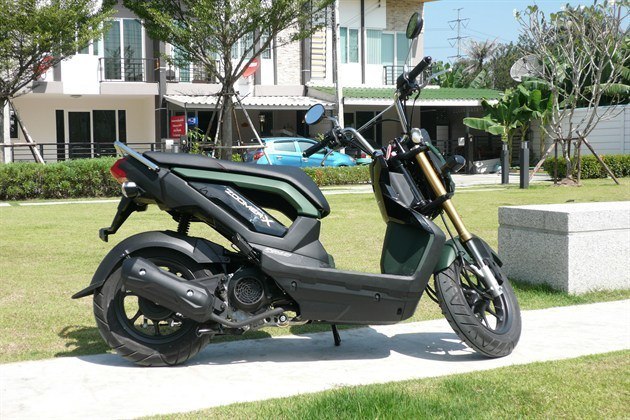 Prices seem to range from 51,000 baht to the 56,000 baht we paid for one with special khaki paint. Add to that registration and plates at 1,500 baht, then three years insurance at 3,000 baht and the grand total was 61,500 baht (£1,230) at today's rate.
They throw in a helmet, which you can throw into the lockable compartment under the seat that has an open front for carrying longer bits of kit, like a skateboard.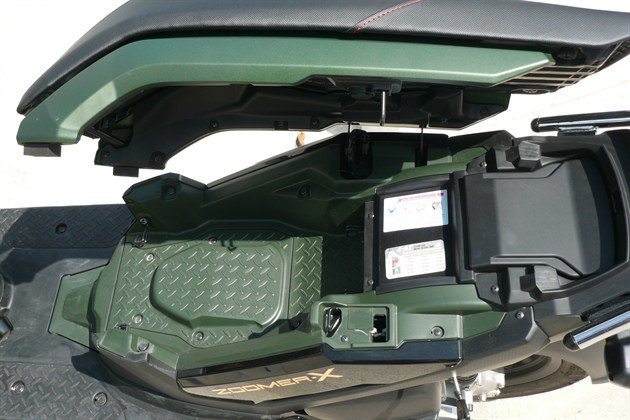 It's very rider-friendly, smooth and quiet to ride, and that impressive front suspension and balloon tyres absorb pot-holes and ruts very effectively (Thailand is as bad as the UK in this respect).
If the Zoomer X 110 comes to the UK, it will probably retail for £2,000 - £2,500. But what's holding it back are the UK's stupid motorcycle laws.
There is absolutely no sensible reason at all why the licence holder for a car should not be permitted to ride a fully automatic 110cc 9PS motor scooter.
In the summer at least, this would get a lot more commuting motor cars off the roads, cut carpark congestion and relieve some of the overcrowding on the trains and buses.
But that's far too sensible when the trains have to be overcrowded with commuters paying far too much for their fares in order to support outrageous rail management salaries.
And when government actually passed a clause of an Act of Parliament to enable money grabbing private parking enforcement agencies to buy vehicle keepership details from the DVLA.