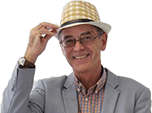 Honda Jazz II 1.5iVTEC 5-speed auto 2012 Used Car Test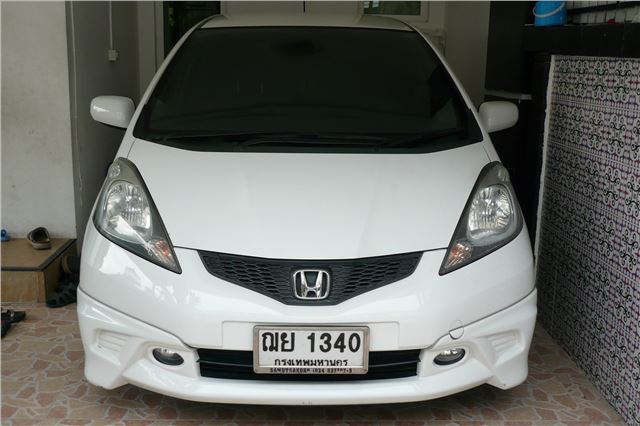 The second generation Honda Jazz appeals to me in much the same way as the original 1959 Mini. Small. Front wheel drive. And brilliantly space efficient.
No other small car gets anywhere near it. And I don't think any other small car can, because Honda has heavily patented its very clever floorpan design that has the driver and front passenger sitting on the fuel tank over otherwise wasted space, which frees up the back of the car to have a lower load deck.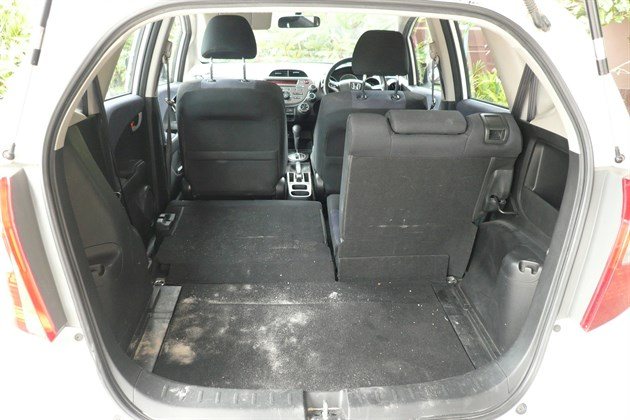 As well as that you get Honda's patented 'Magic Seats' that fold completely flat in a single movement, or, alternatively, have lift-up squabs to create space in the centre of the car for carrying awkward-shaped objects, like wheelchairs. (Okay, this one had been to the beach.)
And that's Honda's burden and benefit in the UK. The Jazz is seen as an old fogey's car. There's no chance of it every becoming the rallying, racing, giant-killing performance car that the Mini was.
On top of that, it doesn't handle. Probably due to the design of the rear suspension, it doesn't steer or corner anything like as well as a Mini. It's competent, but that's all. The ride quality isn't very good either, even on 175/65 R15 tyres.
Another nail in its coffin as far as enthusiasts are concerned is its choice of powertrains: 1.2 90PS, 1.4 (really a 1.3) 100PS, and either a 5-speed manual or a 7 main ratio CVT.
However, in other markets, like Thailand, you get a 120PS 1.5iVTEC under the bonnet, feeding its blistering performance to the front wheels via a 5-speed torque converter automatic transmission. This is the Jazz Honda won't let us have in the UK because its emissions are naturally a bit more than the 1.4 CVT. And, while it can't be said to totally transform the car, it changes it into a decent enough little cruiser that will trundle along all day at 2,500rpm and 75mph, returning around 39.34 mpg.
We're not getting that engine in the new Jazz. The HR-V will be coming with a 'new' 130PS 1.5 and CVT-7 (or a 1.6 diesel). The new Jazz for Europe will have a 100PS 1.3 and CVT-7.
For marketing reasons (that have a lot to do with Honda's worldwide survival) we're having to wait a lot longer for the new Jazz (which won't be built at Swindon), while Swindon has (at least until very recently) continued to build Mk II Jazz that are currently available at run-out discounts.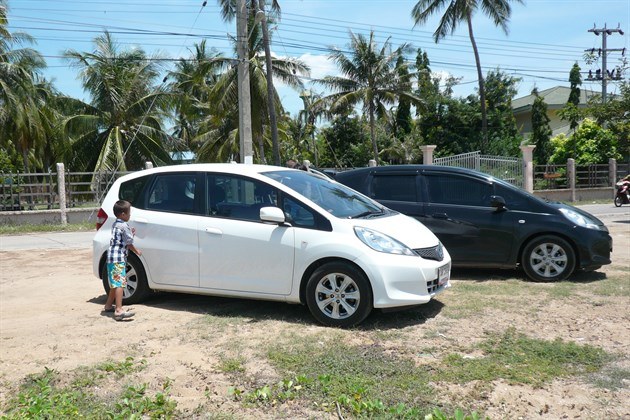 To my eyes, the 2nd generation Jazz is one of the most cleanly styled designs ever to come out of Japan. It's essentially 'one box', with a very deep, steeply raked windscreen that continues into the bonnet line to turn the car into a little bullet. Not unlike the original Renault Twingo. It has terrific front 'vis', by virtue of some decent triangular windows in the A pillars that aren't obscured by the big door mirrors. The big knurled heating and ventilation knobs of the facelift dash allow adjustment by feel without taking your eyes off the road. There are no fussy adornments. No styling geegaws or carbuncles to mess it up. It's a great looking little car, at its best in white.
I've just spent a fortnight surrounded by its successor, the third generation Jazz, that has been on sale in Thailand for a year so the streets are crawling with them. And I can't help wondering what on earth has Honda been thinking about? There are lumps and orifices all over it. As if some kid has been given a MkII Jazz and some modelling clay and been asked to customise it. Or Bernie's Fineman's Bangladeshi mate Leipor has been let loose on it with some welding kit, a hammer and an anvil.
This is what happens with cars. They get it right first time (or second time in the case of the Jazz). Then it's third time unlucky with the facelift.
I had been thinking of saving up for a new Honda HR-V (that has been on sale in Thailand since January and comes with a 150PS 1.8iVTEC and CVT-7). And I'm on Honda's list for the long-term loan of an HR-V 1.6iDETEC back in the UK. But my 3 year old 103,000 kilometre Avis RentaJazz (in the pix) impressed me so much that I tried pitching Avis with an offer.
I figured try 320,000 baht (£6,400) and be prepared to go to 350,000 (£7,000). (Used car prices are about 20% higher in Thailand than in the UK.)
It was no dice. The girl at Avis told my wife that they don't sell cars, only hire them out. So we asked her to check with her boss. But he was obviously only one step up with no authority to make decisions like that either, so gave us the same story.
Mai had already found a 5 year old 60,000 kilometre Jazz, via a friend, initially going for 400,000, but negotiable. But, smart girl that she is, she suggested we trawl a few used car dealers first to check out the market.
The Taling Chan to Bang Hae stretch of Highway 9 is a bit like the Romford Road, with used car dealerships either side. Most of them are actually 'drive-thru', so you just drive around the covered compound looking for anything you like, then park up alongside it.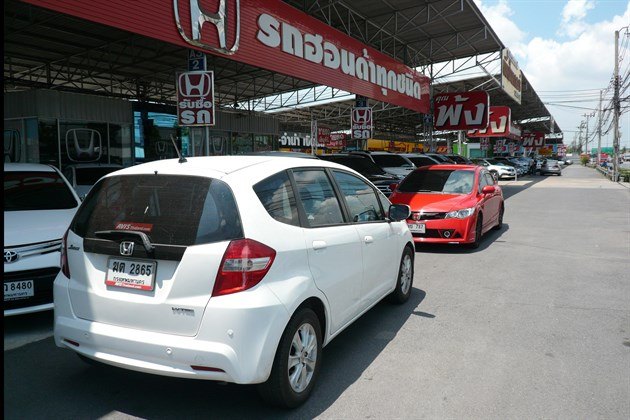 Jazz are rightly popular, so at first we didn't do so well. 350,000 would have bought a 2008 LPG conversion with starship mileage, while 2012s were coming out at around the 450,000 mark, and half of them had been customised. I even checked the price of a Nissan Cube, but that was also 450,000.
Then we eventually rolled into a dealer's lot with no fancy placards or 'come-ons' and found a cluster of three Jazz. One was blue; one was red; and the white one had a bodykit, aftermarket leather seats and 17" wheels with 205/45 R17 tyres. I popped the bonnet and it was obviously unmolested and uncrashed. 5 years old. Facelift model with the more attractive dash. 75,000 kilometres on the clock. Just come in that morning (the engine was still hot). Bootliner. Anti-theft brake lock. 380,000 baht.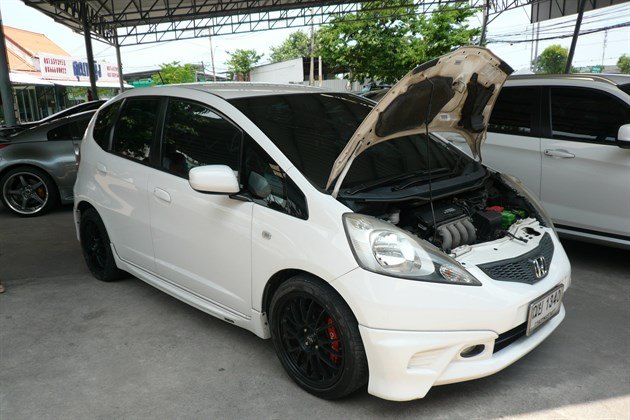 I pitched salesman Nick 350,000, he called his boss, and came back with 360,000. Done deal. All that remained was to take an extended test drive to get the money out of the bank. And off we went.
I was expecting the thing to ride like an old cart. But immediately, the steering felt like a go-kart's. Immensely improved over the rental on 175/65 R15s. And actually it rode no differently on the patchwork road surfaces. So no qualms whatsoever. I repeatedly tell people to go with their instinct and that's what I did. No pressure from salesman Nick.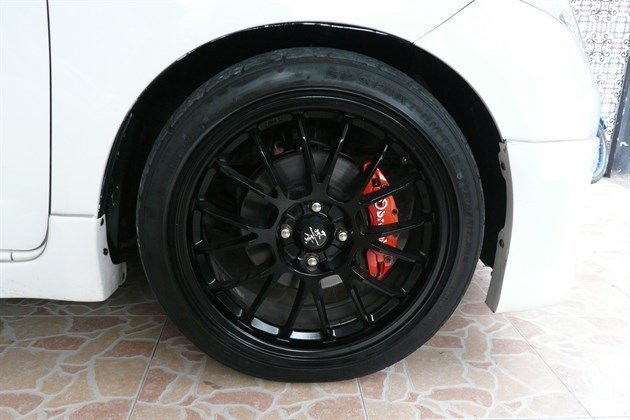 By the end of the afternoon the car had been detailed and delivered with a year's tax included and comprehensive insurance for an extra 19,000. Now all that remained was for the missus to pass her car test, which, as a 20,000 kilometre a year biker, should be a doddle.