Smart Roadster (2003 - 2007)
reviewed by JohnnyLyle on 7 August 2014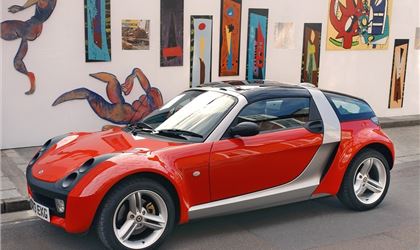 Smart Roadster Coupe
reviewed by Martin j s on 11 June 2011
4
Tax/Insurance/Warranty costs
4
Cost of maintenance and repairs
3
Experience at the dealership
1
How you rate the manufacturer
You have to love this car - it isn't perfect - but it is good
Our yellow and black Roadster has was bought new in 2004 and has completed 55,000 miles. First thing to say is that this car is immense fun, cheap to tax, insure and fuel. Basic servicing is not too expensive when you consider that it is done at Mercedes dealerships, (generally charging around £90 p.h.).

You have to be careful when buying secondhand, two things are absolutely essential - (1) service history - especially the engine - this is a small 700cc turbocharged engine which is pretty highly stressed and unless the oil has been changed (using fully synthetic grade like Mobil - 1 ) then walk away - in fact run. (2) - quite a number of these cars leak when it rains, those leaks can get into the electrics and cost a lot to fix - although talk of bills of £1800 to replace the SAM unit (which is the bit that usually gets soaked and ruined) are pure fantasy, a new SAM unit is less than £400 and isn't a huge job to fit. The leaks are usually from two sources, firstly around the window seals around the door mirrors - these can be quite serious but the vast majority suffer from a small dribble in really heavy rain, mine leaks but not enough for it to be considered a problem at all, the second source is from around the wiper motor mounting box - the drain can get blocked with leaves and then it fills up, opens up the joint, spills water onto the SAM unit and once water gets into that - it's curtains.

It is easy to form the view that all roadsters suffer from this - not true - of the 9 other roadster owners that I know, 2 have had SAM units replaced due to water ingerss and that was in their early lives, at the same time the water leaks were fixed and there have been no further problems.

I would definately look for a car with heated leather seats and the paddle shift gearchange and aircon. Beacuase the car is low to the ground - stone chips are not uncommon, but remember that the body panels are all plastic so a few chips are not going to result in any rot or expensive repairs.

The interior is more durable than it first appears and although the switches and other controls might feel a bit plasticky, they do seem to stand the rest of time.

The is made up of a mixture of excellent and poor specification - for example, the engine/transmission unit is pure Mercedes-Benz and is properly cared for will last for years (some have done way over 100K miles) but the original grundig sound system is simply appaling, (I have heard louder asthma) and smacks of penny pinching.

Many of the faults that people talk about have been fixed under warranty or are not as bad as people make out.

Owners tend to fall into two categories -

They are either enthusiasts who will be able to tell you all about the good & bad points of the car you are looking at and generally care for their cars like members of the family, (it isn't by accident that the Smart brand has the second largest single marque car club in the world).

Or the cars were originally bought by trendies who wanted an alternative to a Mini Cooper, then sold onto people who didn't really understand what they were buying and have the cars serviced by their local garage - none franchised dealers (with the xception of some very capable Smart specialists) simply do not have the capability to maintain these cars properly - as the road test described on this site - there are a number of clever systems on these cars that the technician working on the car needs to understand.

Just be careful about the one that you buy - there are plenty around to choose from and if it doesn't have a full main dealer or smart specialist service history and looks as if has been loved - then just look elsewhere.

If you are looking for an affordable and enjoyable car that is a bit different - then this could be for you - just be especially careful when you buy.
Write your review
About this car
Just reviewed...