Smart Forfour (2004 - 2006)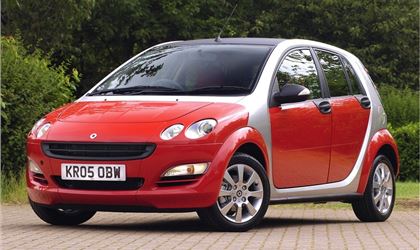 1.5 cdi (95bhp) passion 5dr
reviewed by Anonymous on 26 August 2020
4
Tax/Insurance/Warranty costs
5
Cost of maintenance and repairs
4
Experience at the dealership
5
How you rate the manufacturer
Extremely reliable, fun and cheap motoring.
Started as our second car, then son at university, returning to us before becoming daughters emergency car. Purchased as an ex-demo and now 168k on the clock. Worked out that all in over 13 years cost 23p per mile, bargain. Lots original including exhaust. Unbelievable torque able to pull up most hills (we live in Cumbria) able to cope with most in 5th! Gear change now a bit sloppy but if you mistake 3rd for first on start up it will still pull away. Wrote off a transit that ran into the back of it with NO damage to the Smart. Transit front pushed in and rad gone but not a scratch on the Smart the plastic rear pushed in and popped out again, fully checked by main dealer who confirmed no damage. Tough little b......
Bodywork generally scuffed by car damage,vandalism etc but all purely cosmetic and it still does its job. Sails through MOT every year and 50 + on fuel.
Such a shame it did not have a longer production run and that the new model is basically a two rather than a real car. Son now has a forfour Brabus, a little rocket and his pride and joy.
Brilliant car.
reviewed by Anonymous on 6 November 2019
reviewed by jimbabwe on 27 June 2010
Write your review
About this car
| | |
| --- | --- |
| Price | £7,317–£17,222 |
| Road Tax | C–G |
| MPG | 41.5–58.8 mpg |
| Real MPG | 92.7% |
Just reviewed...