Smart Roadster (2003 - 2007)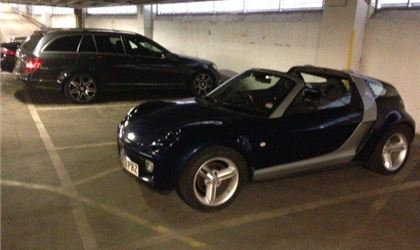 Coupe
reviewed by JohnnyLyle on 7 August 2014
5
Tax/Insurance/Warranty costs
3
Cost of maintenance and repairs
4
How you rate the manufacturer
The most summer fun you can have for very little money
These are now seriously cheap. I'd pre-ordered one when they were first announced and even paid a deposit. But when they eventually came to market at £15k+ and i'd grown up too much to make it make sense - even with clever man maths.

Now i'm having a mid-life crisis and saw one for £1500. Tatty but mechanically perfect and had to have it. Bought blind on ebay after a 20 minute conversation with the total stickler of an engineer who was the previous owner.

So, now i've had it a month and done 1,000 miles, all of them with a grin on my face. 55mpg even thrashing it, £175 insurance fully comp for a year and £100 road tax. When I say cheap motoring, I mean it.

But is it any good?

Well yes.

- The stereo is useless (now massively upgraded with sub behind passenger seat)
- As it's the coupe, it's LOUD as the engine is in the cabin with you (I may explore better soundproofing but through better speakers would be more fun)
- The paddle change gearbox is a complete hoot
- The leather heated seats and aircon make it usable even over a reasonable distance (I drive it from Nottingham to Norfolk most weeks for work)
- We did a weekly shop in it and everything just about fitted in

But I drive it every day rather than my CLS 350 which has a Brabus D6 and 277bhp as it's just pure fun - even at completely legal speeds.

It feels like an updated MG, a poor man's lotus or just a big shoe with a motor in it. But i'm grinning from ear to ear and wish i'd started my mid-life crisis earlier.
reviewed by Martin j s on 11 June 2011
Write your review
About this car
Just reviewed...