Lexus NX (2014 on)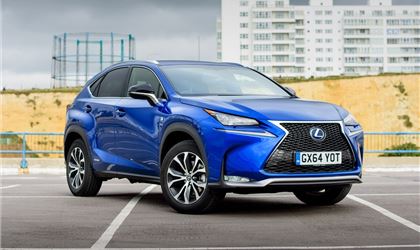 2.5 SE Premium Nav E-Cvt 5dr
reviewed by Simon Wyatt on 5 November 2020
4
Tax/Insurance/Warranty costs
4
Cost of maintenance and repairs
5
Experience at the dealership
5
How you rate the manufacturer
Smooth and relaxing
This was my wife's retirement car that she bought three years ago this month. Her requirements were high-up seating, reliable, relatively economical and not a diesel - as she was buying with cash and intends to keep it for 5 years +. She didn't want sporty bling and wasn't at all worried about keeping up with the Jones' and their large German/JLR SUVs on PCPs. She also does about 15k miles per year.

After three years, we can only say that everything we hear about Lexus' legendary quality and reliability is 100% true. I can't quite define why, but the car feels beautifully solid and well engineered. I have a 2019 Golf which in build quality terms feels like a 25-year old Fiesta in comparison - I don't think I'm exaggerating. The difference is huge, even after three years. The Lexus feels as good as the day it was delivered.

It's like driving an armchair. if you want "sportiness" and to charge around town thinking you look cool, buy something else. This car is like a relaxation wrap that lowers your heartbeat as you pull away. it has everything you need in terms of gadgets and the headlights and Mark Levinson stereo are high points.

There are two niggles. The CVT gearbox is a bit rubbish, so best not to try and punch on too much. When you floor the pedal, it does actually go well, but the gearbox gets in the way. And the screen/infotainment. New models have Carplay etc which would solve the issue. But the 2017 version really is RUBBISH. She's spent £600 on an aftermarket CarPlay kit which works really well.

But they're niggles. We'd have another one in a heartbeat.
reviewed by Anonymous on 31 October 2020
reviewed by Bob faichnie on 4 July 2020
reviewed by Anonymous on 5 February 2020
reviewed by Anonymous on 13 January 2020
reviewed by MMB69 on 15 July 2019
reviewed by Cliff Huckle on 17 October 2018
reviewed by Anonymous on 14 October 2018
reviewed by Anonymous on 13 September 2018
reviewed by Anonymous on 4 August 2018
reviewed by Anonymous on 9 April 2018
reviewed by Anonymous on 6 March 2018
reviewed by DavidWelch on 30 September 2017
Write your review
About this car
| | |
| --- | --- |
| Price | £34,940 |
| Road Tax | Alternative fuel, D–I |
| MPG | 35.8–56.5 mpg |
| Real MPG | 72.8% |
Just reviewed...