Honda Accord Tourer (2008 - 2015)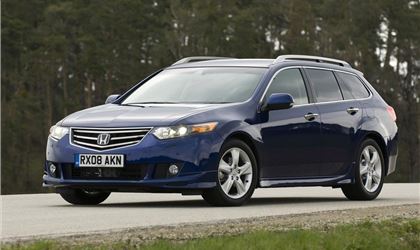 2008/9 Gen 8 2.4 manual tourer
reviewed by RBK on 10 October 2019
5
Tax/Insurance/Warranty costs
5
Cost of maintenance and repairs
3
Experience at the dealership
5
How you rate the manufacturer
Hidden Gem
This car is rather like a bottle of wine. Give it time and it becomes highly collectible. It's funny how in the 2nd hand enthusiasts' market we seek out manual over auto so when one does appear we pounce without any hesitation! The same would not be said purchasing a used BMW/Merc et al of the same year. But that's what I did. Bought unseen. 1 owner. 24k Miles. FHSH. £6850.
I'd lurked websites for a decent year waiting one to show and and chuffed I got it. Yes, fuel bills will hurt like my son's school fees but my cunning plan to convert to LPG should help. Better than a BMW 3 series? Reliability yes. Stealth yes. Handling - fwd is a compromise but the almost brand new Michelin's the previous owner fitted allow you all the handling you really need. At the end of the day, this car's soul is its engine. Honda's earlier K's are worshipped. The 2.4 is definitely the Cinderella but oh so gorgeous and right for this car. If you can find one, buy one. No regrets.
reviewed by Karen's kars on 6 September 2017
reviewed by tigeraqua on 5 September 2017
reviewed by Iain Spence on 7 June 2017
reviewed by Honda Fan on 3 March 2014
reviewed by Anonymous on 23 January 2014
reviewed by Braz on 16 April 2013
reviewed by Rich320d on 2 January 2013
reviewed by bass_alt on 24 March 2012
Write your review
About this car
| | |
| --- | --- |
| Price | £23,410–£32,925 |
| Road Tax | F–K |
| MPG | 32.5–51.4 mpg |
| Real MPG | 92.2% |
Just reviewed...