Citroen C4 Grand Picasso (2014 - 2018)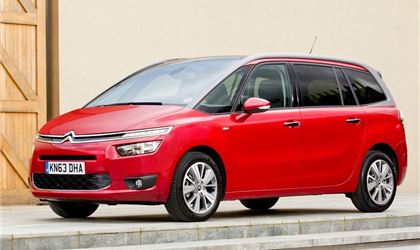 1.6 BlueHDi 120 Exclusive+ Start+Stop 5dr
reviewed by Oldwestern on 29 September 2021
5
Tax/Insurance/Warranty costs
5
Cost of maintenance and repairs
5
Experience at the dealership
5
How you rate the manufacturer
Practical, cost-effective and stylish
This was our first Motability vehicle for use in connection with our learning disabled son.
The main requirement was for a vehicle with a boot large enough to accommodate his folding trike and two folding 2- wheel bikes. It needed to be comfortable with easy to clean seats and offer good all-round vision. Being a family of 6 it also needed to seat all of us, plus it needed to be economic to run as far as MPG was concerned.

It fitted that criteria perfectly and more besides.

We liked it so much we extended the contract period by two years and then bought it at the end of the time to replace my wife's Vauxhall Agila.

We've had it now for 7 years and do above average annual mileage (c. 15k pa) and apart from going through tyres faster
than I would like, it has been very reliable.

It's gone through a few brake linings, but that's more than acceptable.

The Exclusive+ Pack gave almost everything we wanted, apart from auto-dip headlights.
The cruise control works brilliantly on motorways but not so good in slow urban streets as it will only operate in third gear or above and only at speeds above 26 mph.
The large digital speed display is a boon, but the touchscreen has a potential to be dangerous as it requires the driver to look at the screen, this taking ones eyes off the road.
Acceleration is good and braking excellent as one expects from a Citroen.
Fuel economy returned around 56 mpg,which is not as good as Citroen's claimed 70mpg - nonetheless it still makes it economical.
The front and mid row seats are very comfortable, with front 2 offering heated seats…with massage too, which is very useful on those long motorway drives!
While one can squeeze two average adults in the rearmost two seats, it's only really practical for very short journeys plus getting in and out is awkward to say the least.
When using the 2 rear seats, the boot space is very limited and if you stow the boot tonneau cover in Citroen's space, makes it only suitable for a large handbag.
However, the ability to fold the rear and mid row seats flat gives a massive amount of room Ito make those journeys to the dump or pick up wardrobes etc.

All in all, we found it a most practical and enjoyable vehicle. Indeed as I type, my wife is searching the net for another one to give to our daughter.
reviewed by Oldwestern on 29 September 2021
reviewed by Anonymous on 29 May 2021
reviewed by Anonymous on 15 March 2021
reviewed by Tee 79 on 10 November 2020
reviewed by Anonymous on 10 June 2019
Write your review
About this car
| | |
| --- | --- |
| Price | £19,460–£30,890 |
| Road Tax | A–F |
| MPG | 44.8–74.3 mpg |
| Real MPG | 71.2% |
Just reviewed...