Citroen C4 Grand Picasso (2014 - 2018)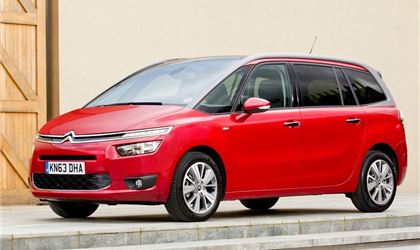 1.6 BlueHDi Exclusive+ EAT6 Auto 5dr
reviewed by Anonymous on 15 March 2021
5
Tax/Insurance/Warranty costs
4
Cost of maintenance and repairs
5
Experience at the dealership
5
How you rate the manufacturer
The 4th one I've owned...
I love these Grand Picassos. Did over 100K in each of the first three, then I retired so this one, at 5 years old, only has 49K on the clock. Undoubtedly the most comfortable and relaxing long-distance cars I have ever owned - on a par with my old Volvo 245 I had 30 odd years ago which I thought would never be equalled. It was easy to drive down from Aberdeen to London and get out and go straight into an afternoon meeting!

Each one has had a different fault, (the first two were with the pneumatic rear suspension (now discontinued) and on this one it was the "Add Blu" system) but none ever caused me to have a roadside stop, and each time the repair was done under warranty whith no fuss from Citroen's excellent service agent in Montrose.

During the time I have owned this car I have averaged 52.1 mpg overall on a random mix of single-track and normal country roads, in-city driving in Aberdeen, and dual carriageways. The engine pulls brilliantly, and the new Aisin 6 speed semi-automatic gearbox is a significant improvement over the earlier versions.

As the grandchildren have grown and scattered tto the four winds, I really don't need a 7 seater any more, and as we've also just moved int town from an outlying village we will probably trade both mine and my wife's car (a C1) in for the 5 seater version of the SpaceTourer.

I am amazed by some of the stories in some other reviews, but can honestly say that I and two other friends with C4GPs (one on their second, the other on their third!), have never had problems that would make us consider buying anything else.
reviewed by Tee 79 on 10 November 2020
reviewed by Anonymous on 10 June 2019
Write your review
About this car
| | |
| --- | --- |
| Price | £19,460–£30,890 |
| Road Tax | A–F |
| MPG | 44.8–74.3 mpg |
| Real MPG | 71.2% |
Just reviewed...