Our Cars: Volvo XC40 Recharge Plug-in Hybrid T5 Inscription Pro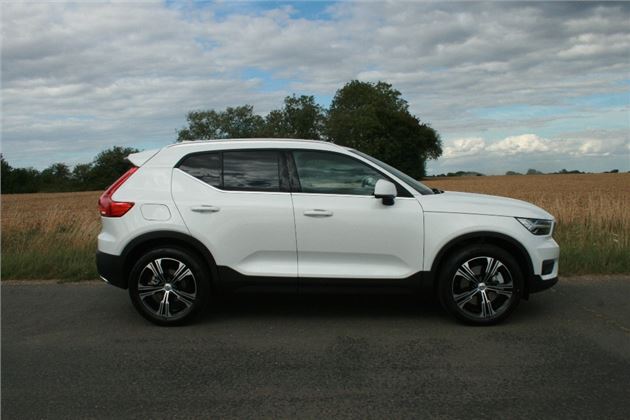 2 November 2020: Why the XC40 PHEV is proof that hybrids can be fun and fast
The Details
| | |
| --- | --- |
| Current mileage | 5409 |
| Claimed economy | 117.5-134.5mpg |
| Actual economy | 65mpg |
The XC40 PHEV is a car that's full of surprises. Compact and practical, it punches above its weight when it comes to carrying people and cargo. It also has some super frugal fuel figures, with 100+mpg easily achievable over a 40-mile journey with a fully charged battery. But the XC40's true party piece is found under the bonnet. 
The XC40 Plug-In Hybrid might be designed for frugal car buyers and tax-savvy company car drivers, but it also has a few surprises hidden under the metal - particularly when it comes to performance. Indeed, thump the throttle and this smart Volvo will whirr its way from 0-62mph in just 7.3 seconds. 
The XC40's hot hatch-rivalling performance has a habit of catching you out because it's soft and refined nature will trick your mind into thinking you are driving a sleepy hybrid that's designed for frugal motoring rather than outright fun. 
Yet, its 180PS three-cylinder turbocharged petrol engine and 82PS electric motor will quickly transform this sleeper into a potent straight-line weapon. And one that provides a considerable 262Nm wallop of torque from 1500rpm.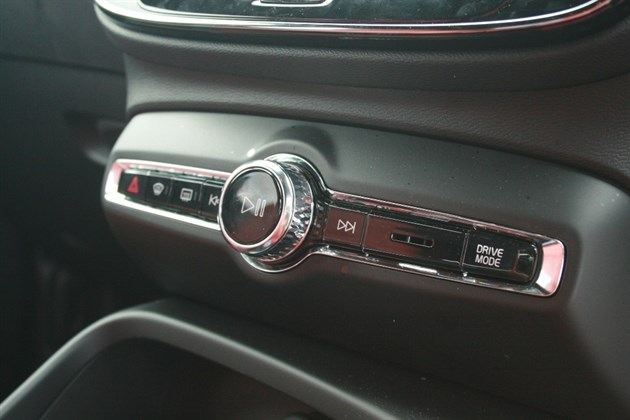 If you want to unleash the XC40's full 262PS then you can activate the 'power' driving mode, but don't expect the battery charge or fuel level to remain stable - power mode drains both at an alarming rate. However, as an occasional treat, the XC40 is a fun car to point at the horizon and thump the throttle. 
Things are not as rewarding in the corners. If anything, it feels like the memo from Volvo's powertrain department got lost in the post because the XC40's soft and wallowy road handling feels decidedly at odds with the thumping straight-line performance. 
Most of the problems lie with the fact the XC40 is a very heavy car with overpowered steering. You particularly feel it in the corners, with the weight causing a fair bit of body roll as the suspension struggles to balance the scales. The overly soft steering feel also makes it difficult to get a full feel of the front-wheel drive set-up, too.
It's an odd combination and one that probably explains why the Volvo has added a less powerful and cheaper 211PS T4 model to the XC40 PHEV line-up. However, as a straight-line rocket, the T5 is a car that will always entertain. But for most people the T4 will make more sense, compared to the unnecessarily powerful T5.
« Earlier: How to deal with the XC40's plug-in baggage Later: Is the Volvo On Call App worthwhile? »
Updates

Want to control your Volvo XC40 with your smartphone? Well now you can, thanks to the latest On Call app.

2 November 2020: Why the XC40 PHEV is proof that hybrids can be fun and fast
The XC40 might be designed for frugal motoring, but look under the metal and you'll find it has some serious hot-hatch rivalling numbers.

Travelling with a 4.5 metre charge cable can present its problems, especially when it comes to storage.

Will the Volvo XC40 carry a full size mountain bike? Dan rolls up his sleeves to find out.

In a world of endless and often pointless car options, Dan thinks he's found one that is actually worth its weight in gold.

Smooth, relaxing and luxurious, the Volvo XC40 is our idea of the perfect premium crossover.

How will the XC40 cope with 1000+ miles in 10 days? Dan finds out with a road trip to the Scottish Highlands.

Thinking of buying a plug-in hybrid? Don't have anywhere to charge it? You'll pay a heavy price, says Dan.

Volvo's plug-in hybrid XC40 joins the HJ fleet. Dan gives his first impression.