Top 10: Extravagant optional extras
Published 3 January 2019
Car companies often pull you in with a low base price, knowing you'll splurge on the options list. But we're not talking about cruise control and heated seats. We mean optional extras of the ultrawealthy. From clocks that cost more than your everyday hatchback to paint jobs that are more than your mortgage.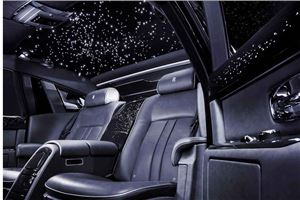 1
Rolls-Royce Phantom Celestial
Price: £8500
A price of £5.70 per light doesn't sound too expensive, but getting 800 to 1600 tiny fibre-optic lights hand-sewn into the leather headliner to replicate specific constellations is definitely more luxurious than adding Apple CarPlay to your Corsa.
The leather headliners in Rolls-Royce models also come from cows that live in temperate climates so their skin is free from harsh elements (to ensure it's very soft). Ironically, if owners choose this option, they must forgo a sunroof, which would allow the actual night sky to be viewed...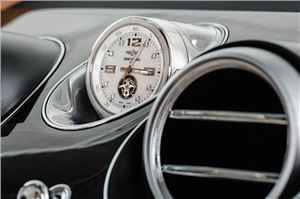 2
Bentley Bentayga Breitling clock
Price: around £110,000 (we estimate)
Time is money, to the tune of well over £100k in this instance. Breitling partnered with Bentley's custom workshop, Mulliner, to make this very expensive clock. The Mulliner Tourbillon is machined in solid gold, with a choice of a mother-of-pearl or black ebony face and decorated with eight diamonds.
It's also very exclusive, with only four made each year. And the Mulliner Tourbillon retains correct time with a self-winding mechanism that rotates the clock every 15 minutes, even when the car is not being used. Would you expect anything less from a car that has a champagne fridge in the boot?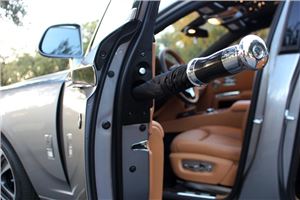 3
Rolls-Royce umbrella
Price: £600 (on eBay)
For those not in the market for cars that cost £250,000, the concept of a Rolls-Royce umbrella may be foreign. For £600, we'd expect a Rolls-Royce dealer to tell us that the umbrella offers the gift of flight. But our Mary Poppins dreams are not to be. 
The umbrellas slot into the car door, which blows warm air onto your brolly to dry it after use. Heaven forbid you'd have to shake water off your own umbrella.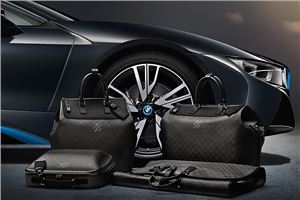 4
BMW i8 Louis Vuitton luggage set
Price: £18,500
Like most sports cars, the BMW i8 doesn't have a lot of storage space. So BMW asked Louis Vuitton to design a set of luggage crafted to perfectly fit into the i8's interior and trunk. The set is comprised of two travel bags, a business case and a garment bag.
The luggage set is called The Spirit of Travel. And, obviously, the only colour option is black.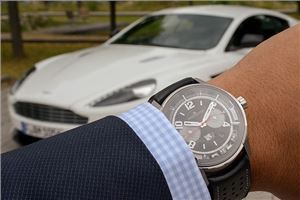 5
Aston Martin DBS Jaeger-LeCoultre watch
Price: £6000-£8000
James Bond might drive an Aston Martin, but he definitely didn't wear a Jaeger-LeCoultre watch. The timepiece can be used to open the Aston Martin DBS by pressing on the sapphire crystal of the watch.
It also has the features of the standard AMVOX 2 watch including the chronograph which operates via pressing the glass. You still need to insert the sapphire key to start the car though.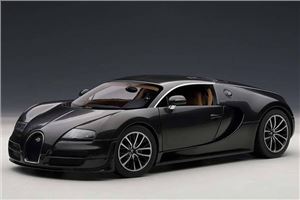 6
Bugatti Veyron carbon fibre finish
Price: £350,000 (our conservative estimate)
Not all that glitters is gold. Case in point - carbon fibre finished supercars. If you wanted to leave paint off your new Veyron, you could pay Bugatti £350,000 to do so. Or so we've heard, Bugatti never produced a helpful little PDF of optional extras for the Veyron.
If that's true, that £350,000 could buy you a brand new Lamborghini Huracan, and leave you with a considerable amount of spare change.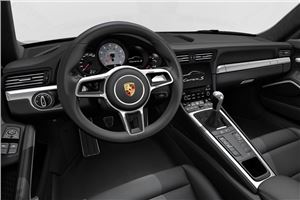 7
Porsche 911 painted air vent slats
Price: £806
As value for money goes, the configurator for the Porsche 911 is a treat for those wanting to splash the cash. Want your interior air vents painted to match the exterior colour of your 911? That'll be £806, please. Prefer them covered in leather? That'll also be £806. 
Other extravagant options include ventilated seats (£749), leather sun visors (£291) and a fuse-box covered in leather (£182).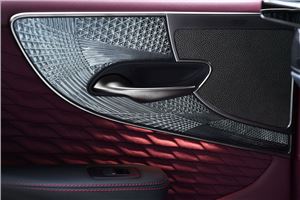 8
Lexus LS cut-glass trim
Price: £7600
You're already making a bold statement if you're spending nearly £100,000 on a Lexus LS rather than the more conventional (better) Mercedes-Benz S-Class or Audi A8. So why not go further by spending a hefty £7600 on some cut-glass inlays for the interior door cards?
Of course, Lexus claims that these are a bit more special than simply a bit of glass rather than the usual wood (yes, the LS is available with wood in the cabin). "Lexus-driving design aficionados may recognize kiriko as the Japanese cut-glass technique that stretches back to the 19th-century Edo period," says the car maker.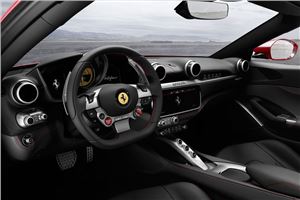 9
Ferrari Portofino Apple CarPlay
Price: £2400
It's not the optional extra that's ridiculous here, it's the price. Apple CarPlay is a handy way of mirroring your phone's screen to the car's infotainment display, allowing you to access - for example - music and Google Maps on the move.
It's standard on a mid-spec Toyota Aygo. On a Ferrari Portofino costing more than £166,000, you'll have to stump up an extra £2400 for CarPlay. Because Ferrari.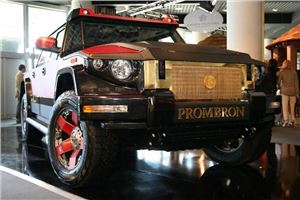 10
Dartz Prombron Monaco Red Diamond Edition whale penis leather
Price: no longer available
You can't actually specify whale penis leather on a new car now, but Latvian firm Dartz Motorz (yes, that's really its name) briefly offered it on its Prombron Monaco Red Diamond Edition model.
Where do we start? Apparently Greenpeace (and, apparently, Pamela Anderson) got in touch and were a little unhappy about the use of whales' foreskin in the £1million SUV. Dartz claimed that the extravagent leather is softer than normal leather and that it wasn't actually intending to kill whales itself. Eventually it retaliated and removed whale penis leather from the options list.