Our Cars: Volkswagen e-Golf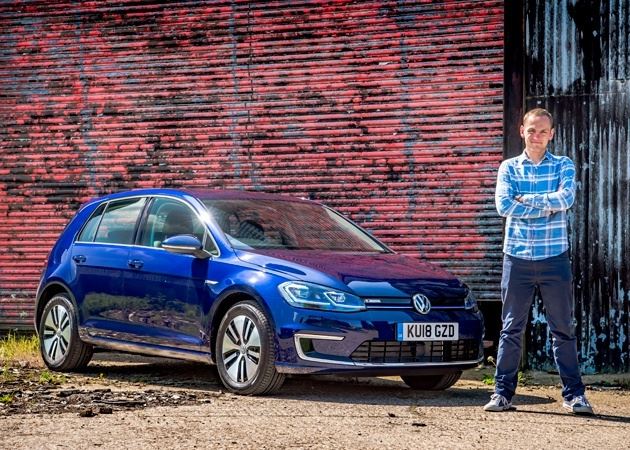 29 May 2018: The all-electric Volkswagen e-Golf arrives
The Details
| | |
| --- | --- |
| Current mileage | 300 |
| Claimed range | 124 miles |
| Actual range | TBC |
Electric cars are the future, apparently. That's why Jaguar has just launched its electric I-Pace, Audi's e-tron is set to go on sale later in the year and Tesla appears set to take over the world. But many of us are reluctant to make the switch, concerned about just how usable an electric vehicle is every day.
Which is why I'm going to run one for the next seven months. Just how good is the UK's electric car charging infrastructure? Will the e-Golf's 124-mile estimated range prove to be long enough? What will happen to the range in winter when things like lights and heating are required?
We hope to answer all these questions between now and December. With just 300 miles on the clock, the e-Golf is fresh off the truck and is already impressing those in the Honest John office. It's like a Golf, and that's a good thing. The interior is upmarket, while it doesn't feel weird and wacky in a divisive way like some electric cars. Basically it's a Golf - one of our favourite family hatchbacks - but without a noisy engine.
Our e-Golf's stacked with options, bringing its total retail price (before the Government's £4,500 plug-in car grant) to £37,040. These include Lane Assist Plus (£1,225), LED headlights (£325), a heat pump which recycles heat from the ambient air and drivetrain components (£830), winter pack (£400), active info display (£495), keyless entry (£375), carpet mats (£85) and metallic paint (£575).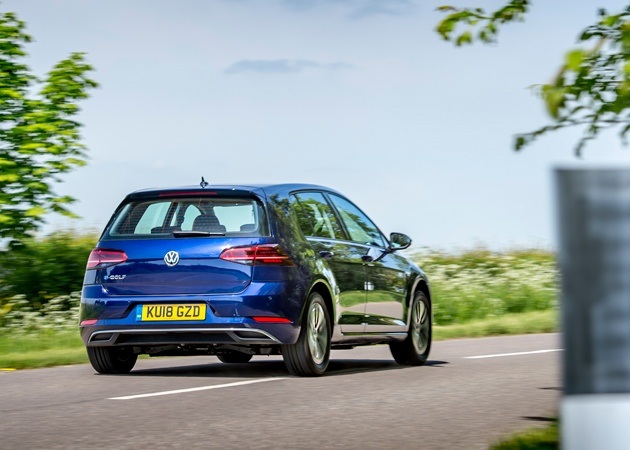 Revised for 2018, the e-Golf now boasts more power than before - 136PS helps it hit 62mph in 9.6 seconds. It's also got a 50 percent greater range than its predecessor. Although it will officially return 186 miles in NEDC tests, Volkswagen claims a more realistic 124 mile range.
Charging's going to be an issue - we haven't got a charging point at the office, nor have I got one at home. As such, we're relying on public charge points for the time being, along with charging using a standard three-pin plug. While fast motorway chargers can boost the Golf to 80 per cent in just 45 minutes, using a standard 230v supply takes as long as 17 hours for a full charge.
That's obviously not ideal, which is why we're going to be looking an installing a wallbox at the HJ offices. Doing so will cut charging time to around five hours - meaning I can top up the e-Golf with electricity comfortably before home time.
Before that happens, I'm going to be getting used to clogging up the EV charge points at nearby Peterborough Services. Will this sour my time with the Golf? I'll report back...
Later: Can the Volkswagen e-Golf cover longer journeys? »
Updates

It's the end of our time with the Volkswagen e-Golf.

If only the Volkswagen e-Golf could be charged using Tesla's Supercharger network.

Can pedestrians hear the e-Golf? Should electric cars make an artificial noise? Andy investigates.

Andrew hasn't seen another e-Golf on the roads. Is ours a one-off?

We take the Volkswagen e-Golf on a road trip but somebody forgets to charge it first...

We love the Volkswagen e-Golf but the infrastructure isn't quite there yet.

How easy is it to find a replacement windscreen for the Volkswagen e-Golf? Andrew was all too keen to find out.

The e-Golf undertakes its longer single-charge drive. How far can it go? Andrew finds out.

So which option boxes should you tick when speccing an e-Golf? Andy has a look at what he'd spend all his imaginary money on.

If you want to buy a Volkswagen e-Golf like mine, it will cost you a whopping £37,040. Or will it..?

Andrew's getting all defensive about the Volkswagen e-Golf. You'd probably be better asking him about Brexit...

A convenient test of the new Nissan Leaf represented to perfect opportunity for us to compare it with our Volkswagen e-Golf.

Andrew attempts a longer journey in the electric Volkswagen e-Golf. It all goes surprisingly swimmingly.

29 May 2018: The all-electric Volkswagen e-Golf arrives
Just how usable is an electric car every day? Andy's getting to grips with the UK's EV charging infrastructure.