Our Cars: Volkswagen e-Golf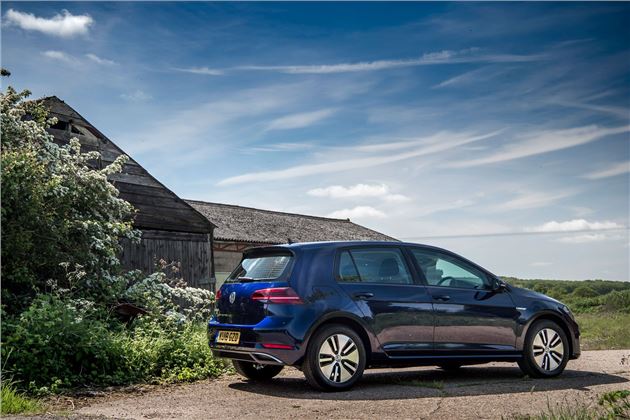 24 July 2018: What options shouldn't you choose?
The Details
| | |
| --- | --- |
| Current mileage | 1980 miles |
| Claimed range | 124 miles |
| Actual range | 162 miles |
If you want to buy a Volkswagen e-Golf like mine, it will cost you a whopping £37,040. Sorry, that was a bit clickbait of me. It will actually cost you a smidgen over £32,500 by the time the Government's contributed £4500 as part of its Plug-in Car Grant. That's still quite a lot of money for a car that can only cover around 160 miles in one go.
My car's fitted with quite a few options, though - including quite a few you probably won't need. Take the £1225 Lane Assist Plus, for example. As well as nudging the steering if you venture out of your lane, it also includes a host of other safety equipment.
Dynamic light assist will 'mask' other vehicles when you have full beam on, meaning you don't have to dip your headlights to avoid blinding other motorists. Rear traffic alert will alert you if you're reversing out of a parking space when cars or pedestrians are approaching, while traffic sign recognition alerts you to the speed limit.
All clever stuff, but none of it essential. That's an easy £1225 saved. Deleting this option also means you won't need LED headlights, which saves a further £325.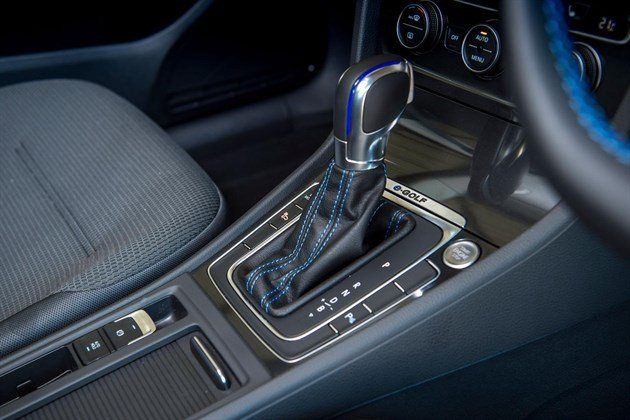 Our e-Golf features more than £4,000 of options. But do you actually need any of them?
There's a winter pack, for £400, which includes headlight washers, heated front seats, heated windscreen washer jets and low washer fluid warning lights. At the moment, I'm reluctant to use such features as they're a drain on the battery - so that's another £400 saved (ask me when winter arrives if I still think I could manage without this option).
Next there's the heat pump. This is an interesting one, as it's an £830 option that you won't really notice working. Essentially, it recycles heat from the ambient air as well as waste heat from the car's drivetrain. The result is slightly improved efficiency in ambient temperatures and up to a third more range in extremely cold conditions.
If you live in Norway, it's probably a worthwhile option. But Volkswagen quotes a temperature of -7°C for this to work best and it's never that cold in the UK. Easy, another £830 off the price.
Other options I could comfortably manage without include the active info display (£495) and keyless entry (£375). Let's not go too far, though... £85 carpet mats are worthwhile to protect the carpets (although you could probably get them cheaper elsewhere), and I'd rather not give up the £575 metallic paint.
That brings down the price of the e-Golf to £28,890. Still expensive, admittedly, but think of the money you'll save on fuel...
« Earlier: I'm becoming an electric car evangelist Later: What options should you choose? »
Updates

It's the end of our time with the Volkswagen e-Golf.

If only the Volkswagen e-Golf could be charged using Tesla's Supercharger network.

Can pedestrians hear the e-Golf? Should electric cars make an artificial noise? Andy investigates.

Andrew hasn't seen another e-Golf on the roads. Is ours a one-off?

We take the Volkswagen e-Golf on a road trip but somebody forgets to charge it first...

We love the Volkswagen e-Golf but the infrastructure isn't quite there yet.

How easy is it to find a replacement windscreen for the Volkswagen e-Golf? Andrew was all too keen to find out.

The e-Golf undertakes its longer single-charge drive. How far can it go? Andrew finds out.

So which option boxes should you tick when speccing an e-Golf? Andy has a look at what he'd spend all his imaginary money on.

24 July 2018: What options shouldn't you choose?
If you want to buy a Volkswagen e-Golf like mine, it will cost you a whopping £37,040. Or will it..?

Andrew's getting all defensive about the Volkswagen e-Golf. You'd probably be better asking him about Brexit...

A convenient test of the new Nissan Leaf represented to perfect opportunity for us to compare it with our Volkswagen e-Golf.

Andrew attempts a longer journey in the electric Volkswagen e-Golf. It all goes surprisingly swimmingly.

Just how usable is an electric car every day? Andy's getting to grips with the UK's EV charging infrastructure.