Our Cars: Volkswagen e-Golf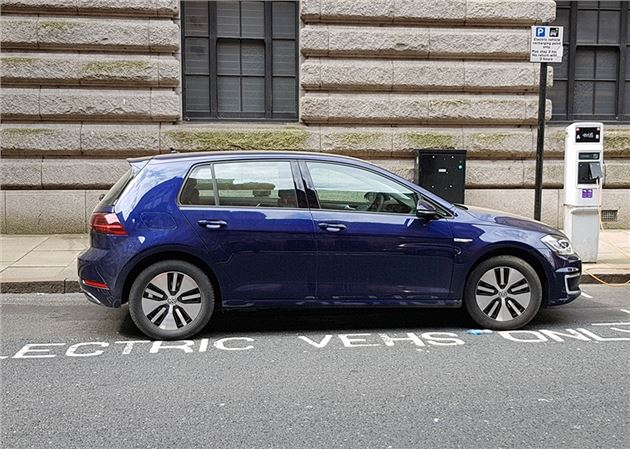 21 August 2018: How far does the e-Golf go on a single charge?
The Details
| | |
| --- | --- |
| Current mileage | 2536 miles |
| Claimed range | 124 miles |
| Actual range | 171 miles |
If you buy a Volkswagen e-Golf, how far can you reasonably expect it to travel on a single charge? Well, following my longest drive I can tell you. It's about 171-miles. But there are some problems. 
Keen to find out just how far the e-Golf will go on a single charge, I decided to take it to Birmingham. I had to visit the city for some work-related things on a Monday morning. And I decided that the time had come to push the e-Golf to its limit. The distance from our office to Birmingham is 75-miles and I was determined to get there and back on a single a charge. Would the electric Volkswagen be up to it?
Climb behind the wheel of the fully charged e-Golf and the trip computer instantly puts your mind at ease with a cool, calm promise of 186-miles. 186 miles? That's loads. More than enough to cover the 150-mile roundtrip. As a result, my confidence (along with the air con) was in full flow as I pulled away from the office car park and onwards towards the West Midlands.
As I arrived in Birmingham the e-Golf was looking good, with the trip computer boasting a respectable 117-miles. Admittedly, the roads were free of traffic and I'd used regenerative breaking and cruise control on the motorway, but the Volkswagen had got me to my destination in tip top shape. I had a few errands to do in the city, but my back-up plan was to park at an EV charging station and boost the battery if I felt the e-Golf wasn't going to get me back. Unfortunately plan B was kicked into the long grass when I found that many of the EV charging points in Birmingham's multi-story car parks are designed for extremely small cars.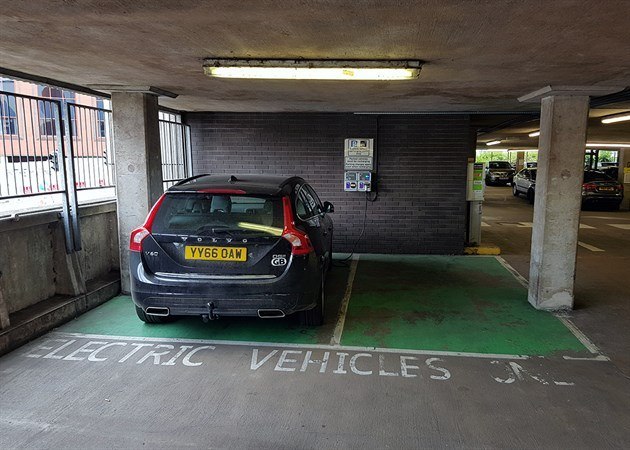 Charging an electric car in Birmingham is difficult, owing to the fact that many of the parking spaces are too small for two modern-sized cars
Birmingham does have larger car parks and on-street EV charging points, but by mid-morning these were all full. And those that weren't occupied were faulty. After a morning shuttling around the city, the e-Golf's range had dropped to 99-miles. Surely the 20-odd mile cushion would be enough to get me back to the office in air condition comfort? How wrong I was. 
Crawling along the now clogged up M6 back towards Northamptonshire it became clear that the e-Golf was not going to fulfil its side of the bargain. Indeed, 10 miles into my 75-mile drive back and the trip had changed its mind multiple times before settling on a final figure - 60 miles.  This meant I had to make some significant compromises to claw back some mileage and cover the 65 miles needed to get to the finish line.  
The air con was the first thing to go. Not only did this add 15-miles to the range, but it also transformed the cabin into an industrial oven. The UK was in the middle of a long, hot summer and the outside temperature was 30 degrees. The ventilation system cooled the interior a little when on the move, but in traffic I was hotter than a packet of extra strong mints left in the sun. 
By the time the M6 traffic cleared, the 15-mile boost had been reduced to virtually nothing and I had to cut my motorway cruising speed to 60mph and use the brake regeneration at every opportunity to reclaim some valuable miles. However, despite the hot and uncomfortable cabin, I felt cool relief as the e-Golf rolled into the car park. And with a couple of miles to spare. So there you have it, 171-miles on a single charge is possible. It's hell on wheels, but entirely possible.   
« Earlier: What options should you choose? Later: Cracking times for the Volkswagen e-Golf »
Updates

It's the end of our time with the Volkswagen e-Golf.

If only the Volkswagen e-Golf could be charged using Tesla's Supercharger network.

Can pedestrians hear the e-Golf? Should electric cars make an artificial noise? Andy investigates.

Andrew hasn't seen another e-Golf on the roads. Is ours a one-off?

We take the Volkswagen e-Golf on a road trip but somebody forgets to charge it first...

We love the Volkswagen e-Golf but the infrastructure isn't quite there yet.

How easy is it to find a replacement windscreen for the Volkswagen e-Golf? Andrew was all too keen to find out.

21 August 2018: How far does the e-Golf go on a single charge?
The e-Golf undertakes its longer single-charge drive. How far can it go? Andrew finds out.

So which option boxes should you tick when speccing an e-Golf? Andy has a look at what he'd spend all his imaginary money on.

If you want to buy a Volkswagen e-Golf like mine, it will cost you a whopping £37,040. Or will it..?

Andrew's getting all defensive about the Volkswagen e-Golf. You'd probably be better asking him about Brexit...

A convenient test of the new Nissan Leaf represented to perfect opportunity for us to compare it with our Volkswagen e-Golf.

Andrew attempts a longer journey in the electric Volkswagen e-Golf. It all goes surprisingly swimmingly.

Just how usable is an electric car every day? Andy's getting to grips with the UK's EV charging infrastructure.