Our Cars: Suzuki Swift 1.2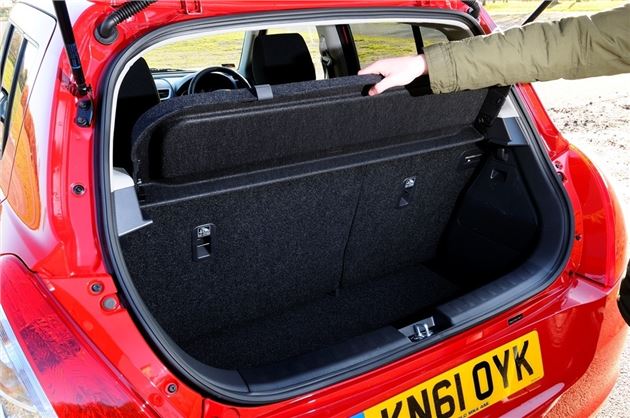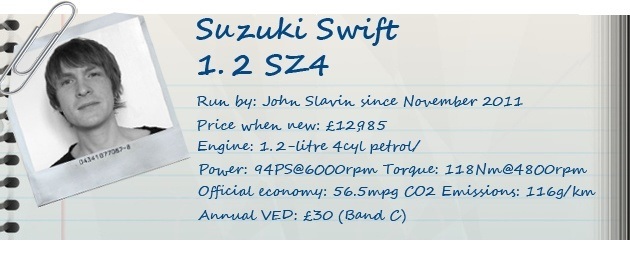 10 February 2012: That's interesting...
The Details
| | |
| --- | --- |
| Mileage | 2016 |
| Claimed economy | 56.5mpg |
| Actual economy | 46.2mpg |
When testing a car for the first time, the biggest things strike you first. You notice the ride quality, the performance, the handling and the comfort, as you'd expect, and that's what really matters when you buy a car anyway.
But living with one means you start to notice the things that aren't obvious from just a test drive or a visit to a showroom. I've spent long enough with the Swift now to start noticing things like this myself. Some are nice touches, some are curious and some are a little frustrating...
The parcel shelf
The boot on the Swift is fairly small and that's something you'll notice right away. It's fine for a small hatchback though. The thing that bugs me about it isn't the size, it's the parcel shelf. There's nothing connecting it to the tailgate, so when you open the hatch, it stays in place and obstructs your access, so you have to fold it up manually.
Unfortunately, if you don't remember to fold it down again it obscures the view out of the back. It won't drop down under acceleration, so you've got to stop and put it back. It's also got a sharp underside and it once drew blood when I was folding it back into place – although I think that was a problem with my particular parcel shelf rather than with them all.
The fuel gauge
This is curious rather than annoying. When I fill the tank up I always brim it to the top. It's got a fairly decent sized tank with a long range, but the trip computer gets really confused about how far I can travel.
After brimming the tank it tells me I can travel about 360 miles until I'll need to fill up again, but it continues to tell me that I can travel that far for another 70 or 80 miles, and then it starts to reduce. This is probably because the fuel level sensor is low down and the filler neck is long, but I can't tell without dissecting the car - and I don't want to do that.
Storage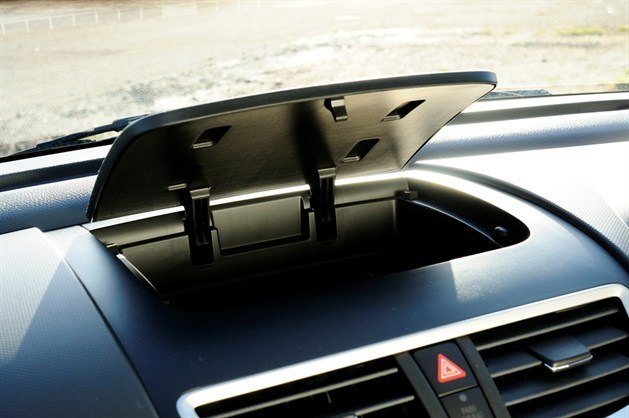 Suzuki's home market is Japan, and they're also pretty popular in India – both nations of small car buyers. That means Suzuki knows a thing or two about making small cars feel big, and one of the most important things to get right is storage space – and the Swift has lots of clever little bits.
The door bins are a decent size, there's a cup holder for the rear passengers and space under the centre stack for a drink plus lots of odds and ends. The glovebox is a decent size too and there's a handy storage bin in the top of the dashboard, although coins rattle around in it if you don't put a non-stick mat in there. 
Bluetooth
Bluetooth, an expensive option on some executive cars, is standard on the Swift SZ4. It comes in handy, offering a way of streaming music as well as allowing you to use your phone when on the move.
The problem is, I couldn't set it up. Well, that's not true, actually: I could set it up, but I had to use the manual, and I don't like using the manual. That probably says more about me than the car, doesn't it?
What's good:
Most things: It's never anything but a pleasure to drive the Swift. Getting in and going for a drive, even if just to get a loaf of bread or a bottle of milk, is enjoyable. 
And what's not:
It cut me: Well that's pretty self-explanatory, really. A cut finger is never enjoyable. Having said that I doubt it'll cut anyone else, and I doubt it'll cut me again either!
« Earlier: Spot the difference Later: Top accessories »
Updates

Six months and 6500 miles have passed since the Suzuki Swift first arrived but now it's time to say goodbye. So how has it fared in its time with us?

Most of the time I've spent with the Swift has been in the cold of winter but now the sun is out the Suzuki is much more enjoyable to drive.

It may seem a new name, but the Swift's history can actually be traced back to the early 80s. Can you remember all the models?

When you order a car you probably think nothing more until it's ready - but what happens between signing the papers and taking delivery?

You never can tell where your car is going to take you, so I've highlighted some of the journeys that test the Swift's versatility on a map.

I pick out some of the best - and worst - optional extras from the accessories brochure.

10 February 2012: That's interesting...
Having spent a while with the Swift I've started to pick up on things you won't notice in the showroom or on a test drive.

When the new Swift was launched many people - rightly - observed that it looks like the old one. So what's the difference?

A recent minor bump opened my eyes to the amount of safety kit fitted to the Suzuki Swift, which has a five star Euro NCAP rating.

The Swift has, so far, impressed. It's great on country lanes, packed with gear and works well in town. But what about on a long motorway trip?

It's not uncommon for little cars to offer enjoyable driving dynamics, and expected as much from the Swift. Turns out it's a revelation.

The first thing I noticed when the new Suzuki Swift SZ4 turned up is just how much standard equipment you get.