Our Cars: Suzuki Swift 1.2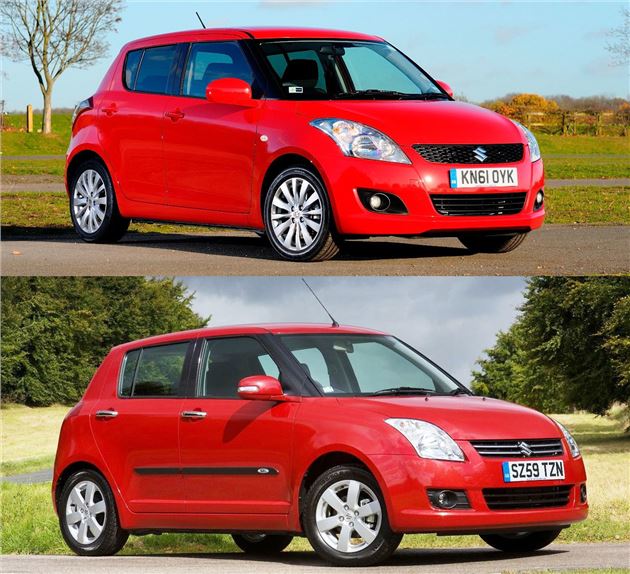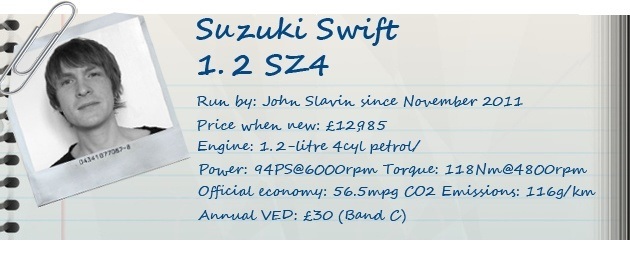 6 January 2012: Spot the difference
The Details
| | |
| --- | --- |
| Mileage | 1921 |
| Claimed economy | 56.5mpg |
| Actual economy | 46.2mpg |
When the current Suzuki Swift was introduced in 2010 there was a bit of confusion. The press information may say 'all-new' but it looks suspiciously like the old model. That's hardly a problem because it's a handsome little car. Perhaps they went by the adage "if it ain't broke, don't fix it."
To the untrained eye, the styling of the two models is identical, but if you catch a new Swift and an old Swift side by side you'll notice they're very different indeed. The new model is slightly taller, slightly wider and slightly longer.
It's got bigger, more angular head lights and tail lights, and a little 'rump' at the rear, like a toned down Megane. So it is different, after all, and the changes to the Swift are more than skin deep – beneath the metal there's a lot to separate this car from its predecessor.
The old model had a 1.3-litre 16v engine with emissions of 140g/km and an official economy figure of 49mpg. That meant an annual VED bill of £110. The new car, though, has emissions of 116g/km, saving you £80 a year on tax. You'll also get further on a gallon of fuel – the official figure is 57mpg.
The new model achieves this by merit of its new engine, which is a 1.2-litre 16v with 93bhp. It's all-alloy, which means it's light and eager to rev. Despite having a lower capacity than engine in the old model, the new car has a whole extra horsepower (yes, one horsepower), so there's nothing lost in terms of performance for those gains in economy and emissions.
Quality is improved, too. The cabin of the old car was acceptable, but felt a little lacking in terms of charm, and the plastics left a lot to be desired. The interior of the new model is much more attractive, with a well designed centre stack, textured plastics and better fabric upholstery on the more supportive seats. In the image below, you'll see the new model at the top and the old one underneath.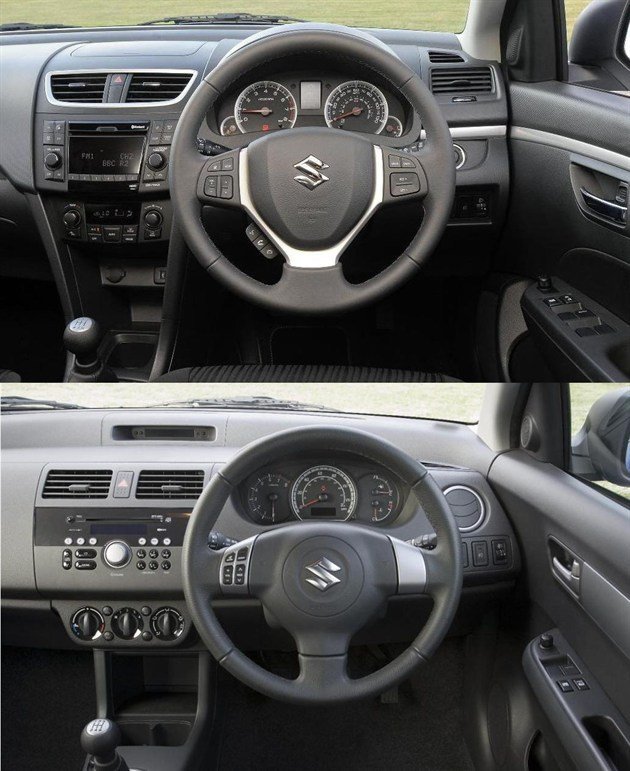 Indeed, the only areas in which the new car loses out, really, are boot space and acceleration. The boot is two litres smaller, and the car takes 1.3 seconds longer to reach 62mph from standing – something unnoticeable in practice.
If those differences are deal breakers then there must be something wrong! See below for a direct comparison of the key statistics.
What's good:
It's more efficient: The new model is more efficient than the old model, meaning fewer visits to the pumps and cheaper annual road tax bills.
And what's not:
Dulled performance: It takes slightly longer for the new model to hit 62mph. Having said that, it still feels... swift.
| | | |
| --- | --- | --- |
|   | Suzuki Swift 1.3 SZ4 (2005) | Suzuki Swift 1.2 SZ4 (2010) |
| Combined economy | 49mpg | 57mpg |
| CO2 emissions | 140g/km | 116g/km |
| VED band | E (£110 annually) | C (£30 annually) |
| Power | 92PS | 93PS |
| Torque | 85lb/ft | 87lb/ft |
| Top speed | 109mph | 103mph |
| 0-62mph | 11 seconds | 12.3 seconds |
| Kerb weight | 1065kg | 1020kg |
| Length | 3695mm | 3850mm |
| Width | 1690mm | 1695mm |
| Height | 1500mm | 1510mm |
| Wheelbase | 2380mm | 2430mm |
| Boot space | 213 litres | 211 litres |
« Earlier: Disaster! Later: That's interesting... »
Updates

Six months and 6500 miles have passed since the Suzuki Swift first arrived but now it's time to say goodbye. So how has it fared in its time with us?

Most of the time I've spent with the Swift has been in the cold of winter but now the sun is out the Suzuki is much more enjoyable to drive.

It may seem a new name, but the Swift's history can actually be traced back to the early 80s. Can you remember all the models?

When you order a car you probably think nothing more until it's ready - but what happens between signing the papers and taking delivery?

You never can tell where your car is going to take you, so I've highlighted some of the journeys that test the Swift's versatility on a map.

I pick out some of the best - and worst - optional extras from the accessories brochure.

Having spent a while with the Swift I've started to pick up on things you won't notice in the showroom or on a test drive.

6 January 2012: Spot the difference
When the new Swift was launched many people - rightly - observed that it looks like the old one. So what's the difference?

A recent minor bump opened my eyes to the amount of safety kit fitted to the Suzuki Swift, which has a five star Euro NCAP rating.

The Swift has, so far, impressed. It's great on country lanes, packed with gear and works well in town. But what about on a long motorway trip?

It's not uncommon for little cars to offer enjoyable driving dynamics, and expected as much from the Swift. Turns out it's a revelation.

The first thing I noticed when the new Suzuki Swift SZ4 turned up is just how much standard equipment you get.