Our Cars: Suzuki Swift 1.2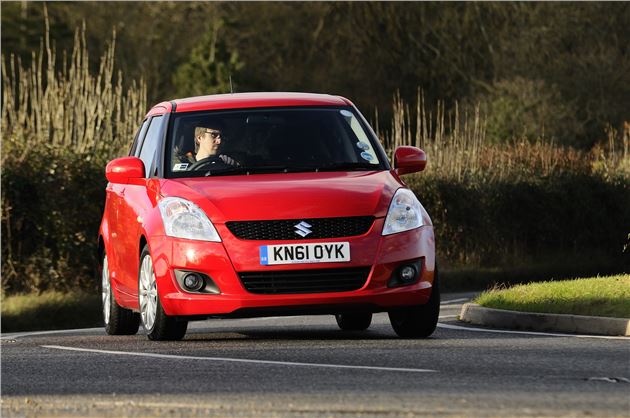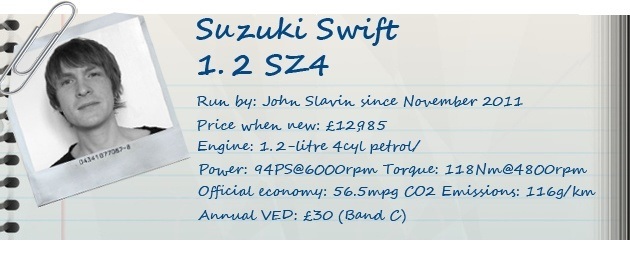 21 November 2011: Revelations
The Details
| | |
| --- | --- |
| Current mileage | 944 |
| Claimed economy | 56.5mpg |
| Actual economy | 44.9mpg |
I've always been a fan of small cars. They're what I grew up with – when I was a child my brother had a Mk1 Ford Fiesta with Lucas spotlights and a big eagle graphic on the bonnet. One of my early cars was a Citroen Saxo VTR, known for its entertaining handling.
Having grown up in a village in the Yorkshire Dales, I'm used to the merits of a small car. The nearest roundabout to my home for the most part of my life was eight miles - and it was just as far to a set of traffic lights. Between me and them there was nothing but twists and turns, with straight stretches of road never lasting more than a few hundred yards.
Over such winding roads, larger cars tend to wallow around – they feel as heavy as they are and don't really inspire much confidence. Smaller, lighter machines like the Swift feel much more at home – so I was expecting competence, at the very least, from the Suzuki.
What I actually found was something of a revelation. The Swift, despite a little 1.2-litre engine, is excellent fun to drive, thanks in no small part to a communicative, precise steering set-up. The turn-in (the way in which the car reacts the instant you steer) is extremely precise and immediate. There's no delay between you making a movement of the wheel and the resulting change of direction.
It makes you feel connected to the car and - more importantly - to the road. That's also helped by the suspension, which is fairly firm and keeps unnerving body roll at bay in tight bends. Unfortunately, while the suspension is ideal for country roads it's far from perfect elsewhere.
Find a rough piece of tarmac and all of the lumps, bumps and potholes are relayed into the cabin with a thud. In fact, on one occasion I was convinced that I'd broken the car because of how loudly it crashed over an admittedly huge pothole, but luckily it was fine.
Back to that little engine. It's a 1.2-litre four-cylinder and produces 94PS, which is hardly a figure to write home about. But consider the fact that about ten years ago you'd expect that from a 1.6-litre engine (My Saxo VTR produced 96PS) and it sounds a little more interesting, combining fun with frugality. All of the power arrives in a large chunk at the top of the rev range, accompanied by a sporty, addictive exhaust note.
It means that you have to push on quite hard to make the most of the engine, which is entertaining on the right road. Thanks to that high-up power delivery, the Swift is a little more relaxed in and around town and the gearing means you can drive at a quiet, steady 30mph in fourth gear, and even fifth with a clear road. 
Unfortunately it's a little loud on a motorway cruise, but that's not the environment for which the Swift is designed, despite the fitment of cruise control. But for someone who learned to drive on twisting country lanes, the Swift is ideal. 
What's good:
The steering: It's about as pointy as steering gets. It's extremely easy to drive the Swift precisely on a country lane, and it's very enjoyable.
And what's not:
Where's the Aux-In?: This is a little cruel, given the fact there's a USB port, but why's there no Aux-in? I find it much easier to set the iPod on random and just plug it in via an audio jack. 
« Earlier: All the toys Later: On a journey »
Updates

Six months and 6500 miles have passed since the Suzuki Swift first arrived but now it's time to say goodbye. So how has it fared in its time with us?

Most of the time I've spent with the Swift has been in the cold of winter but now the sun is out the Suzuki is much more enjoyable to drive.

It may seem a new name, but the Swift's history can actually be traced back to the early 80s. Can you remember all the models?

When you order a car you probably think nothing more until it's ready - but what happens between signing the papers and taking delivery?

You never can tell where your car is going to take you, so I've highlighted some of the journeys that test the Swift's versatility on a map.

I pick out some of the best - and worst - optional extras from the accessories brochure.

Having spent a while with the Swift I've started to pick up on things you won't notice in the showroom or on a test drive.

When the new Swift was launched many people - rightly - observed that it looks like the old one. So what's the difference?

A recent minor bump opened my eyes to the amount of safety kit fitted to the Suzuki Swift, which has a five star Euro NCAP rating.

The Swift has, so far, impressed. It's great on country lanes, packed with gear and works well in town. But what about on a long motorway trip?

21 November 2011: Revelations
It's not uncommon for little cars to offer enjoyable driving dynamics, and expected as much from the Swift. Turns out it's a revelation.

The first thing I noticed when the new Suzuki Swift SZ4 turned up is just how much standard equipment you get.