Our Cars: Suzuki Swift 1.2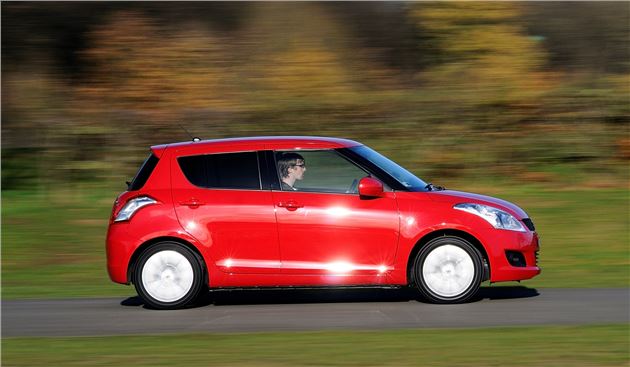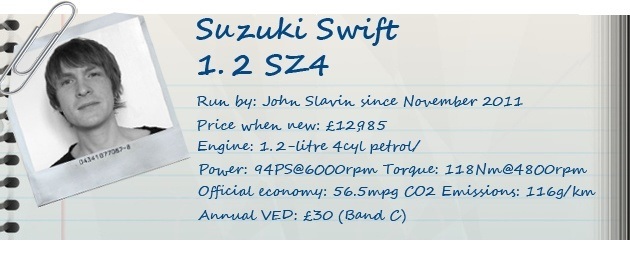 4 May 2012: Better weather, better car
The Details
| | |
| --- | --- |
| Current mileage | 2814 |
| Claimed economy | 56.5mpg |
| Actual economy | 47.9mpg |
The Swift first turned up on my driveway in November, so most of the time I've spent driving it has been in the cold darkness of the British winter. Snow and ice can be bad for a car, but even without either of those the winter isn't much fun for motorists.
First of all there's the cold temperature, which increases fuel consumption. There are various reasons for this, including increased friction because engine oil is thicker at low temperatures. Tyre pressures are also slightly lower in cold weather because air is denser at low temperatures and this increases rolling resistance.
On top of that, fuel doesn't burn as readily in the cold as it does in the warm. This, coupled with the fact the engine was still in its running in phase, meant that over the winter my fuel economy tended to hover around the 46mpg mark. Rarely did it rise above it.
Cue clement weather and there was a sudden improvement to almost 48mpg. If I cruise along in a 50mph zone it rises further still – so it seems the economy agrees with summer time. Not only that but the car just 'feels' better in warmer weather.
This year I didn't have winter tyres fitted, contrary to my own advice. While there were never any slippery moments during the colder period, now it's warm again the Swift feels almost like its riding on glue. The steering is very precise and the Swift can tackle corners much faster than you'll ever need it to without breaking a sweat.
The air-con is better at keeping you cool than it is at keeping you warm too. In the winter it needs constant fiddling to maintain a comfortable temperature and takes quite a while to heat up on a chilly morning. In the warm it just ticks away, and it doesn't seem to affect the fuel economy at all. 
None of this is to say that the Swift is bad in winter, of course, it just feels much more at home in warmer weather, as do most cars. It's just a shame that the next update will be my last, as the little Suzuki is will be leaving us in just a couple of weeks. 
« Earlier: A potted history Later: Farewell, Swift »
Updates

Six months and 6500 miles have passed since the Suzuki Swift first arrived but now it's time to say goodbye. So how has it fared in its time with us?

4 May 2012: Better weather, better car
Most of the time I've spent with the Swift has been in the cold of winter but now the sun is out the Suzuki is much more enjoyable to drive.

It may seem a new name, but the Swift's history can actually be traced back to the early 80s. Can you remember all the models?

When you order a car you probably think nothing more until it's ready - but what happens between signing the papers and taking delivery?

You never can tell where your car is going to take you, so I've highlighted some of the journeys that test the Swift's versatility on a map.

I pick out some of the best - and worst - optional extras from the accessories brochure.

Having spent a while with the Swift I've started to pick up on things you won't notice in the showroom or on a test drive.

When the new Swift was launched many people - rightly - observed that it looks like the old one. So what's the difference?

A recent minor bump opened my eyes to the amount of safety kit fitted to the Suzuki Swift, which has a five star Euro NCAP rating.

The Swift has, so far, impressed. It's great on country lanes, packed with gear and works well in town. But what about on a long motorway trip?

It's not uncommon for little cars to offer enjoyable driving dynamics, and expected as much from the Swift. Turns out it's a revelation.

The first thing I noticed when the new Suzuki Swift SZ4 turned up is just how much standard equipment you get.