Our Cars: SEAT Ateca 2.0 TDI Xcellence 4Drive DSG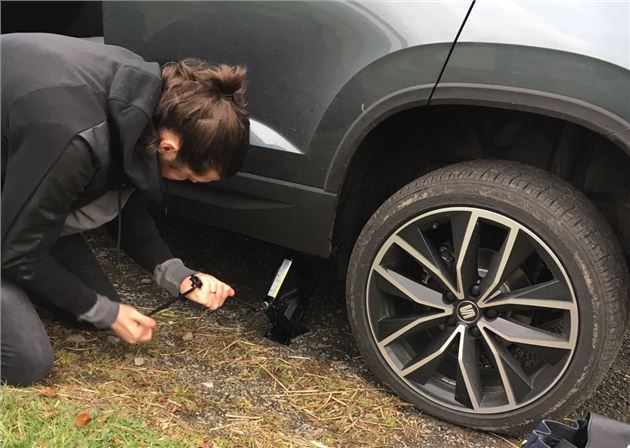 7 November 2016: Our Cars test... GOLD
The Details
| | |
| --- | --- |
| Current mileage | 1203 |
| Claimed economy | 53.3mpg |
| Actual economy | 39.8mpg |
We went to the Lake District for a couple of days away with the kids recently, in the Ateca. We had a lovely time. Everything went smoothly. We were on our way home. "Hasn't everything gone smoothly," I said.
BANG!
Pull over. Survey the carnage, dad style. Yep, that tyre's flat alright. Everyone out of the car. First things first...
"Why's daddy taking a photograph, mammy?"
"Erm, because…"
"I'll take this one. It's because this, kids, is our cars test gold."
"What's an our cars vest hold?"
"Our cars test gold. It means something interesting has happened to our car, which means I've got stuff to write about. In this case I'm about to fix the tyre, then I'll have to have the tyre replaced, and that's all very…oh, you've stopped listening."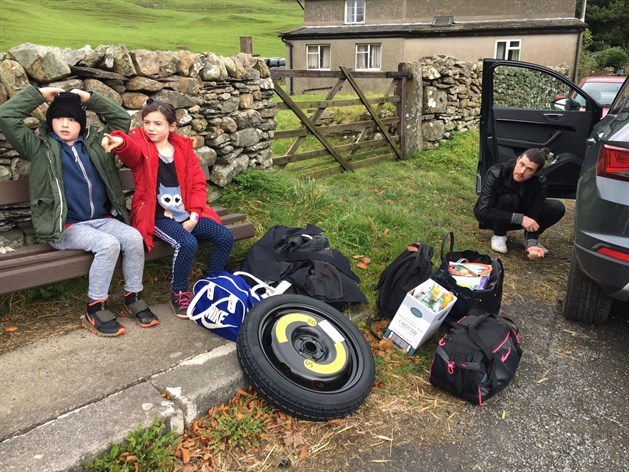 Open boot.
"Yes! No tyre repair kit – it's a spare. Lovely stuff. Time to be a man."
Replace tyre successfully. Manly pride.
Next day(ish). Take tyre to general tyre centre. Tyre can't be repaired because of style and location of hole. Damn. Phonecall.
"Hello, is that Pulman SEAT in Sunderland? Yes, I'd like to replace a Bridgestone tyre on an Ateca, as like-for-like as possible…how much?! Oh, ok then."
Go to Sunderland. Nice people. Wait 90 minutes on a chair next to a Mii. Patience wearing thin. Approach service desk.
"Oh, yes Mr. Nichol, it's ready but it's not been cleaned yet. Do you want to take it anyway? That'll be £169 please."
Pay. Drive home.
Like I said, long-term update gold. 
« Earlier: A little road test of the big diesel Later: SEAT...what's it all about? »
Updates

Turns out the Ateca is the car our readers are most interested in. No surprise, really.

The Ateca is an Xcellent crossover, just do't get too Xcited with the spec...

The Ateca was comfortably Mark's favourite crossover until Peugeot did an amazing one, out of nowhere.

We're perplexed by some missing MPGs, but there is a SEAT-based solution, at least.

We're still struggling to really fall for our Ateca...but at least we know why, and what to do about it.

The Ateca is superb...so why don't I love it?

What does owning a SEAT actually say about you?

7 November 2016: Our Cars test... GOLD
One burst tyre = one free Our Cars update. And one large bill.

Our Ateca has the most powerful engine you can have with it. It's not quite matching expectations though...

Mark has history with SEAT, which means he's uniquely placed to...hope the Ateca is as good as the Leon. Like everyone else.