Our Cars: SEAT Ateca 2.0 TDI Xcellence 4Drive DSG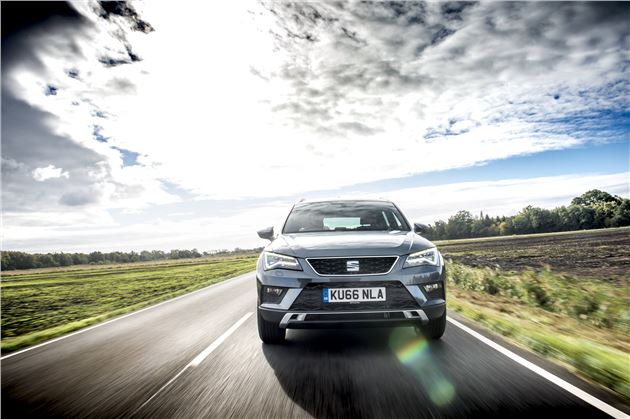 6 January 2017: Ateca, meet your nemesis: a Peugeot
The Details
| | |
| --- | --- |
| Current mileage | 4020 |
| Claimed economy | 53.3mpg |
| Actual economy | 42.0mpg |
| | |
Right, we've already established that the Ateca is very good and, indeed, is Honest John's most popular crossover - most popular car full stop, no less. 
I tended to agree with you all. If you've been following my time with the car, or seen my review of it, you'll know that I admire the Ateca greatly, in every way - looks nice, practical, well priced, great to drive. What's not to like?
You'll also know, however, that I've always considered it the best crossover in a loveless sort of way. The same way I think Fairy Liquid is the best thing to wash my dishes with, or Accessorize is the best place to buy my hair bobbles... I mean, B&Q is the best place to buy my power tools. That.
To be honest, somewhere in my subconscious mind, filed alongside old episodes of Byker Grove, this view had probably pegged my expectation of what could be accomplished with a crossover - that it won't get much better than this and, as such, crossovers must always be pretty boring if they are to work properly. Probably.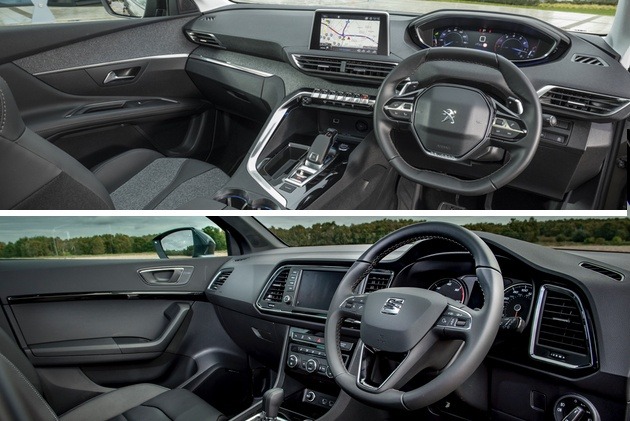 3008 and Ateca cabins: which would you choose? 
Case in point: the Toyota C-HR crossover 'coupe' is a bit mental. It looks great - exciting, even - and it's economical and well made. But it's also extremely disappointing to drive, lacking in practicality in places and pricey. And therefore not necessarily a car I'd recommend to anyone ahead of the Ateca, even though I could love it, if it were better. 
Step in the Peugeot 3008. What a crossover that thing is. It too is pricey (starting at £22,495), true, but in every other way it's every bit as good - or better - than the Ateca, except that it's also actually interesting. Really interesting. The cabin is a lesson in intriguing yet useful design, right down to the unusual trim choices, plus the engines are excellent, it's great to drive and it looks unique, inside and out. 
The 3008 is cut from its own cloth, while the Ateca is very clearly a Volkswagen Group product (jump to 2:00 in the video below for details), and one that seems to have been clinically formulated during a series of product planning meetings, somehow.
Ultimately, the 3008 has the sort of spirit that the Ateca should have had - youthful, sporty, daring, different - and it does so without scrimping on the stuff you need: quality, space etc. By comparison the Ateca, as good as it is, feels something of a Tiguan-light. 
« Earlier: Where have my MPGs gone? Later: Here's which Ateca you should buy...not this one »
Updates

Turns out the Ateca is the car our readers are most interested in. No surprise, really.

The Ateca is an Xcellent crossover, just do't get too Xcited with the spec...

6 January 2017: Ateca, meet your nemesis: a Peugeot
The Ateca was comfortably Mark's favourite crossover until Peugeot did an amazing one, out of nowhere.

We're perplexed by some missing MPGs, but there is a SEAT-based solution, at least.

We're still struggling to really fall for our Ateca...but at least we know why, and what to do about it.

The Ateca is superb...so why don't I love it?

What does owning a SEAT actually say about you?

One burst tyre = one free Our Cars update. And one large bill.

Our Ateca has the most powerful engine you can have with it. It's not quite matching expectations though...

Mark has history with SEAT, which means he's uniquely placed to...hope the Ateca is as good as the Leon. Like everyone else.