Our Cars: SEAT Ateca 2.0 TDI Xcellence 4Drive DSG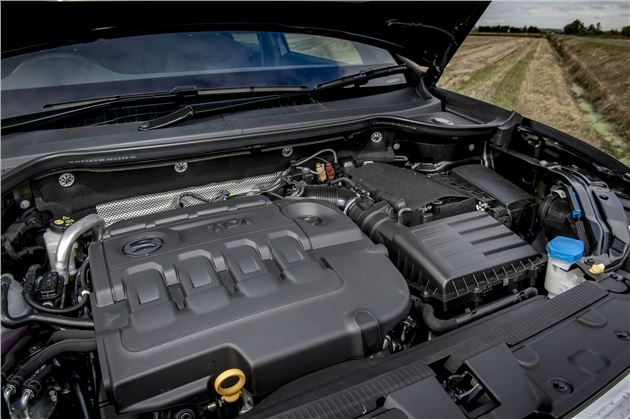 24 October 2016: A little road test of the big diesel
The Details
| | |
| --- | --- |
| Current mileage | 854 |
| Claimed economy | 53.3mpg |
| Actual economy | 40.4mpg |
Our Ateca is a 2.0-litre TDI diesel with 184PS and a DSG automatic gearbox, and it's in Xcellence [sic] spec. A top whack SEAT, in other words. Atrocious absence of an 'E' in aside, this is good – in theory it means we get to see the best SEAT can offer. Few compromises.
The price is uncompromising too: £29,990. That price means, in the oversimplified, genre extolling world we car reviewers operate in, that this Ateca competes with the collective might of the Volkswagen Tiguan, the Lexus NX (just) and the Audi Q3 (ish); if you're considering buying an Ateca, there is of course no way you'd consider anything other than another similarly sized, or slightly smaller, crossover. No way José.
So let's do a road test. First impressions: good. Slightly bland, perhaps, but the Ateca's cabin generally does a good job of balancing the qualities of intuitiveness and prettiness – awkward bedfellows, as you'll know if you've sat in a (Citroen) DS of any sort. It gets the basics right. The driving position is superbly set up in the way you'd expect from any car fresh from the Volkswagen Collective (phrase © D. Ross). Again, sit in a DS and you'll see how that can go wrong in a subtle but very real way. I don't know why I'm picking on DS. Sorry, Citroen/DS.
Then there's the infotainment setup, which in my humble view is still the very best there is, apart from the ones that Volkswagen and Skoda do – no surprise there because they're re-skinned versions of the same thing. It has a singular focus on ease-of-use – a trait that seems to bypass the systems of most other manufacturers. The cabin is just as focussed, sticking with vintage tropes like having big knobs for the heating controls and stereo volume, instead of burying them in a fifth-level sub-menu. I'm looking at you again, Citroen/DS. Sorry.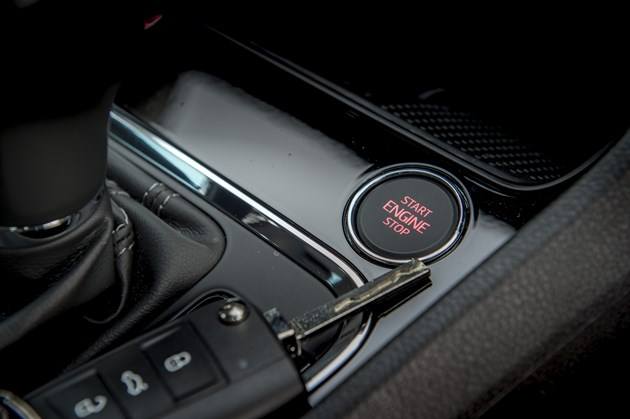 Old- and new-school ways of starting a car, together innit.
All-in-all then, a few little things aside (which I'll talk about in later updates), the Ateca has a canny mint cabin. Good start. Press the start button though, and…what's this? Where's all the power? Isn't this thing supposed to have massive Newton Metres?
**Pull over, check spec sheet**
Yes, it does. 400 of them. More than a…yes, a Porsche Boxster. A basic one, but still.
**Start again, drive more aggressively**
Oh, I see what's happening. It's the software. There's a significant amount of power/torque here, but unfortunately, and presumably in the name of efficiency, the throttle and DSG are programmed specifically to prevent the engine using any fuel. The throttle is mapped so smoothly that the first half of its travel does virtually nothing, while the DSG is calibrated to keep the rev counter as close to 1,000rpm as possible.
The result is that that this, a crossover that does 0-62mph in 7.5 seconds (quickly, that is) feels outright sluggish at middling sort of speeds; ask for a bit of oomph from, say, 30mph and you're obliged to mash the throttle, wait for the gearbox to work out which ratio to jump to, then, finally…boof. It's a word.
It's clumsy and frustrating, and it quite often spoils the driving experience. What's most vexing is that it doesn't feel like a fundamental mechanical issue, but rather one of software – easily solved in other words. It could also be solved by having a manual gearbox, of course.
But then, a manual gearbox doesn't seem like the right thing for this particular car – a top spec, thirty grand SUV type thing. It's double frustrating because in almost every other way, this Ateca more than holds its own against the 'premium' stuff we mentioned at the start.
« Earlier: Dear SEAT Ateca, just avoid bellyflopping... Later: Long-term test...GOLD »
Updates

Turns out the Ateca is the car our readers are most interested in. No surprise, really.

The Ateca is an Xcellent crossover, just do't get too Xcited with the spec...

The Ateca was comfortably Mark's favourite crossover until Peugeot did an amazing one, out of nowhere.

We're perplexed by some missing MPGs, but there is a SEAT-based solution, at least.

We're still struggling to really fall for our Ateca...but at least we know why, and what to do about it.

The Ateca is superb...so why don't I love it?

What does owning a SEAT actually say about you?

One burst tyre = one free Our Cars update. And one large bill.

24 October 2016: A little road test of the big diesel
Our Ateca has the most powerful engine you can have with it. It's not quite matching expectations though...

Mark has history with SEAT, which means he's uniquely placed to...hope the Ateca is as good as the Leon. Like everyone else.