Our Cars: Audi Q2 1.4 TFSI Sport S tronic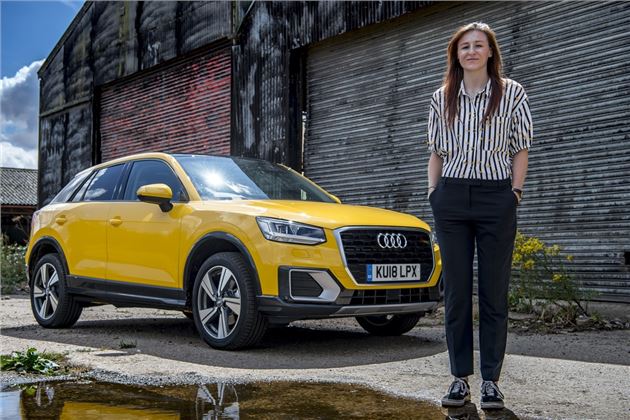 11 July 2018: Our Audi Q2 arrives...and it's yellow
The Details
| | |
| --- | --- |
| Current mileage | 896 |
| Claimed economy | 52.3 |
| Actual economy | 42 |
Our new Audi Q2 has arrived. And it's yellow, as you may have noticed. This colour choice has evoked a lot more emotion from people than was expected, but more on that in a later update.
We opted for the 1.4 TFSI Sport 150PS model. With the Sport trim, the Q2 gets front sports seats, Navigation, contrast colour bumpers and Audi Drive Select. We then added an S tronic auto gearbox, which took the price to £26,465.
With Vegas Yellow paint (£550), 18-inch diamond-cut alloy wheels for £925 (instead of the standard 17-inch) and LED headlights for £975 - the Q2 is already around £7000 more than the £22,990 base price.
A few more optional extras later (a panoramic sunroof, privacy glass, keyless entry, dual zone climate control, Bang & Olufsen Sound System, virtual cockpit, smartphone interface), and we reach a total of £34,380. Ouch.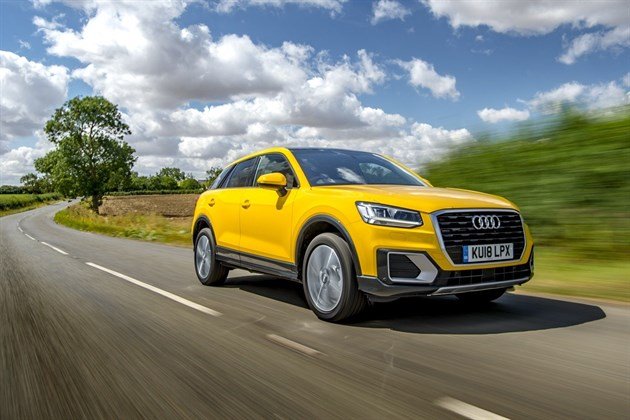 Vegas Yellow is a £550 optional extra...
Oddly, the Audi phone box with wireless charging (which we opted for) is £325, but it won't actually charge an iPhone - like our 6S - without Audi's £40 wireless charging phone case (which we didn't opt for). It feels kind of like bringing a cider to a BBQ and then being charged £40 by your mate to use his bottle opener.
So, is it worth £34k? Well, not on first impressions. It's comfortable, practical, refined and fun to drive - everything you'd expect from Audi. But it's a lot pricier than similarly sized rivals like the SEAT Arona, Renault Captur and Volkswagen T-Roc (we'll let you know how it compares to the latter in a later update).
While the Q2 definitely looks pretty, it's an odd strategy to market this premium-badged, premium-pricetag compact crossover to design-conscious young drivers like myself. After all, insurance is so high for young drivers that there isn't much money leftover for a big monthly finance bill.
Taking this into account, is there any reason then to choose a Q2 over an Audi A3, with which it shares a platform, engines and safety systems? This is yet another question we'll be seeking to answer over the coming months. Watch this space...
Later: To Bristol and back in our Audi Q2 »
Updates

It's time to say goodbye to our lovely yellow Q2, and we'd be lying if we said we wouldn't miss it.

The 1.4 TFSI in Audi's lineup has been replaced by the 1.5 TFSI (35 TFSI), but which engine would Georgia opt for?

Georgia likes the Virtual Cockpit in the Q2, but is it worth £1400?

Th new Audi Q3 is newer and nicer than the Q2, so why does it only cost a touch more than our Q2?

Audi has added some partial matting onto the rear pillar for customers who buy a Q2 Special Edition #2. Georgia takes you though the fancy, but pointless, optional extra.

Seasons changing get Georgia thinking about the first three months with her Audi Q2.

The Audi ticks all the boxes for young buyers who want a sporty, stylish and premium car. But what's up with the £21k price tag?

Georgia contemplates the triumphs and tribulations of owning a yellow car.

Georgia begins to find the lack of touchscreen in our Q2 slightly irksome...

Georgia puts our Audi Q2 through its paces against a VW T-Roc.

Georgia takes her Audi Q2 on a trip to Bristol, but how does is fare on a long trip?

11 July 2018: Our Audi Q2 arrives...and it's yellow
Our new Audi Q2 arrives, and the colour causes a range of reactions.