Our Cars: Audi Q2 1.4 TFSI Sport S tronic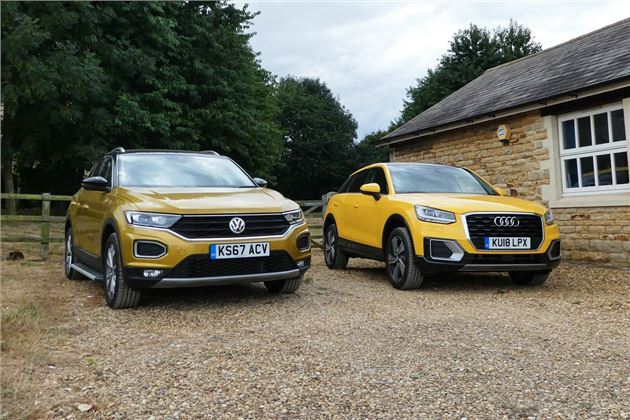 8 August 2018: Audi Q2 vs Volkswagen T-Roc
The Details
| | |
| --- | --- |
| Current mileage | 1993 |
| Claimed economy | 52.3 |
| Actual economy | 42.5 |
The Audi Q2 rides on the same platform as the Volkswagen T-Roc, which it also shares engine options with — so, naturally, buyers are likely to compare the two, so we'll do the same. The T-Roc we're testing is a 1.0-litre 115PS 6-speed manual, compared with our 1.4-litre TFSI Sport 150PS Audi Q2. 
But we'll just compare base-spec prices for simplicity, which is £19,000 for the T-Roc and £21,665 for the Q2. The German siblings (and rivals) are very similar crossovers, but which one would we pick?
Both cars are a big departure away from their smaller counterparts (the Golf and A3). While neither are groundbreaking designs — features like panel creases, coloured interior inserts and a generally less boxy bodies certainly make them less boring than we're used to (especially with straight-laced Volkswagen).
The interiors are quite different between our models as well. Where the T-Roc is well-designed and simple with its intuitive layout and touchscreen infotainment system, the Q2 goes for a more luxurious approach. The sporty flat-bottom wheel, squishy dashboard, circular swivelling air vents and virtual cockpit all scream quality. The extras definitely come at a cost (it's Audi after all), but it feels more special. Although both have interior colour inserts, I prefer the Q2's slightly subtler colour scheme.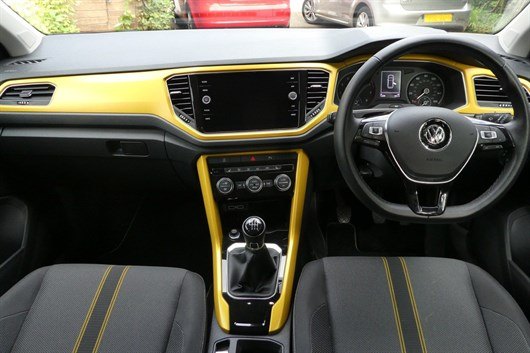 The T-Roc has more personality than the Golf, but the big Gold sections of dash are garish
When it comes to family practicality, the Q2 falls short against the Volkswagen though. Those with small children will be okay, but if you plan to take teenagers or adults around regularly, they'll struggle to be comfortable in the Q2's rear seats over long durations. The roof isn't that high for tall passengers, and the big rear pillar blocks out a lot of light, so — like the Nissan Juke — it can feel a little gloomy in the back.
The Volkswagen crossover also beats the Audi in terms of boot space. With the seats up, you get 40 litres of extra space in the T-Roc, with the seats down you get 240 litres more. 
But what about on the road? The T-Roc is very like the Golf — it's comfortable, quiet and handles well. But it doesn't feel that fun. Behind the wheel of the Audi, it's just as you'd expect, a bit nippier and sportier and generally more engaging to drive. It's very slightly less comfortable, but you can engage the Comfort mode in Drive Select if you go for the same options I have.
What you prefer will be dependent on what you want out of your crossover. If you want space and practicality then the T-Roc will appeal to you more. Personally, I prefer the Q2. I've driven it more, of course, but it feels that little bit nicer to drive and it's definitely the nicer car to sit in. But Audi's optional extras will kick up the price a lot more than Volkswagen's, so if you want to save some cash, the T-Roc is a better bet.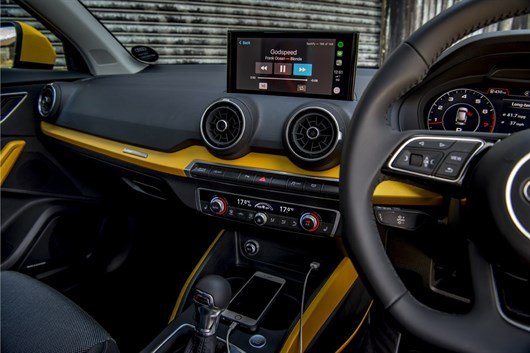 « Earlier: To Bristol and back in our Audi Q2 Later: Touchscreens tantrums in our Audi Q2 »
Updates

It's time to say goodbye to our lovely yellow Q2, and we'd be lying if we said we wouldn't miss it.

The 1.4 TFSI in Audi's lineup has been replaced by the 1.5 TFSI (35 TFSI), but which engine would Georgia opt for?

Georgia likes the Virtual Cockpit in the Q2, but is it worth £1400?

Th new Audi Q3 is newer and nicer than the Q2, so why does it only cost a touch more than our Q2?

Audi has added some partial matting onto the rear pillar for customers who buy a Q2 Special Edition #2. Georgia takes you though the fancy, but pointless, optional extra.

Seasons changing get Georgia thinking about the first three months with her Audi Q2.

The Audi ticks all the boxes for young buyers who want a sporty, stylish and premium car. But what's up with the £21k price tag?

Georgia contemplates the triumphs and tribulations of owning a yellow car.

Georgia begins to find the lack of touchscreen in our Q2 slightly irksome...

8 August 2018: Audi Q2 vs Volkswagen T-Roc
Georgia puts our Audi Q2 through its paces against a VW T-Roc.

Georgia takes her Audi Q2 on a trip to Bristol, but how does is fare on a long trip?

Our new Audi Q2 arrives, and the colour causes a range of reactions.