Peugeot, Citroen and DS to publish realistic economy figures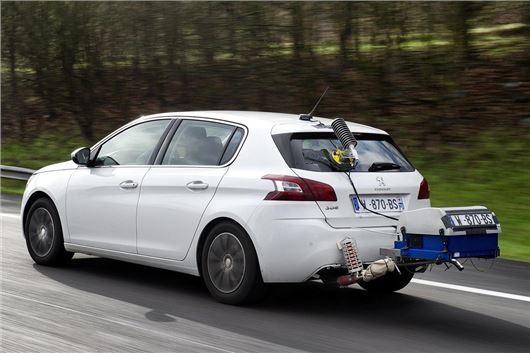 Published 11 July 2016
PSA Group has published realistic, real-world tested economy figures for 30 key models built by Peugeot, Citroen and DS. The real world numbers will continue to be published alongside official EC test figures.
The new figures were established by testing on public roads, covering 15.5 miles of urban driving, 24.2 miles on rural roads and 19.2 miles on the motorway. The route is comparable to typical driving by PSA customers, based on independent surveys.
During testing the car is loaded with weight to simulate passengers and luggage, plus the air conditioning is switched on and there are gradients – unlike in the mandated, official test cycle. By the end of 2016 the Peugeot, Citroen and DS websites will have a tool enabling drivers to estimate a realistic economy figure based on their driving style.
Commenting on the announcement, Gilles Le Borgne, Executive Vice President, Research & Development, said: "The PSA Group has today published real-world consumption data for 30 Peugeot, Citroën and DS models, in line with the commitment to transparency made in October 2015.
"As part of its drive to continuously provide customers with more information, the Group will publish figures for another 20 models by the end of the year and introduce a simulator allowing customers to reduce their fuel consumption depending on driving conditions, thereby lowering their CO2 emissions.
In 2017, the PSA Group will move to the next level by extending measurements to pollutant emissions of nitrogen oxides (NOx) in customer driving conditions."
The initial batch of results is below and the figures are reasonably close to those in our Real MPG section. Click here to see all of our Real MPG pages.
14 PEUGEOT MODELS
T&E - l/100km/MPG
Standard - l/100km/MPG
Difference - l/100km/MPG
108

 1.2l PureTech 82 BVM5 15'' STD tyres

6.1 / 46.3
4.3 / 65.6
1.8 / 19.3
208

 1.6l BlueHDi 100 BVM5 16'' VLRR tyres

4.7 / 60.1
3.5 / 80.7
1.2 / 20.6
208

 1.6l BlueHDi 120 S&S BVM5 16'' ULRR tyres

4.7 / 60.1
3.0 / 94.1
1.7 / 34.0
2008

 1.6l BlueHDi 100 BVM5 16'' VLRR tyres

5.1 / 55.3
3.7 / 76.3
1.4 / 21.0
2008

 1.6l BlueHDi 120 S&S BVM6 16'' VLRR tyres

5.2 / 54.2
3.7 / 76.3
1.5 / 22.1
2008

 1.2l PureTech 82 BVM5 16'' VLRR tyres

6.4 / 44.1
4.9 / 57.6
1.5 / 13.5
2008

 1.2l PureTech 110 S&S EAT6 16'' VLRR tyres

7.1 / 39.7
4.8 / 58.8
2.3 / 19.1
308

 1.6l BlueHDi 120 S&S BVM6 16'' ULRR tyres

4.9 / 57.6
3.2 / 88.2
1.7 / 30.6
308

 1.2l PureTech 130 S&S BVM6 16'' VLRR tyres

6.6 / 42.8
4.6 / 61.4
2.0 / 18.6
308

 1.2l PureTech 110 S&S BVM5 16'' ULRR tyres

6.3 / 44.8
4.0 / 70.6
2.3 / 25.8
3008

 1.6l BlueHDi 120 S&S BVM6 17'' VLRR tyres

6.1 / 46.3
4.1 / 68.8
2.0 / 22.5
3008

 1.2l PureTech 130 S&S BVM6 17'' ULRR tyres

7.6 / 37.1
4.9 / 57.6
2.7 / 20.5
508

 2.0l BlueHDi 180 S&S EAT6 17'' ULRR tyres

6.3 / 44.8
4.0 / 70.6
2.3 / 25.8
PARTNER

 1.6l BlueHDi 120 S&S BVM5 15'' VLRR tyres

6.1 / 46.3
4.3 / 65.6
1.8 / 16.3
 
 
 
 
11 CITROËN MODELS
T&E procedure - l/100km/MPG
Standard - l/100km/MPG
Difference - l/100km/MPG
C1

 PureTech 82 BVM Feel 15'' STD tyres

6.1 / 46.3
4.3 / 65.6
1.8 / 19.3
C3

 PureTech 82 BVM Exclusive 16'' VLRR tyres

6.3 / 44.8
4.6 / 61.4
1.7 / 16.6
C3

 

Picasso

 BlueHDi 100 BVM Confort 16'' VLRR tyres

5.7 / 49.5
3.8 / 74.3
1.9 / 24.8
C3

 BlueHDi 75 S&S BVM 15'' ULRR tyres

4.9 / 57.6
3.0 / 94.1
1.9 / 36.5
C4

 

Cactus

 BlueHDi 100 BVM Shine 16'' VLRR tyres

5.1 / 55.3
3.6 / 78.4
1.5 / 23.1
C4

 

Cactus

 PureTech 110 S&S BVM Shine 16'' VLRR tyres

6.1 / 46.3
4.3 / 65.6
1.8 / 19.3
C4

 BlueHDi 100 BVM Feel 16'' VLRR tyres

5.1 / 55.3
3.6 / 78.4
1.5 / 22.7
C4

 

Picasso

 BlueHDi 120 S&S EAT6 Intensive 17'' VLRR

6.5 / 43.4
3.9 / 72.4
2.6 / 29.0
tyres
Grand C4 Picasso

 BlueHDi 120 S&S BVM6 Attraction 16'' ULRR tyres

5.7 / 49.5
4.0 / 70.6
1.7 / 21.1
Grand C4 Picasso

 PureTech 130 S&S BVM6 Intensive 17'' VLRR tyres

7.4 / 38.1
5.0 / 56.4
2.4 / 18.3
Berlingo

 BlueHDi 100 BVM 15'' VLRR tyres

6.1 / 46.3
4.3 / 65.6
1.8 / 19.3
 
 
 
 
3 DS MODELS
T&E procedure - l/100km/MPG
Standard - l/100km/MPG
Difference - l/100km/MPG
DS 3

 BlueHDi 120 S&S BVM6 Sport Chic

5.0 / 56.4
3.6 / 78.4
1.4 / 22.0
DS 3

 PureTech 110 S&S BVM So Chic

6.0 / 47.0
4.3 / 65.6
1.7 / 18.6
DS 4

 PureTech 110 S&S BVM So Chic

5.4 / 52.3
3.8 / 74.3
1.6 / 22.0
Comments
Author

John Slavin
Latest