Skoda Citigo: first details and pictures on Skoda's new city car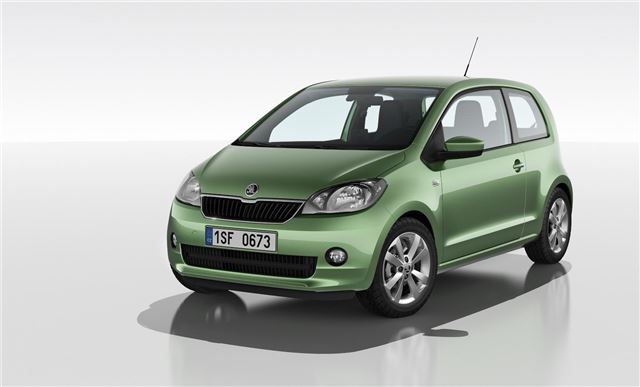 Just when you thought the frenzy of new models following this month's Frankfurt Motor Show was over, Skoda pulls its new Citigo out of the hat.
It's the firm's first city car and slots in below the Fabia. Based on Volkswagen's forthcoming Up!, it's powered by two new three-cylinder 1.0-litre petrol engines with 60 and 75bhp. Citigo Greenline versions will come in at 67.3mpg and 65.7mpg respectively, with emissions of just 97g and 99g CO2/km. Standard versions are 62.8mpg and 105g CO2/km with the 60bhp engine and 60.1mpg and 108g CO2/km with the 75bhp unit.
At 3.56 metres long, 1.65 metres wide and 1.48 metres high, Citigo is certainly compact, but its 2.42m wheelbase is said to provide enough comfort for four to travel in comfort. The boot volume is a sizeable 251 litres, which can be extended to 951 litres by folding down the rear seats.
Three door versions get an 'Easy Entry' system to allow easy access to the rear seats. The front passenger's seat can be moved and folded forward to ensure easy access to the rear seats 
Interior design features help to maximise that space with numerous storage compartments, cup holders and multimedia systems, as well as storage pockets on the sides of the front seats. In addition, there's a special bag hook integrated in to the glovebox handle and a photograph holder on the central console. For the first time in a Skoda, there's a portable (rather than built-in) satellite navingation system. The device s fitted to the dashboard, but can be removed if it's needed elsewhere. The five-inch touch-screen system also provides the car's Bluetooth hands-free phone connectivity, as well as showing important information about the car (onboard computer, optical signals from the parking sensors, etc).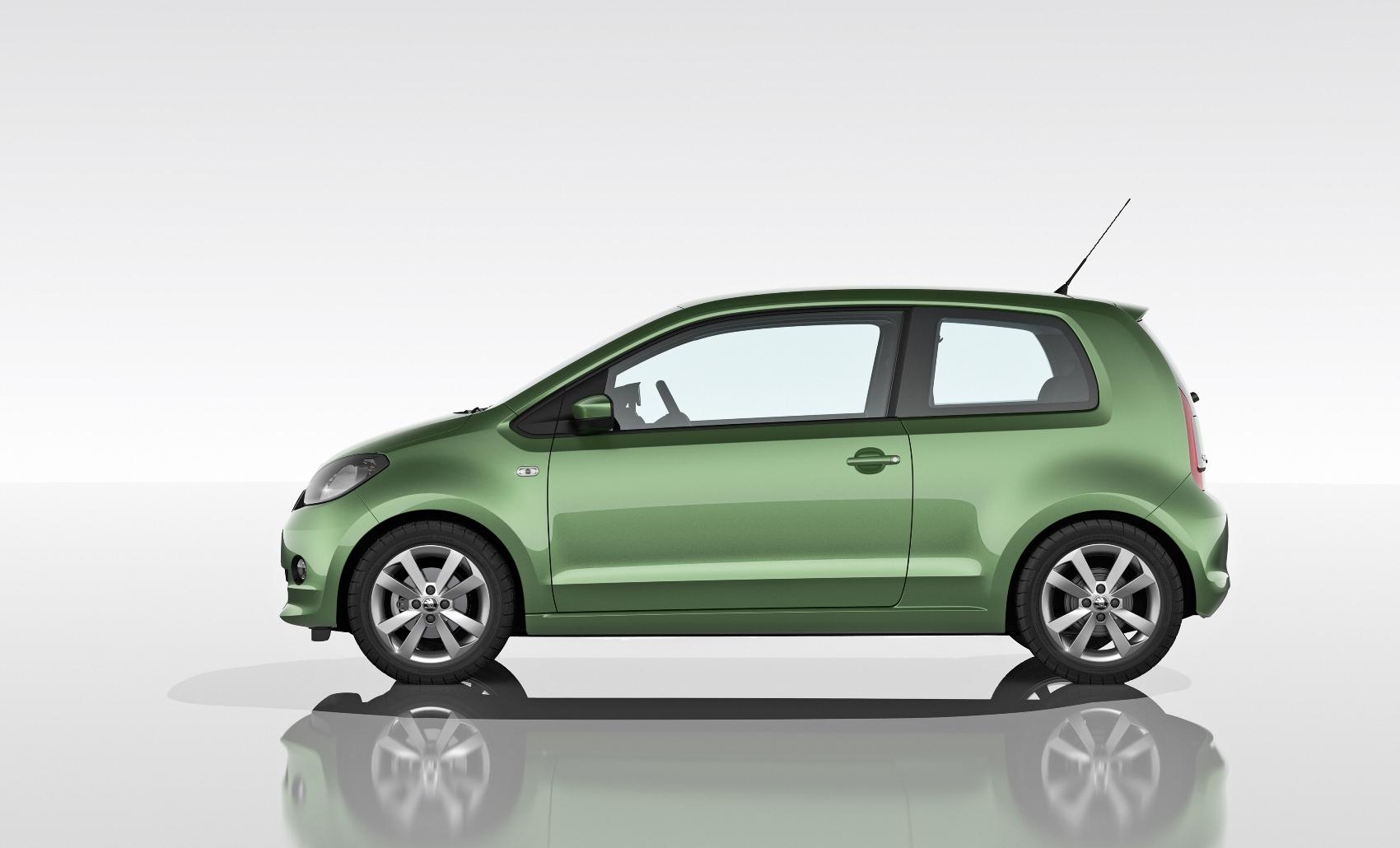 Safety is taken care of with throax airbags (another first for a Skoda), which protect the heads of both the driver and the front seat passenger along with City Safe Drive', a new brake assistance system based on a laser sensor that is activated automatically at speeds below 30 km/h when there is danger of a collision.
The Citigo will go one sale in the UK in Summer 2012 in three and five-door versions.
Technical specifications
| | | | |
| --- | --- | --- | --- |
| Engine |   | 1.0 MPI/60PS | 1.0 MPI/75PS |
| Cylinders |   | 3 | 3 |
| Displacement | [cm3] | 999 | 999 |
| Max. engine performance/revs | [kW at rpm] | 44/5000–6000 | 55/6200 |
| Max. torque/revs | [Nm at rpm] | 95/3000–4300 | 95/3000–4300 |
| Transmission |   | manual 5-speed | manual 5-speed |
| Dimensions |   |   |   |
| Length/width/height | [mm] | 3563/1641/1478 | 3563/1641/1478 |
| Wheel base | [mm] | 2420 | 2420 |
| Track front/rear | [mm] | 1428/1424 | 1428/1424 |
| Wheels |   | 5J×14" | 5J×14" |
| Tyres |   | 165/70 R14 | 165/70 R14 |
| Storage capacity/with rear seat backrests folded down | [l] | 251/951 | 251/951 |
| Width of front/rear seats | [mm] | 1417/1389 | 1417/1389 |
| Headroom in front/rear seats | [mm] | 993/947 | 993/947 |
| Body |   |   |   |
| Drag coefficient cw |   | 0,33 | 0,33 |
| Weights |   |   |   |
| Kerb weight – incl. driver* | [kg] | 929 | 929 |
| Payload – incl. driver* | [kg] | 436 | 436 |
| Performance/consumption |   |   |   |
| Maximum speed | [mph] | 99 | 106 |
| Acceleration 0–62mph | [secs] | 13.9 | 12.7 |
| Consumption – combined (1999/100/EC) |  [mpg] | 62.8 | 60.1 |
| CO2 emissions | [g/km] | 105 | 108 |
Comments