New Volkswagen Sharan gets standard DAB digital radio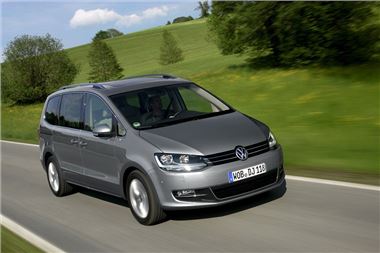 The new Volkswagen Sharan - due in UK showrooms in November - is set to become one of the first mainstream models on the market to be offered with DAB digital radio as standard.
The provisional specification for the UK, issued at the car's official launch in Munich, shows that DAB digital radio will be fitted to all cars from base spec upwards. Volkswagen also has plans to offer more of its cars with DAB digital radio, including Golf, Touran and the new Passat - due in 2011.
The standard fitment of DAB digital radio in the Sharan comes just days after the Government said it would push back the date when the analogue radio signal would be switched off.
There are currently more than 20m cars with analogue radios in the UK and this is a major stumbling block to the switch-over to digital. Although digital radio has been around for more than 15 years, car manufacturers have been slow to include it in their cars. It is set to become standard on all cars by 2013, while the BBC has said it will improve in-car reception by placing more transmitters near major motorway networks as part of a programme to increase UK coverage from 85 to 92%.
The DAB digital radio - like that fitted to the new Volkswagen Sharan - has a wider range of stations and in some cases, like BBC Radio 5Live which is broadcast on the MW frequency, offers better quality too.
The new Sharan also benefits from an upgraded Park Assist system. Earlier versions of this self-parking system have been fitted to other models in the VW range, including Golf, Tiguan and Touran, but this is the first time it's been available on something as large as the Sharan. Improvements mean that it can park in tighter spaces, steer itself out when someone's parked too close and reverse-park into car-parking bays.
REVIEW: The all-new 2010 Volkswagen Sharan is put to the test
Comments