Volkswagen Passat (2011 – 2015) Review
Volkswagen Passat (2011 – 2015) At A Glance
Launched in 2011, the seventh-generation Volkswagen Passat was more of a comprehensive reworking of the sixth-generation car than an all-new model. Not that this matters, because the changes were comprehensive – good enough to edge the Passat closer to the premium players in the competitive family saloon and estate car markets. It sits somewhere between volume cars like the Ford Mondeo and Vauxhall Insignia, and premium models like the BMW 3 Series and Audi A4.
The Volkswagen Passat is one of Europe's most popular fleet cars. Designed to spend all day on the outside lane of a motorway, it's a car that majors on comfort, refinement and efficiency. There's always a ready supply of used examples to choose from, with prices starting from just £2,000.
It's a class act. Although it competes with other volume cars like the Ford Mondeo, Vauxhall Insignia and Skoda Octavia, it offers a level of quality that puts it within touching distance of the premium German rivals. This means you can consider it a genuine alternative to the BMW 3 Series and Audi A4.
Not that it's as good to drive as the 3 Series. Throw the Passat into a corner and you'll discover that this is a car that prefers to drive in a straight line. It's too unwieldy and cumbersome to offer anything approaching entertainment, although a 2.0-litre TSI petrol in Sport trim is a pretty decent steer.
Good luck finding a Passat with a petrol engine. The vast majority of cars are sold with 1.6-litre TDI or 2.0-litre TDI diesel engines, which offer a terrific blend of performance and economy. In fact, opt for a 2.0-litre TDI with Volkswagen's DSG automatic transmission and you could actually beat the claimed fuel economy figures.
There are two versions available: saloon and estate. Both are extremely spacious, making the Passat one of the most practical cars in its class. There's also a rugged Passat Alltrack, which is a serious rival to the likes of the Audi A4 Allroad and Volvo V60 Cross Country. Four-wheel drive, a host of cosmetic upgrades and a raft of desirable features make the Alltrack a terrific used alternative to an SUV.
The Alltrack is also the most premium version of the Passat range. Elsewhere, the cabin has a quality feel, albeit with a sombre look.
The buttons and switches operate with a reassuringly upmarket feel, while the doors shut with a Germanic thud. Avoid the entry-level version and you get a decent level of standard equipment, but don't expect the latest driver assistance technology and infotainment system. Many models don't even feature a touchscreen.
We'd favour the estate over the saloon, if only for the improved practicality. It's not that the saloon is lacking in space, it's just that the estate offers greater flexibility. In both cases, the Passat works best as a four-seater, because the middle rear seat is a tad cramped. The other seats are blessed with plenty of headroom and legroom.
It's not the most exciting car in its class, but if you're after a safe, spacious, efficient and comfortable car to munch up the miles on a long journey, the Volkswagen Passat is hard to beat. Just avoid the entry-level S trim for the best value for money.
What do owners think of the Volkswagen Passat (2011 – 2015)? Check out our
Owners' Reviews
from people who live with the car day in, day out.
Reviews for Volkswagen Passat (2011 – 2015)'s top 3 rivals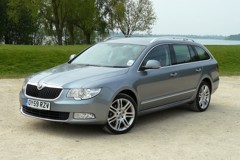 Skoda Superb
Toyota Avensis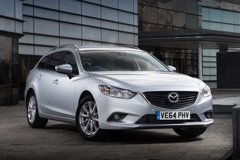 Mazda 6 Tourer
Ask Honest John
Can I stop my car pumping out blue smoke?
"I've had a diesel 2011 Volkswagen Passat for four years. Around every 50- 60 miles, it will put out blue smoke - which I've been told is because it's doing a regeneration. But for the first 2 years I had the car, it never did anything like this. Is there a way to stop it? I was told to do a long run on the motorway, which I did, but it still does it."
The first thing to do is to check the oil. Do this weekly on a flat surface when the engine is cold. Once you have some data, you'll be able to see how much oil is being used (you may need to check with your local Volkswagen specialist to find out what is deemed 'acceptable' in terms of oil use). If you're happy that there isn't an oil leak, then try using a diesel injector cleaner and/or some tanks of premium grade diesel. Failing that, it might be worth inspecting the exhaust gas recirculation valve.
Which is the best used family saloon?
"We need to replace our SEAT Altea. We have a £4500 budget and two growing children, but only a small commute. I'm taken with the idea of a Volkswagen Passat, SEAT Exeo, Honda Accord or Toyota Avensis. I know the Avensis is probably the sensible choice, but can't help feeling the driving experience itself may be lacking compared to the others. Also, what's your experience concerning the auto boxes in each? Many thanks."
The Honda Accord and Toyota Avensis are the sensible choices. Both have a good reputation for reliability. The auto box in the Honda isn't particularly refined, but we have received very few complaints in regards to reliability. The Avensis uses a CVT which again is reliable but occasionally noisy under heavy loads. Avoid diesel is your commute is less than 15-miles, a modern diesel engine is not designed for low-mileage runs.
I want to replace my Ford C-Max soon - what Estate do you suggest?
"I'm thinking of replacing my Ford C-Max next year. The contenders are a Volvo V50, Skoda Octavia Estate or VW Passat Estate? What are the pitfalls of purchasing a high mileage vehicle (75,000+ miles and around 10 years old.) I need an estate with enough room for a large dog crate and comfortable enough for someone with a bad back."
Provided they've been serviced regularly, you'd probably be better buying a high-mileage diesel than a low-mileage one. Diesels are best suited to regular motorway driving to clear the diesel particulate filter. I'd be worried about buying one with low miles that's mainly been used for local journeys around town. Bear in mind that a 10-year-old car with 75k on the clock will only have covered 7500 miles a year, which is pretty low. Out of your shortlist, the Octavia represents the best value for money.
Why does our Volkswagen Passat over-rev and lose power when we change gear?
"Our 2012 Volkswagen Passat 1.6d appears to over-rev when changing gear, but at the same time as the rev counter rises, the engine loses power. It has been recalled and had the emissions fix done. Do you suggest we contact the franchise which did the work or is this something we need to live with? "
Yes, definitely. The fix involves an additional injection cycle to reduce NOx without creating too much soot. The injectors have to work 50 per cent harder. I think that's where the problem lies.
More Questions
What does a Volkswagen Passat (2011 – 2015) cost?