Geneva Motor Show 2018: Mercedes-Benz launches family-friendly AMG GT 4-Door Coupe
Published 07 March 2018
Mercedes-Benz has unveiled its first ever four-door supercar at the Geneva Motor Show 2018. The new AMG GT 4-Door Coupe has a top speed of 195mph and will start in the region of £110,000 when it goes on sale in the summer.
Part of the AMG GT supercar range, the AMG GT 4-Door Coupe promises to add some family-friendly practicality and limo-like luxury to the otherwise uncomfortable and cramped world of supercars. Available with turbocharged V6 or V8 engines, with 435PS - 639PS, the GT 4-Door Coupe will be capable of covering 0-62mph in just 3.2 seconds.
Despite the supercar connotations the AMG GT 4-Door Coupe has more in common with the CLS than the two-seater GT car, with a similar swoopy exterior profile that should provide enough interior space and storage for four adults to travel in comfort. The boot capacity is a modest 395 litres, while passengers sitting in the rear get an Audi A8-style touchpad screen to control heating, lighting and seating adjustments.
The interior uses the same panoramic design as the E-Class, with a wide windscreen and sweeping dashboard that's dominated by a pair of 12.3-inch HD screens. The digital instrument binnacle can be configured with different themes – classic, sport and supersport – allowing the driver to add details on torque, traction, engine data and g-force. Superport mode also features an F1-style gearshift light indicator for track driving.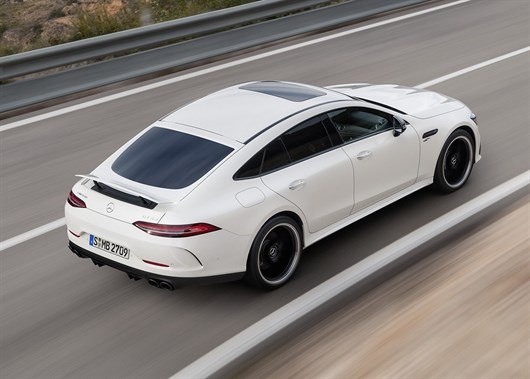 The AMG GT 4-Door Coupe should be capable on the road too; all get four-wheel drive and race-tuned nine-speed automatic gearboxes as standard, along with an electronically controlled locking rear differential that promises improved grip by pushing the surface of the tyre flat as you accelerate out of a bend.
The entry-level AMG GT 53 4Matic+ is the only model to use a V6 engine, but uses a hybrid system to boost performance. Developing 435PS and covering 0-62mph in 4.5 seconds, it'll be sufficient for most buyers who want a luxurious and capable coupe, while claimed economy will be 31mpg and 209g/km of CO2.
Alongside the 3.0-litre V6 are two 4.0-litre biturbo V8s. The AMG GT 63 4Matic+provides 585PS and a blistering 3.4 second 0-62mph time. The AMG GT 63 S4Matic+ ups the power stakes to 639PS and shaves 0.2 seconds off the 0-62mph sprint. Both will return roughly 25mpg and 252-256g/km of CO2.
Depending on the engine, there are up to six drive programs to choose: slippery, comfort, sport,  sport+, race and individual. Selectable via the gearshift paddles, the settings sharpen the handling, gearbox and throttle responses. The suspension and traction control can also be tailored to match track requirements.
Comments
Author

Dan Powell
Latest