Frankfurt Motor Show 2013: BMW shows i8 in production form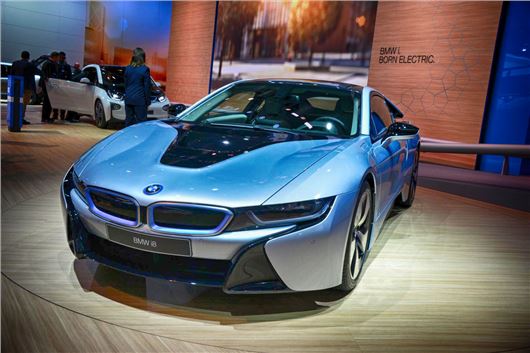 Published 11 September 2013
BMW has shown its exciting new plug-in hybrid i8 sports car in production form at Frankfurt. The mid-engined car boasts a a welded aluminium chassis which underpins a carbonfibre-reinforced plastic (CFRP) bodyshell. Despite its immaculate ecological qualifications, BMW claims its 0-62mph time is 4.4 seconds with a maximum speed of 155mph when powered by petrol and electric.
The BMW i8 switches beween two- and four-wheel drive depending on what drive mode its petrol/electric drivetrain is running in. The petrol engine that powers the i9 is the 1.5-litre three-cylinder engine in turbocharged form, which will also power the next generation MINI. Combined petrol/electric power output is an impressive 360PS.
It's economical as well as fast, with a Combined fuel consumption of 113mpg, while its CO2 figure is 25g/km. Like the best plug-in hybrids, the i8 is usable in electric-only mode, and has a maximum speed of 75mph when battery powered. in of CO2. BMW says the i8 can reach 75mph and has a range of 22 miles in its pure electric mode. In the hybrid mode most of us will use, the i8 will still make 310 miles.
Styling is predictably striking, as hinted in the 2011 concept car. It has a drag co-efficient of 0.26, and retains the butterfly doors. Energy saving features abound, with LED lights all round, and low rolling resistance tyres. BMW will confirm pricing and on-sale dates later this year. Don't expect it to be a bargain...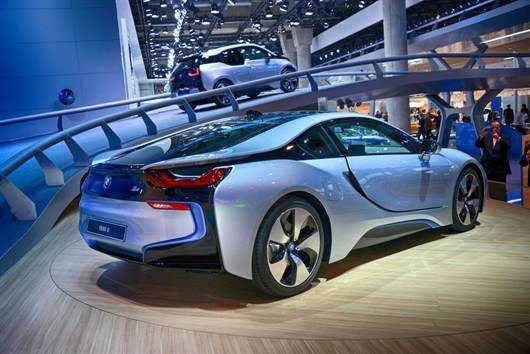 Comments
Author

Keith Adams
Latest