New Cabriolet a sportier affair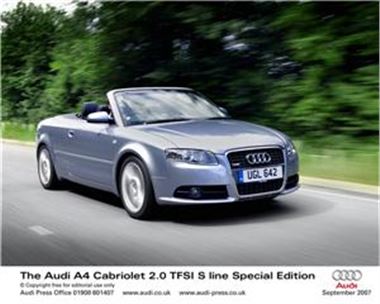 Audi's latest model in the popular A4 Cabriolet range is a sports car now available to order in the UK.
The S-line Special Edition reaches a top speed of 146 mph and accelerates to 62 mph in 8.2 seconds - feats made possible by the vehicle's 2.0 Turbo FSI 200PS engine.
Leather upholstery and a Bose sound system add to the style of the car, which will be delivered to dealerships from December 2007.
Audi has commented that the model will be one of the most sought-after units of the last few years.
"The new A4 2.0 TFSI S line Special Edition combines styling enhancements with extra interior luxuries to create one of the most covetable Cabriolets this side of the RS 4," the automaker commented.
Visitors to the Tokyo Motor Show later this year may be able to catch a glimpse of Audi's A1 supermini.
The car has been touted as a possible challenger to BMW's Mini range.
Comments