Honda Civic e:HEV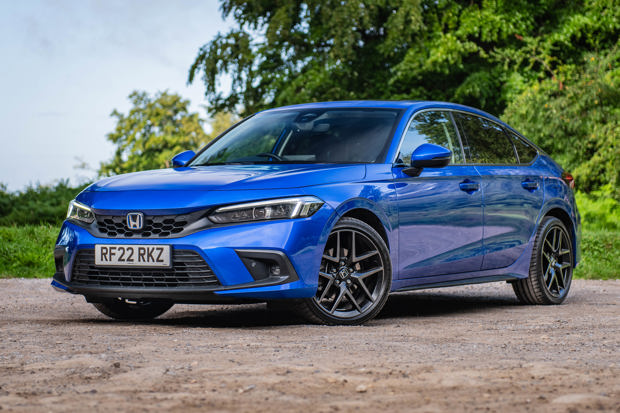 Specifications: Honda Civic e:HEV Advance
Run by: Phil Hall since August 2023
Price when new: £36,470 (£37,445 including options)
Engine: 2.0-litre hybrid
Power: 184PS
Torque: 315Nm
Claimed economy: 56.5mpg
CO2 emissions: 108g/km
Insurance group: 28
Report 1: The 11-generation Honda Civic joins our fleet
Meet our new long-termer, the Honda Civic e:HEV Advance. We'll be living with it for the next three months to see how it copes with family life.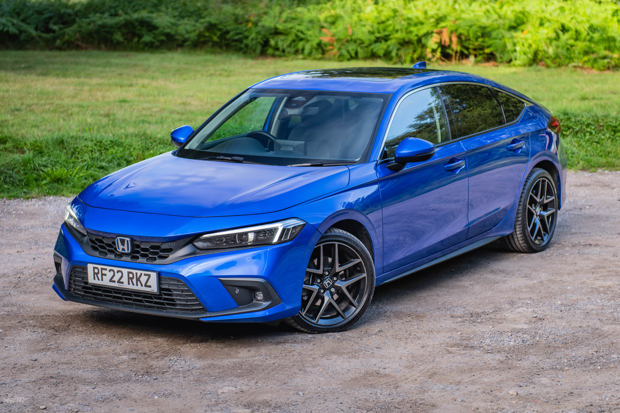 Date: 18 August 2023 | Current mileage: 10,036 miles | Claimed economy: 56.5mpg | Actual economy: 55.6mpg
While it seems like pretty much everyone is clamouring for SUVs, there's still plenty of people out there after a sorted family hatchback. So after six months of living with the plug-in Suzuki Across SUV, we're going to be living with the latest Honda Civic for the next three months.
It's hard to believe that the Civic is now in it's eleventh iteration, with the latest model launching in 2022 and immediately winning us over. Honda has kept things pretty simple with the current range, offering only one engine choice and two trim levels, while there's no long options list to tick. The only thing you have to really worry about is what colour you go for and whether you want to add one of the three exterior style packs (you don't). 
Our car is in top-of-the-line Advanced trim, so along with the features on the standard Sport trim model (which includes a 9.0-inch touchscreen, Apple CarPlay and Android Auto connectivity, heated front seats, dual-zone climate control, front and rear parking sensors, rear view camera and blind spot monitoring), our car comes with some tasty extras. This includes a 12-speaker Bose stereo, a panoramic glass roof, adaptive LED headlights, 10.2-inch digital instrument display and a heated steering wheel. You'll pay just over £3000 extra for the Advanced model over the Sport, but it looks pretty good value when you consider what you get. 
Our Honda Civic e:HEV is finished in Premium Blue Crystal Metallic. A £975 extra over the standard colours, but I think it really suits the car. And I'm actually pretty taken with the design of the Honda Civic. While others has said Honda's been pretty conservative when it comes to the styling, I like the restrained, almost coupe-like design. 
And the engine? Our Honda Civic uses a hybrid system based around a 2.0-litre petrol engine and 'e-CVT' gearbox. At low speeds the twin electric motors will push you along, while pick up speed above 30mph and the engine is on most of the time. It's pretty nippy as well, with 184PS and a 0.62mph time of just 7.9 seconds. All this, and it should deliver 56.5mpg combined, while 67.8mpg should be possible. 
So far, it's easy to see why we think the Honda Civic is one of the best hybrid cars you can buy, but I'm looking forward to seeing how it copes with family life and how practical it really is over the next few months. 
Report 2: Has Honda hit the sweet spot with the Civic's interior?
It may not be as flash as some, but we reckon the interior of the Civic gets the balance just about right.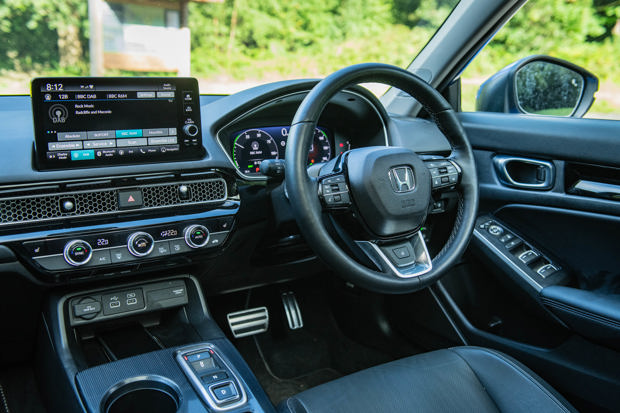 Date: 1 September 2023 | Current mileage: 10,189 miles | Claimed economy: 56.5mpg | Actual economy: 60.1mpg
As you may have read, I wasn't that taken with the interior of our long-term Suzuki Across. Yes it was functional, but it was just a bit meh if I'm honest. Maybe I'd been spoilt with the sleek interior of the Volvo V90 I ran before that, but then there was perhaps a bit too much of a reliance on the touchscreen to adjusting anything...
The interior of our long-term Honda Civic though seems to have got the balance pretty much about right. I really like the tactile dual-zone climate control dials, buttons for the heated seats (though it hasn't been necessary to use these yet) and the honeycomb strip that runs along the dash that conceals the Civic's air blowers. 
Even with the predominantly black interior finishes, it still feels pretty spacious inside as well. Honda's ensured that the Civic has what's known as a low belt line, which means that those sitting in the back don't feel as hemmed in and have a better view. The result is my two girls can happily and easily look out of the windows from their child seats. On top of this, the panoramic window on our Advance-spec car amplifies this sense of space.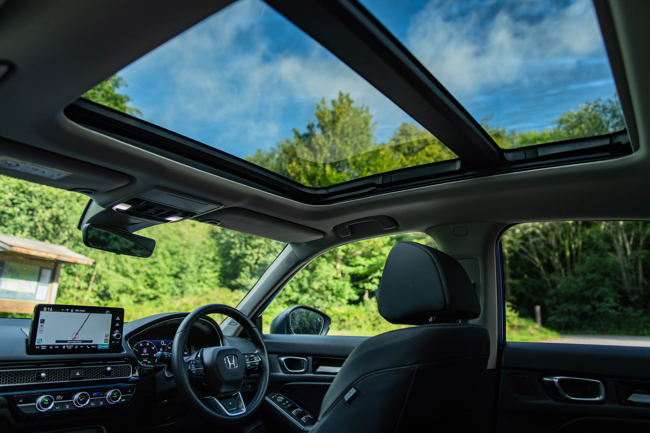 Though the 9.0-inch display isn't as large as some rivals, it's pretty easy to use and is nicely positioned. There's also a proper knurled volume knob, which shouldn't be a big talking point, but if you've ever tried to quickly change the volume in a VW Golf, you'll appreciate its inclusion here.
There's wireless Apple CarPlay, but as I'm one of those awkward people who uses an Android handset, I have to plug it into the USB socket if I want to use Android Auto. That's annoying, but once connected it works a treat and when using Google Maps, it's great to get turn-by-turn information appear in the digital instrument display. Something a lot of other cars can't manage to do. 
The fit and finish are also spot on. Our Civic had already covered a good 10,000 miles before we became its custodian, and there's not a single rattle or creak, while the abundance of soft touch materials have stood up well and show no signs of wear so far. Let's see how the next couple of months go...
Report 3: Just how practical is the Honda Civic?
The Civic hatch is great, but I can't help dreaming of a Civic Tourer...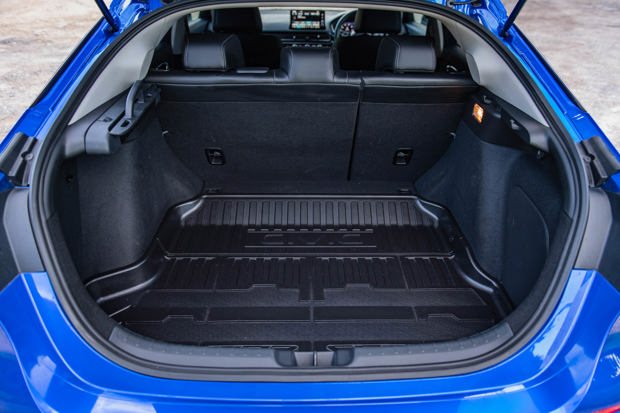 Date: 15 September 2023 | Current mileage: 10,458 miles | Claimed economy: 56.5mpg | Actual economy: 58.9mpg
Hatchbacks have definitely fallen out of favour with families, with everyone thinking they need an SUV as they're more practical thanks to their bigger boots. Or so buyers are led to believe. So how's our Civic been coping with family life (two adults, two kids and one dog)?
At 404 litres, the Civic's boot is larger than most hatchback rivals (unless you plump for the Skoda Octavia and its gigantic 600-litre boot) and while many SUV alternatives will boast bigger boot sizes, in real-life terms you might not see the benefit. The boot on the Civic should be more than adequate for most families, with a good amount of easily reached luggage space thanks to the wide boot opening. The moulded plastic boot liner is a nice touch too and means trips out with our dog or visits to the beach don't result in every bit of debris hugging themselves to the boot floor covering and can easily be hoovered out and wiped clean.
Another nice touch is the parcel shelf that comes out of the side of the boot and pulls across when you want to keep things out of sight. It means that the times you might want to drop the rear seats to carry bulkier items, you're not left with a large and cumbersome parcel shelf bar that needs stowing away in the garage.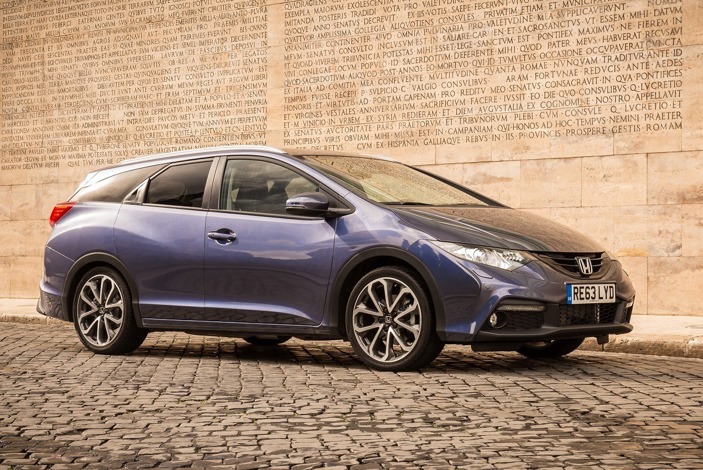 The only thing we've struggled with is getting two kids bikes in the boot. But then it's not something I'd expect to be able to fit in the Civic, with the same two bikes causing problems for a Volvo V90 and Range Rover Velar. 
What about fitting bike racks? Despite the Civic coming with no roof rails (it's a similar story on most hatchbacks), there are roof rack systems out there that will clamp to the roof of the Civic to allow you to attach bike mounts should you wish and if it was my own car, it's something I'd definitely consider doing. Alternatively I'd think about getting a tow bar fitted and mounting a bike rack on the back when needed. 
But talk of bike racks got me thinking about an estate version of the Civic for some reason. There hasn't been a Civic estate (or a Tourer as Honda has called it in the past) since the ninth generation car back in 2014 and there doesn't seem to be one on the horizon with this current version. I'm getting really attached to our Civic long-termer, but I can't help feeling that Honda's missing a trick and an estate version would be the perfect all-round family wagon. But what do I know. If Volvo can't sell estates, then who can?
Report 4: What's the Civic like to drive daily?
What ever the road, we're finding the Civic very enjoyable to drive.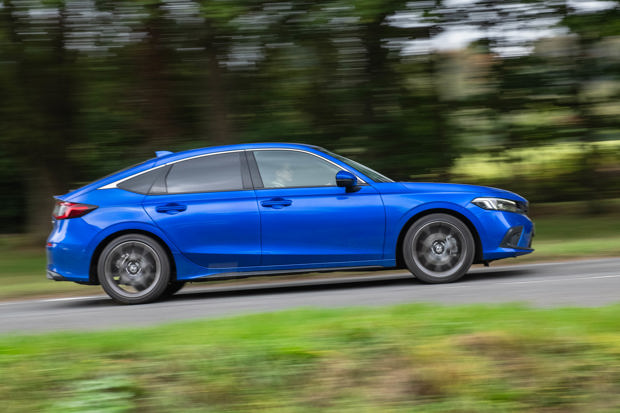 Date: 6 October 2023 | Current mileage: 10,982 miles | Claimed economy: 56.5mpg | Actual economy: 59.7mpg
A family hatchback isn't going to be the last word in handling, but the Civic is proving a lot more fun to drive than I was expecting. If you've been on a diet of family SUVs then the Civic is a great reminder that you don't have to sacrifice driver engagement in the name of (perceived) practicality.  
After having a couple of PHEVs back-to-back, it's refreshing to hop into something that isn't weighted down by some heavy batteries. Not only does this make Civic a lot lighter, it feels more nimble too (even though the figures suggest otherwise). Behind the wheel it accelerates quickly and grips well, allowing you to tackle twisty bits of road with confidence. Ultimately the Civic feels really nicely balanced for a family car.
There are four driving modes to choose from via a toggle next to the gear selector (Eco, Normal, Individual and Sport) and for those times you're on the right bit of road, flicking it into Sport delivers a much more satisfying result than you might normally expect from a hybrid car. 
Not only do the digital dials swap to red, you notice the throttle gets that bit more responsive and the EPS firms up to give a bit more steering feedback, while the exhaust note becomes more vocal. The result is that when you plant your foot to the floor it sounds a bit more like a Type-R. This is thanks to what Honda terms an Active Sound Control system, though it can be turned off in the Individual driving mode if it's not for you.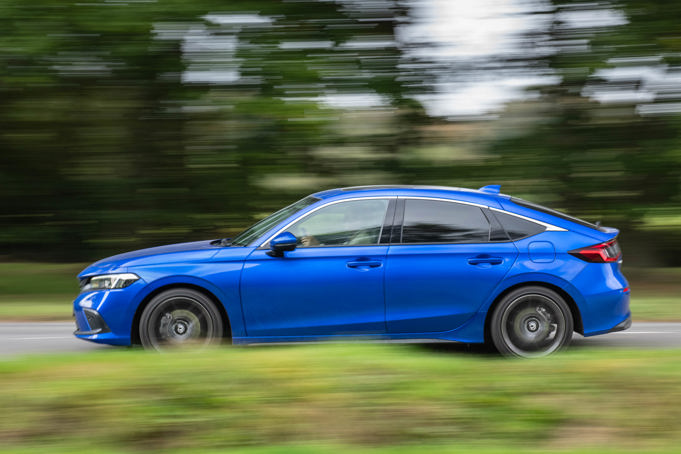 Another nice little touch when you're in Sport mode is what's known as Winding Road Detection, which thanks to the onboard sensors on the Civic allows it to keep the engine engaged to reduce lag when you want to push on a bit along some winding roads. Clever stuff. 
Even on some of Surrey's more neglected B-roads that are a patchwork of potholes and poor repairs, the Honda Civic never feels too harsh. Pootling around town and the Civic whisks itself along in near silence as for the most part, the electric motors are doing the hard work. Its size also means it's relatively easy to park, while the rear camera and front parking sensors help avoid any unwanted dings. 
On longer trips, the Civic's been great here as well. If you were doing regular long commutes then a diesel would be preferable, but on a recent schlep round the M25 and up the M4 to the Sunday Scramble at Bicester Heritage delivered 51.4mpg. It's comfy too, with the adaptive cruise control easy to manage and a decent Bose stereo making those long journeys that much easier.  
It might not be a Civic Type-R (more of that in my next update), but the Civic is proving itself to be incredibly versatile and a lot more fun to live with than expected. 
Report 5: How does our Civic compare to the Type-R?
We see how our family-focused Civic stacks up against its hot hatch sibling.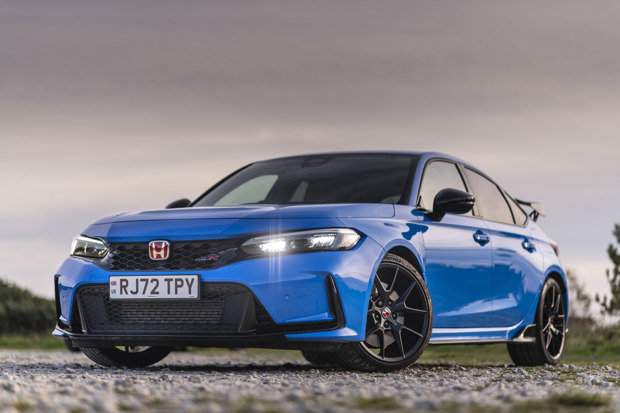 Date: 27 October 2023 | Current mileage: 11,017 miles | Claimed economy: 56.5mpg | Actual economy: 49.1mpg
When it comes to hot hatches, the Honda Civic Type-R sets the benchmark, so it felt like the perfect opportunity to seem how it compared with our own long-term Civic. 
Previous generations of Civic Type-Rs have always been a bit brash and 'in-your-face'. That's not been for everyone and despite their rapid performance, it's put some buyers off. So much so that Honda released what it called a 'Sport Line' version of the last generation of Civic Type-R. This did away with the huge rear wing and replaced it with a more subtle spoiler to appease potential buyers.
The latest generation Civic Type-R, which shares the same design DNA as our own Civic, is more mature in its styling. Less fussy than the older car, it feels like Honda's designers haven't had to work so hard with the design of the standard Civic to make a striking hot hatch. You can't ignore those triple exhausts poking out of the rear and there's still still a sizeable rear wing, but it's less Max Power-y than before. We also love the Racing Blue paint that our test car is finished in. When the kids arrived home to see it parked on drive there was genuine excitement and a lot of "wows".
Inside the Civic Type-R and it's familiar but different. While our Civic is cloaked in black, the Type-R is a riot of bright red, including the seat belts. Another thing that made my two kids giggle with excitement. Up front and there's a nicely trimmed steering wheel in Alcantara and while our Civic is auto only, the Type-R is adorned with a manual gearbox and a beautifully machined aluminium gearknob.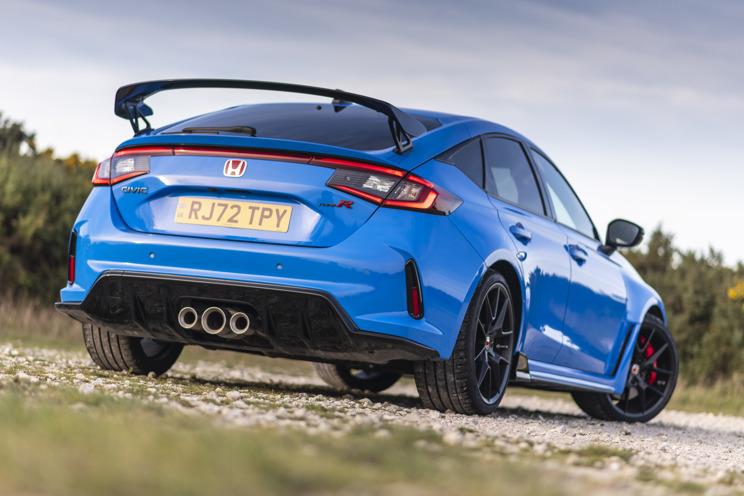 There's no hybrid power here with Civic Type-R. Instead the 2.0-litre petrol engine pumps out 329PS, making it one of the most powerful front-wheel drive cars on sale today. The performance is staggering, flying up to 62mph in 5.4 seconds, but that's just the tip of the iceberg though, as the Civic Type-R handles sublimely. The steering is incredibly precise and direct, while the way it grips to the road is incredibly impressive.
Compared to our long-term Civic, the ride is as you'd expect, firm. That said, select 'Comfort' drive mode and the suspension is relatively compliant, but in '+R' mode you'll feel every bump and undulation going unless you're on a track or pan-flat European roads. You don't have to sacrifice the heightened performance of the Type-R's +R mode though - you can tailor an individual driving mode to have the suspension as supple as possible, but the raciest engine mode.
All this performance comes at a price, with an official figure of 34.4mpg - that's some way off our Civic's claimed 56.5mpg (and something we're regularly getting depending on the journey). 
The Type-R is a phenomenal piece of kit that we were all said to see go. But getting back into our own Civic and while it lacks the drama of the Type-R, especially on the right road, the hybrid Civic still impresses. As a family car, it gets so much right. 
Report 6: We bid a sad farewell to our Honda Civic
Three months has flown by as we wave goodbye to our excellent Honda Civic long-termer.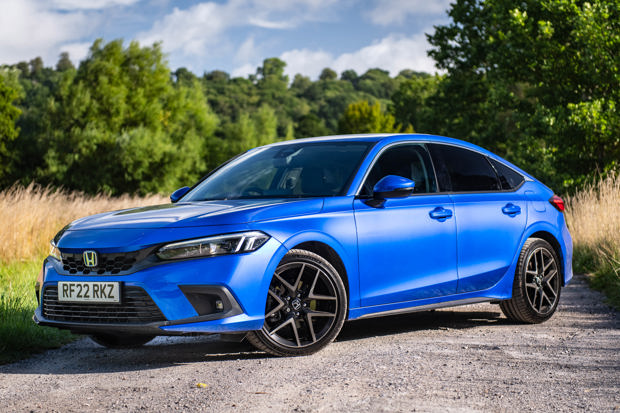 Date: 17 November 2023 | Current mileage: 11,341 miles | Claimed economy: 56.5mpg | Actual economy: 48.7mpg
Three months have flown by with our Honda Civic and now it's time to say goodbye. I'm genuinely sad to see it go as overall it's been a brilliant car for us over the past few months.
Switching from a large plug-in hybrid SUV in the shape of a Suzuki Across to the hybrid Civic hatchback might have seemed like a compromise to the neighbours, but if I had to choose between the two, the Civic would win hands down. 
There's a number of reasons why but let's talk about fuel economy first. While charging the Across would provide a decent 40-plus mile range once it had been plugged in overnight (and pretty close to the claimed 46 miles it officially gets). Once this one depleted on longer runs and the engine took over, fuel economy took a dive and we'd be doing lucky to get 40mpg from it. And to be fair, it's not just the Across we've experienced this in, with pretty much every other PHEV having the same drawback. 
Our Civic though will happily deliver north of 50mpg on a long motorway journey, and if you mix in some slower roads with that, 60mpg is not unrealistic. The Honda Civic is based around an excellent hybrid system that avoids the horrible whine of a CVT gearbox that can hamper a lot of hybrids. This is thanks to the e-CVT transmission and the witchcraft that goes on inside it, and while it's not the last word in a performance family car, it feels faster than the figures suggest. It also handles nicely and is much more assured than a similarly priced SUV.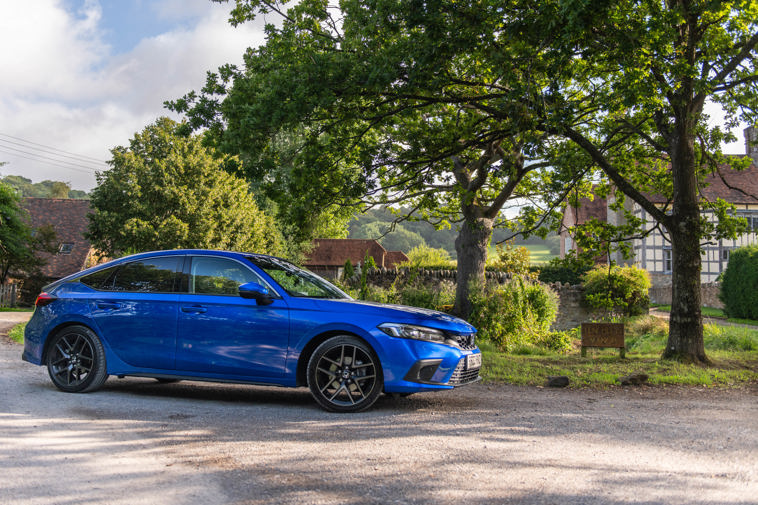 I really liked the interior of the Civic as well - the blend of touchscreen controls mixed with physical dials and buttons works nicely. The infotainment still feels a bit dated, though it's not really a problem if you're using Apple CarPlay or Android Auto (it's just a shame there's not wireless connectivity). It also looks the part inside too, with some nice little design touches.
Did I feel like I was missing out on space compared to an SUV? Not really - there was plenty of space in the cabin, while the lower seating position made it easier for my two girls to clamber into their child seats than with an SUV. What about the boot? With the exception of not being able to fit a couple of moderately large kids' bikes in the boot on the odd occasion (and something I've experienced with some large family SUVs), it was more than ample. Even the dog was happily stowed away in the back. I'm not saying I wouldn't love to see a Civic Estate appear at some point though.
And while I've mentioned this at the start, I really like the look of the Civic. Three months living with it and I still think it looks the part, especially in the rich blue it's finished in that's complemented by the dark grey alloy wheels. 
It's pricey compared to some other competent hatchbacks like the Skoda Octavia or VW Golf, but that doesn't seem to be putting people off. It's easy to see why as well, with excellent fuel economy, a quality interior, refined handling and practical enough for all the family. I miss it already.